"We received all four of the spooktacular kids Halloween DVDs complimentary for review. All opinions shared here are our own! "
From going trick-or-treating with Peg and Cat, to picking out a costume with Caillou, spooktacular DVDs from PBS will get kids excited about Halloween. Four DVDs are highlighted below. Each DVD features a different PBS KIDS series – CAILLOU, DINOSAUR TRAIN, PEG + CAT, and WORDWORLD. If you are looking for a fun treat to add to the Trick or Treat baskets here you go!
DINOSAUR TRAIN: BUDDY'S HALLOWEEN ADVENTURE"
Join Buddy and his family and friends for some spooktastic adventures! The Pteranodon family visits a haunted roundhouse in Troodon Town where they meet a nocturnal mammal named Vlad Volaticotherium. The fun continues when the family goes to a pumpkin patch and learns about carving pumpkins from Larry Lambeosaurus. The four stories included on this DVD are "Night Train," "Fossil Fred," "Haunted Roundhouse," and "Big Pond Pumpkin Patch." The SRP for this DVD is $6.99.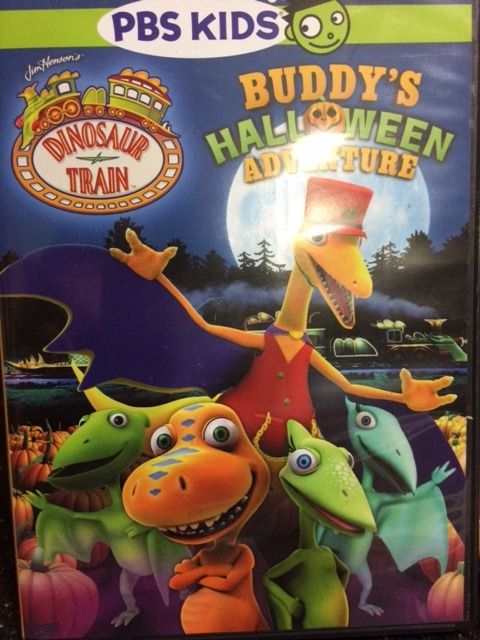 Thoughts:
this one was my 7 year old sons favorite out of the four . We love the catchy songs and facts you learn aboard the Dinosaur Train. Mr.Conductor does a great job teaching Buddy and his friends along their adventures. Not only do you enjoy some Halloween fun you discover what a fossil is and so much more! We give Dinosaur Train: Buddy's Halloween Adventure a thumbs up!
CAILLOU: CAILLOU'S HALLOWEEN"
"CAILLOU'S HALLOWEEN" features 13 stories including "Caillou Loves Halloween," "Pumpkin Patch Kid," and "Caillou's Halloween Costume." In "Caillou's Halloween Costume," Caillou and Rosie are trying to pick out costumes as Halloween quickly approaches – but Caillou can't decide what he wants to be. With help from Mommy and Daddy, a furry blue monster costume is created for Caillou so he can join Leo, a cowboy, and Clementine, a bumblebee, for trick-or-treating! The SRP for this DVD is $6.99.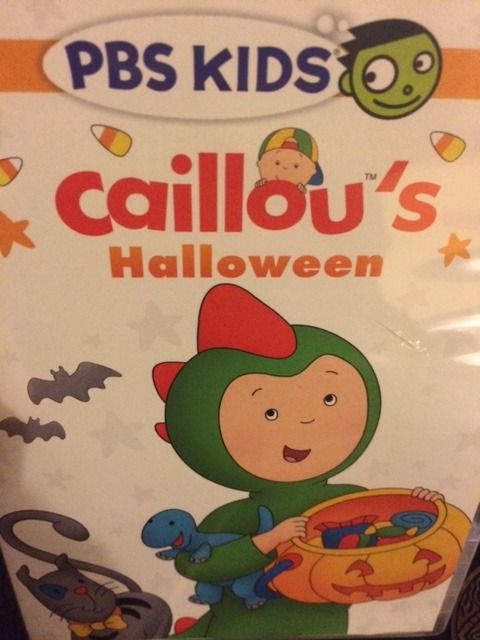 Thoughts: This one was a top pick with my two year old class. They enjoyed learning about Halloween with Cailllou. I think they relate to him as he goes about sharing things like being afraid of the dark and monsters. This is definitely a DVD your child can continue to watch after Halloween as well many of the episodes are not even about Halloween.
PEG + CAT: A TOTALLY AWESOME HALLOWEEN"
Combine Halloween excitement with mathematical fun and you've got "PEG + CAT: A TOTALLY AWESOME HALLOWEEN." This DVD features four adventures, two of which are Halloween themed – "The Parade Problem" and "The Halloween Problem." In "The Parade Problem," kids will learn about sorting and estimating as they watch Peg and Cat clean up a park to ensure the nursery school's Halloween parade takes place. The SRP for this DVD is $6.99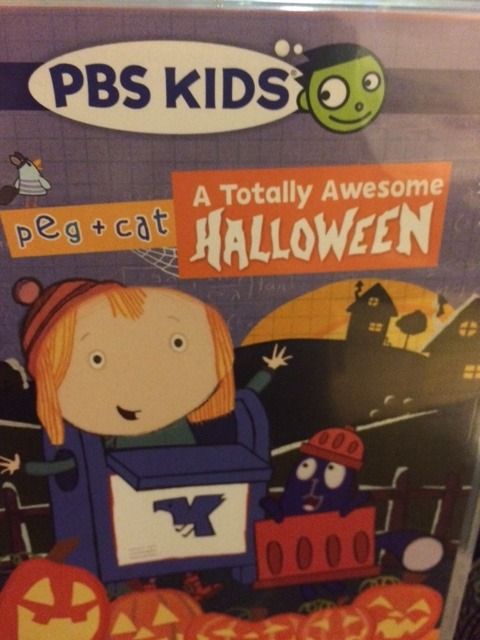 THOUGHTS:

this was the perfect choice to share with our class today as it was also our Homecoming parade. Peg the Cat has four adventures on it and last about 60 minutes. Two of these fun adventures are about Halloween. I also love that this one talks about important lessons like recycling , picking up trash and social lessons like safety in numbers. Thumbs up from the teacher and mom here.
"
WORDWORLD: HALLOWEEN FUN
"
In the DVD "WORDWORLD: HALLOWEEN FUN," join the WordFriends on adventures that demonstrate the connections between letters, sounds, words, and meaning. This DVD features five stories including "A Kooky Spooky Halloween" and "Sheep's Halloween Costume." In "A Kooky Spooky Halloween," Pig is so worried about finishing his Halloween bags, because he's missing the letter B, that he ends up sleepwalking. As he sleepwalks, collecting Bs along the way, everyone thinks he's a ghost!
The SRP for this DVD is $6.99.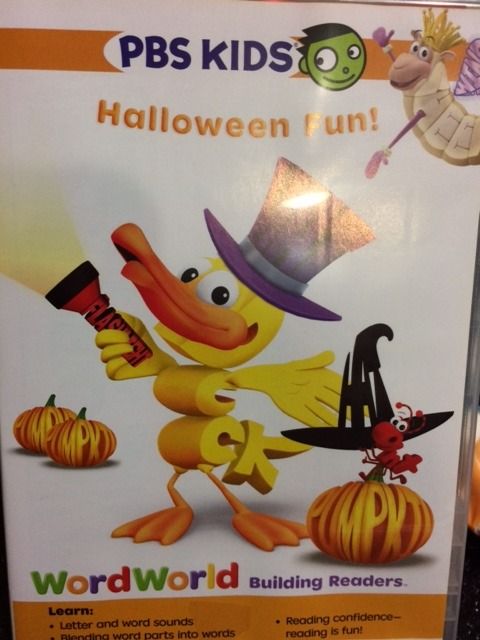 Word World
Thoughts:
A fun way to continue lessons about rhyming, letters and sounds through songs and stories. The power of a good song my friends. 5 episodes 2 of which are Halloween related . We love that WordWorld encourages building words and is super educational yet FUN!
I think all four of these DVDs from PBS Kids make a great addition to your home or early education classroom. Both my own son and the toddler class enjoyed them this last week. Each DVD does have some talk about Halloween but they are all filled with other fun learning as well. Making me say you can watch them all year long and ENJOY!