Escape, Relax, Discover or emerge yourself into one of Florida's many botanical gardens. The hot tropical like climate of Florida makes it home to formal, historical and sometimes magical gardening. Plan a day trip to visit some of these botanical sanctuaries or plan a road trip and visit a few. Late summer and early fall is a great time to take a drive and discover one or two of these beautiful areas. We love Florida!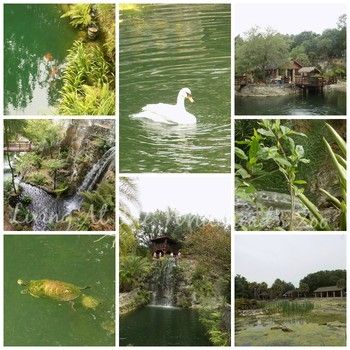 Begin in North Florida where you're still close to home and pay the beautiful Kanapaha Botanical Gardens of Gainesville a visit. Kanapa is over 62 acres of beauty and home to Florida's largest bamboo garden. The grounds are the most colorful beginning in June to September. Check their events calendar for yearly festivals and family fun.

Jacksonville's very own Cumer Museum shares both eart and gardens. They are home to three formal gardens located right on the St. Johns River. One of the oldest dating back to 1903. The gardens are home to reflecting pools, antique ornaments, sculptures, arbors , and more.The majestic Cumer Oak has a canopy of more than 150 feet and is one of the oldest trees in the Jacksonville area.

Cedar Lakes Woods and Gardens of Willistons has over fifty beautiful garden areas, waterfalls , koi ponds, picnic areas and so much more. These gardens are in a retired lime rock quarry and home to an abundance of wildlife. Be sure and visit the swans Lancelot and Guinevere while you are here. The gardens are open 9:30 am to 5PM on Tuesdays, Fridays, Saturdays and Sundays. Entrance into the gardens is $12 for adults and $7 for children ages 6-13.


Ravines Gardens state park in Palatka is a historic place. This garden is best visited January - April during azalea season. A 1.8 mile paved road winds through the ravine offering a view of the gardens. Ravines Gardens is also used as a Florida wedding venue.
Washington Oaks Gardens State Park is near Palm Coast and a local favorite. The gardens make use of both exotic and native plants nestled into a beautiful oak hammock. This park is also famous for its unique shoreline with coquina rock. This is also a lovely Florida wedding venue.