It is summer and of course that means summer road trip. We just got back from a fabulous vacation. How did we ever manage road trips before cars had DVD player and mini televisions? Kung Fu Panda 3 joined us in the car for vacation. One of the best reviewed and highest grossing films of the year now available on Digital HD and Blu Ray DVD! One thing about my sweet boy when he loves a movie he will watch it over and over again. With that being the case it is a great thing that we all liked this movie to. Thank you Fox Home Entertainment for sending us a complimentary copy for review and sharing super cool printable coloring sheets. Our car ride was over before we knew it Skadoosh!
Synopsis
Po and the Furious Five are back in the hilarious, critically acclaimed hit film your whole family will love! When Po discovers a secret village of fun-loving, clumsy pandas, he must train them to defeat Kai, a supernatural villain who threatens to destroy Kung Fu and the world.
Kung Fu Panda 3 kicks onto Digital HD on Friday, May 13th and Blu-ray & DVD June 28th.
"Great Story! Great Fun! Great Movie!" – Dave Morales, FOX TV
DreamWorks Animation's Kung Fu Panda 3 Awesome Edition Includes 2 All-New Kung Fu Panda Animated Shorts, Everybody Loves a Panda Party Karaoke and Much More Fun Making it Perfect for Family Movie Night!
LOS ANGELES, CA (April 19, 2016) – DreamWorks Animation's KUNG FU PANDA 3 is not only one of the best reviewed films of the year, but also one of the top five grossing films of 2016 worldwide. Everyone's favorite wise-cracking, dumpling-snacking hero is back in "the best Kung Fu Panda yet," proclaims Pete Hammond of Deadline.com. A hit with audiences and critics alike, the film received an outstanding audience reaction with a coveted "A" CinemaScore® and Certified Fresh on RottenTomatoes.com.
20th Century Fox Home Entertainment releases DreamWorks Animation's KUNG FU PANDA 3 AWESOME EDITION on Digital HD on May 13 and Blu-ray™ and DVD on June 28.
After reuniting with his long-lost father, Po travels to a secret village and meets tons of hilarious new panda friends and family members. But when the supernatural villain Kai challenges all the Kung Fu masters across China, Po must discover the teacher within himself and train his clumsy brethren to become the ultimate band of Kung Fu Pandas!
DreamWorks Animation's KUNG FU PANDA 3 Blu-ray™, DVD & Digital HD includes:
Feature film in high definition
Special Features:
• Everybody Loves a Panda Party – Join Po and the entire cast of lovable pandas to sing-along and learn why everybody loves a panda party in this all-new presentation.
• Po's Posters of Awesomeness – Po leads a deeper exploration of the awesome art in Mr. Ping's hut as the posters come to life and illustrate his hilarious stories.
• Panda Paws – Watch the enormously talented panda ribbon dancer Mei Mei starring with Bao in an exclusive animated tale.
• Make a Panda Party Paper Pal – Learn the mystic art of paper folding and create a village of panda pals as Po hosts this fun and entertaining tutorial.
• Play Like a Panda – Adorable overload! Learn all about real baby pandas, their amazing lives, and their remarkable playful ways.
• The Origin of "Skadoosh" – For the first time ever, Po reveals the extra-super-secret origin of his world-famous catchphrase.
• Faux Paws Deleted Scenes – Discover fascinating story insights with this revealing collection of deleted footage you couldn't see in theaters!
ABOUT DREAMWORKS ANIMATION
DreamWorks Animation creates high-quality entertainment, including CG animated feature films, television specials and series and live entertainment properties, meant for audiences around the world. The Company has world-class creative talent, a strong and experienced management team and advanced filmmaking technology and techniques. DreamWorks Animation has been named one of the "100 Best Companies to Work For" by FORTUNE® Magazine for five consecutive years. In 2013, DreamWorks Animation ranked #12 on the list. All of DreamWorks Animation's feature films are produced in 3D. The Company has theatrically released a total of 31 animated feature films, including the franchise properties of Shrek, Madagascar, Kung Fu Panda, How to Train Your Dragon, Puss In Boots, and The Croods.
ABOUT TWENTIETH CENTURY FOX HOME ENTERTAINMENT
Twentieth Century Fox Home Entertainment is the industry leading worldwide marketing, sales and distribution company for all Fox produced, acquired and third party partner film and television programing. Each year TCFHE expands its award-winning global product portfolio with the introduction of new entertainment content through established and emerging formats including DVD, Blu-ray™ and DigitalHD™. Twentieth Century Fox Home Entertainment is a subsidiary of 21st Century Fox.
Color:
get your
printable Panda coloring sheets
just add a pack of crayons and a clip board and you have an easy
travel boredom buster
.
WIN: a copy of Kung Fu Panda 3 on Blu-Ray DVD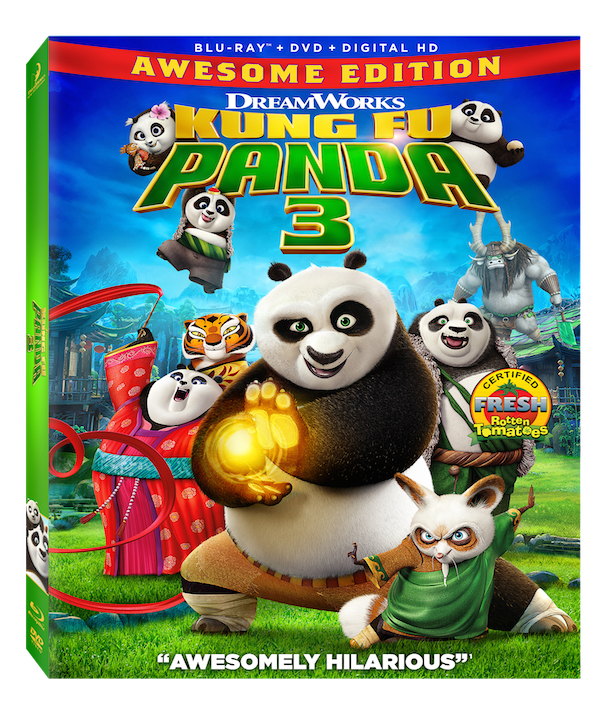 fill out the entry form below for a chance.
a Rafflecopter giveaway
" as a Fox Home Entertainment Insider I receive complimentary movies, coloring sheets and sometimes other cool stuff for review and to share with you guys! #PandaInsiders"