**Warner Bros. Home Video provided me with some of the materials I used in this Blog Post/Giveaway. The opinions I share are my own.**
LEGO FRIENDS: Girlz 4 Life Blu-ray And Lego Set Giveaway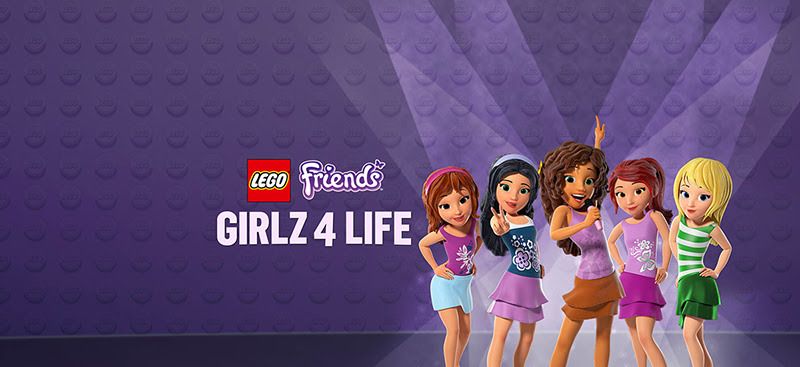 There are few things as important in life as your friends. No matter how old you are, your friends are there to help you when you're down, support you when you make mistakes, and be your rock when the going gets tough. I'm so lucky to be blessed with great friends. I hope that my children foster some great friendships along the way as well.
The new movie, LEGO® FRIENDS: GIRLZ 4 LIFE, is all about friendship, trusting yourself and standing up for what's right no matter what the cost. All set to an awesome rock soundtrack you're going to love! Join Olivia, Stephanie, Emma, Mia and Andrea as they learn that fame isn't important, it's your friends that count!
LEGO® FRIENDS: GIRLZ 4 LIFE brings to life (in animated form) the LEGO construction based toy LEGO® Friends. LEGO ® Friends invites girls into a universe, Heartlake city, and inspires them to use their imagination to build and role play their own stories with fun-loving relatable characters.
LEGO® FRIENDS: GIRLZ 4 LIFE blog app:
• Grab your pop star microphone because it's sing-along night! Click the play button to watch the special sing-along music video for Girlz by L2M.
• Listen to the song High Tops by L2M and click to watch the "Meet L2M" video that introduces the next girl-pop power sensation.
• Download the "Girlz 4 Life" Activity Pack and to unlock your inner pop star! Kit includes Selfie props, a "Spot the Difference" game, making the Band DIY pop star instruments, Friendship Card and more!
• Click on LEGO® FRIENDS: GIRLZ 4 LIFE Blu-ray Combo Pack for a link where the film can be purchased!
About LEGO FRIENDS: GIRLZ 4 LIFE - Lego Set
True Friendship in the Glamorous World of Pop!
Join Olivia, Stephanie, Emma, Mia and Andrea, as they learn about friendship, fame and pop star fun in Heartlake City.
The girls' friendships are tested when mega pop star Livi comes to Heartlake City. When our friends' hit song "Girlz" is stolen by Livi's manager, it's time for a cunning plan.
As the girls try to tell Livi the truth about her latest hit single, they all learn that fame isn't everything and sometimes friendship is the most precious thing in the world.
Own LEGO® FRIENDS: GIRLZ 4 LIFE on digital HD 1/19 and on Blu-ray Combo Pack and DVD 2/2
Also be sure to visit the official L2M website to stay updated with all things L2M!
www.L2MOfficial.com
WIN
:
LEGO® FRIENDS: GIRLZ 4 LIFE
on Blu-ray PLUS
LEGO® Friends Pop Star Dressing Room Building Kit Just fill out the entry form below =) good luck!
Giveaway open to residents of the U.S.
Each household is only eligible to win LEGO FRIENDS: Girlz 4 Life Blu-ray & LEGO FRIENDS: Pop Star Dressing Room Kit via blog reviews and giveaways. Only one entrant per mailing address per giveaway. If you have won the same prize on another blog, you will not be eligible to win it again. Winner is subject to eligibility verification
The prize will be sent via FedEx or USPS. No P.O. Boxes please.
a Rafflecopter giveaway
.