Do you have a favorite
children's author
? One of my favorites is
Eric Litwin
. I adore
Pete the Cat
books and guess what the cute toddlers I teach do too. We've been rocking our school shoes all week long. When I heard that a new series was coming
Fall of 2016
I gave a little happy squeal. Seriously!
Groovy Joe
sounds like a character we are going to Love. I can't wait to share this fun little dog with my classroom.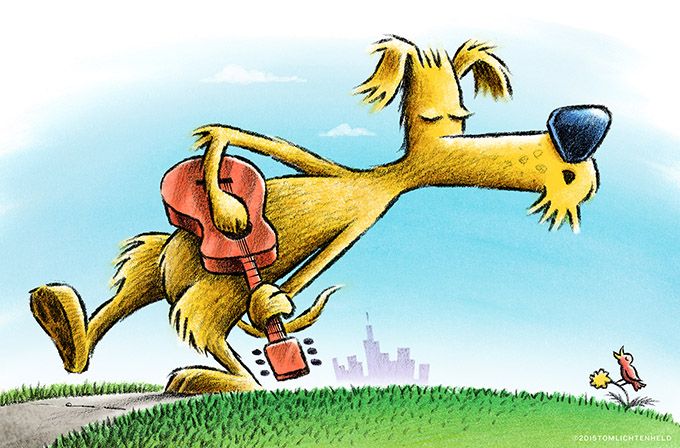 Groovy Joe is an irresistible music-loving doggy who is both endlessly enthusiastic and undeniably cool. Groovy Joe is living the dream, and loves learning new things! He is on a mission to share his wisdom, his message of kindness, and his playful spirit with everyone he meets. Best of all, he manages to have a "groovy" time wherever he goes. Each Groovy Joe story offers readers an unforgettable read-aloud adventure that weaves in rhyme, rhythm, repetition, call and response and a musicality that will have every child reading, singing and dancing along. Every Groovy Joe story features a gentle learning concept infused with music, movement, and a positive messages of acceptance and kindness and each book includes a free original downloadable song to get kids grooving.
"Groovy Joe is a fun-loving, guitar-strumming doggy with a playful perspective," said Eric Litwin. "He is always ready to make a new friend and sing a cool song. I am excited to bring Groovy Joe and his musical stories to life with talented artist Tom Lichtenheld and delighted to be working with Liza Baker and Scholastic."
"I'm thrilled to be part of the Groovy Joe team," said Tom Lichtenheld. "Eric has a way of writing for children that's lyrical and speaks at their level, yet still has a strong conceptual foundation. His talent, combined with Scholastic's high standards and passionate editorial and design team, made this an irresistible project."
I can't wait to add the first picture book,
Groovy Joe: Ice Cream and Dinosaurs to our reading library. Way to go Scholastic this is exciting !
About Eric Litwin:
Eric Litwin is a # 1
New York Times
Best Selling Author who merges music and early literacy together. He is the author of the first four Pete the Cat picture books and the exciting new musical series The Nuts. Eric's books have sold over 6.5 million copies and won 18 state and national awards including a Theodor Geisel Seuss Honor Award. Eric is a popular performing artist who plays guitar, sings, tells stories and brings books to life. He has recorded several award winning music CDs. Eric likes music, books and coffee. For more information, visit him at
www.Ericlitwin.com
.
About Tom Lichtenheld:
Tom Lichtenheld is the illustrator of
New York Times
bestsellers
I Wish You More
,
Stick and Stone
,
Duck!Rabbit!
,
Exclamation Mark
,
Steam Train, Dream Train
,
Shark vs. Train
, and
Goodnight Goodnight, Construction Site
, which has been on the bestseller list for over three years. His newest book published this fall is
Friendshape
. He has also written and illustrated a number of books, including
What Are You So Grumpy About?
,
Cloudette
, and
E-mergency
, a
Publishers Weekly
and
Boston Globe
Best Book of 2011. For more information, visit him at
tomlichtenheld.com
.
About Scholastic:
Scholastic Corporation (NASDAQ: SCHL) is the world's largest publisher and distributor of children's books and a leader in educational technology and related services and children's media. Scholastic creates quality books and ebooks, print and technology-based learning materials and programs, magazines, multi-media and other products that help children learn both at school and at home. The Company distributes its products and services worldwide through a variety of channels, including school-based book clubs and book fairs, retail stores, schools, libraries, on-air, and online at
www.scholastic.com
.
Who is your favorite children's author? What is your favorite children's series?
"The information in this post was provided by Scholastic.com"