Splash parks are the perfect way to cool off with little kids. Whenever we travel around Florida I always try to check out the areas splash pads. The kids enjoy it and it's good
FREE
fun . We recently paid a visit to a fun new pad in
Lake Butler, Florida
. The city of Lake Butler is a small little town located in North Florida. The
Lake Butler Splash Park
is great for a family friendly outing.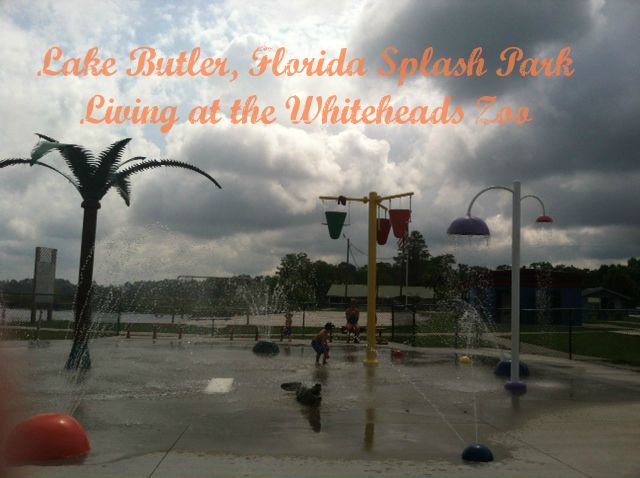 The splash pad is fenced in.
A+
to Lake Butler community for making this area fenced in. If you find yourself alone at the park you turn the water on with the motion device in the center of the splash pad. Just wave your hand over the red post in the middle and the water will come right on. There are several benches located around the splash pad for Moms to sit.
Bring a picnic lunch and set up at one of the available picnic tables. We suggest grabbing a spot under the covered pavilion . If you are not playing in the water it gets HOT. The park is also on a lake where you can walk down and feed the ducks or watch the boats putting in at the boat ramp. There is also a regular park with swings and slides and sand. Lots to do for an afternoon of Free fun!
The Lake Butler Splash Park is located at 155 NW 3rd Street Lake Butler Florida. It is Free to everyone and open daily from 10 AM to 8PM.
While you are here you might also like to check out the Palatka Lake Butler State Trail. This trail is 47 miles long and a great area for bikers, joggers and those wishing to take a stroll outdoors.
You might also like: