We are in the dog days of summer and friends you know it is HOT. It would be easy to just stay inside in the air conditioning and avoid the heat in front of the television. I wanted to let you know about a new product from
Aerobie
that will be fun for you family. The
Superdisc flying disc
is perfect for days at the park, in the backyard, and even the beach or pool. It Floats! Grab it and make some memories these last days of summer.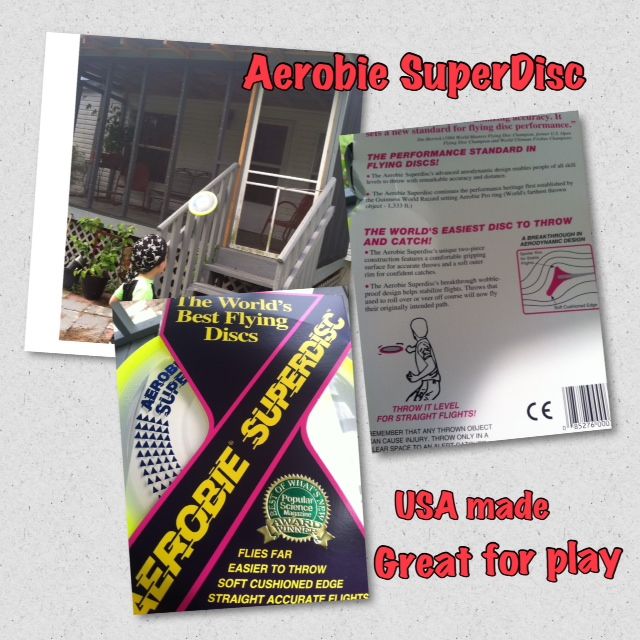 Great for Outside Play! #AerobieSuperDisc
The superdisc comes in fun bright colors. We love the bright yellow color of ours. It really stands out in the grass making it easy to find if you miss your catch. It has a cushion type design for easier catching. It is aerodynamic making it easy to throw for all skill levels. My six year old makes it zip across the yard with no problem at all. It was sturdy enough my big boy yellow lab could play too. He usually catches them and breaks them but the
Superdisc
has held up .
Easy to throw and Catch #AerobieSuperDisc

The superdisc retails for $10 and is recommended for ages 8 and up. You can find one at Sports Authority, Do It Best Dick's Sporting Goods and other Major sporting goods stores across the country.

Plus It's Made in the USA!

We say Awesome to that!!!

WIN :

Aerobie has provided us with a Superdisc to share with one of you. Just enter the form below for your chance Good Luck! a Rafflecopter giveaway

"The materials in this post were provided by Aerobie . Living at the Whiteheads Zoo did receive compensation in the form of complimentary products and/or monetary. All opinions shared above about said products are our own. Thank you."