Summer days are here and it is getting hotter and hotter. That means the electricity bill is probably rising as well. I know during super hot months I try to stay out of the kitchen as much as possible or stay in it as little as possible. Now, I love Chinese food. One of my favorite parts is the egg rolls of course. A good crispy egg roll just makes the take out so much better. I've been playing in my kitchen for an easy egg roll that you can bake or fry.
Easy egg rolls
are so yummy and even better they are freezable too. This simple recipe makes about 2 dozen egg rolls.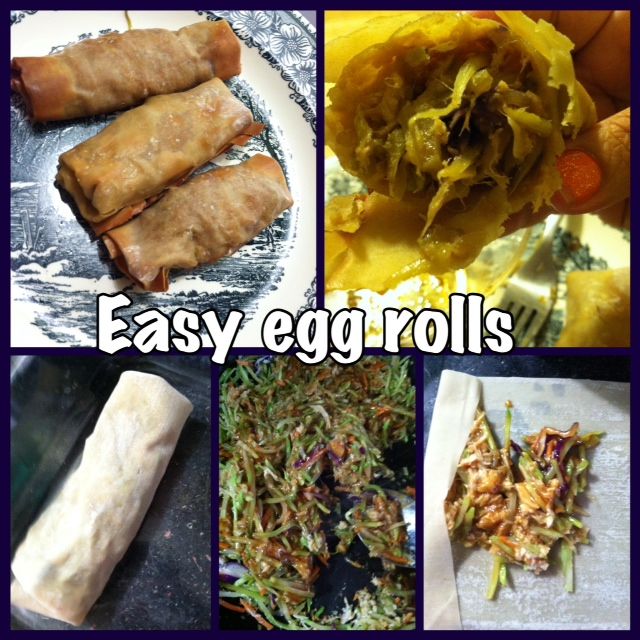 1 package of egg roll wrappers
1 bag of broccoli slaw
2 cups of shredded boiled chicken
1 TBSP of butter
1 Bottle of Stir Fry Sauce
Melt Butter in a frying pan and add your broccoli slaw and boiled shredded chicken. Stir it around for a few minutes.
Add in 1 bottle of stir fry sauce. Stir it very well.
Take a spoonful of veggie mix and put into the center of an egg roll wrapper.
Roll the egg roll and place them seam side down into a baking dish.
Add melted butter over the top of each egg roll.
Bake at 350 for 30-35 minutes or until nice and golden brown.
That's all you have to do . Now if you'd rather fry them up skip steps 5 and 6. Heat up some oil in your skillet and fry them up for a couple of minutes on each side. That's it super easy. And even better you'll only be in the kitchen about 40 minutes start to finish.