It's Friday YEAH! We're not sure Friday can get any better either. Today The Longest Ride is out on digital HD. And if that is not enough fun to make you smile today there is an iTunes Twitter Q&A with Nicholas Sparks!!! Did you do a little happy dance on that? I'm a huge Nicholas Sparks fan even though he always makes me cry so I was grinning like the cat who just ate the canary.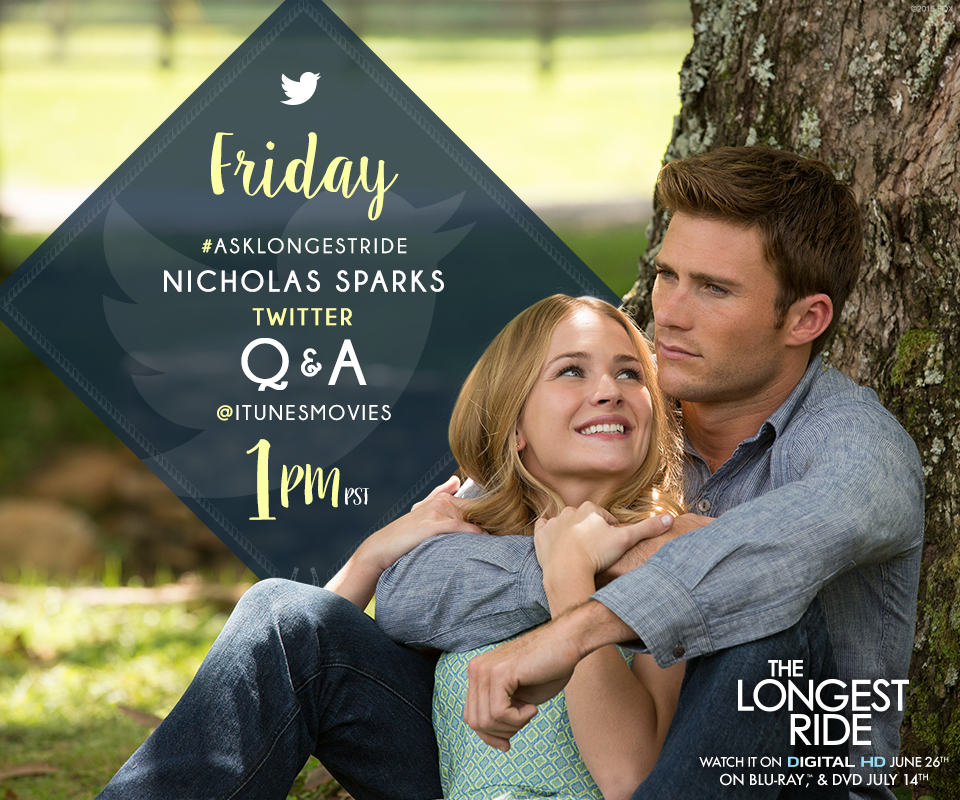 Using the hashtag #AskLongestRide, you can chat with Nicholas Sparks, hosted by @iTunesMovies at 1PM PST!
The Longest Ride Available on Digital HD Today!
Synopsis:
What would you do for the love of your life? Twentieth Century Fox Home Entertainment invites you to grab the bull by the horns in THE LONGEST RIDE, which releases on Blu-ray™ and DVD July 14. Up-and-coming stars Britt Robertson and Scott Eastwood will tug at your heartstrings as they bring Nicholas Sparks' beloved novel to life.
Based on the bestselling novel by master storyteller Sparks, THE LONGEST RIDEcenters on the star-crossed love affair between Luke, a former champion bull rider looking to make a comeback, and Sophia, a college student who is about to embark upon her dream job in New York City's art world. As conflicting paths and ideals test their relationship, Sophia and Luke make an unexpected connection with Ira, whose memories of his own decades-long romance with his beloved wife deeply inspire the young couple. Spanning generations and two intertwining love stories, THE LONGEST RIDE explores the challenges and infinite rewards of enduring love.
"As a Fox Home Entertainment Insider I will receive a copy of The Longest Ride on Blu-ray for review. All opinions shared about the movie on this blog are my own."