White Springs is located on the banks of the Suwannee River in Hamilton County, Florida. About an hours drive North of Jacksonville White Springs is a quite friendly town. Hiking, biking, canoeing, camping there are plenty of outdoor activities to keep you busy on the Suwannee. You can camp at one of the near by campgrounds or stay a night or two at the
White Springs B'n B
.
Here are 5 places to see in White Springs, Florida.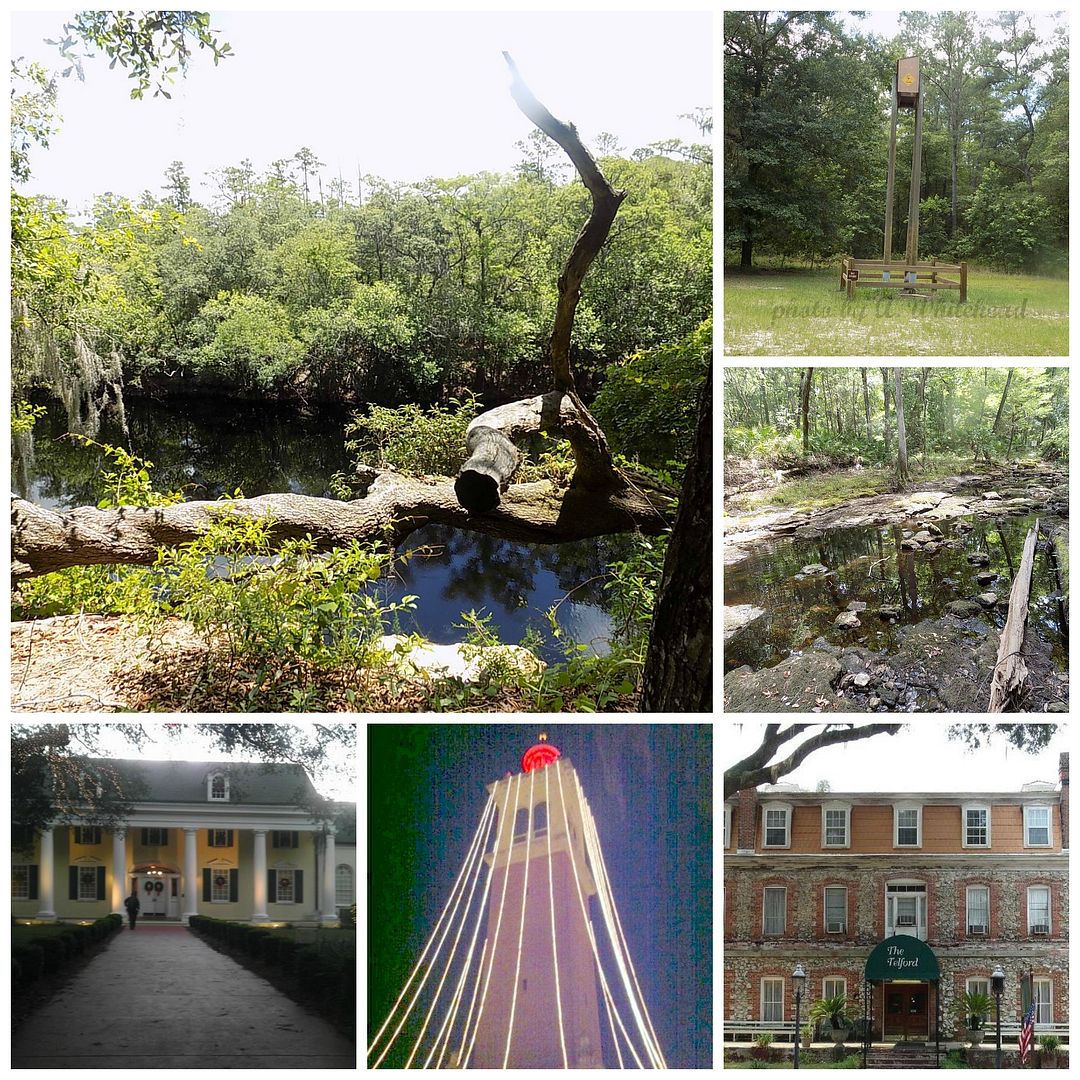 1.
Big Shoals Public Lands State Park
- has over 28 miles of trails many of which are on the banks of the Suwannee. Woodpecker trail is 3 mile hiking /biking trail that connects Little Shoals to Big Shoals. Hiking, biking and horseback riding are all welcomed on the many trails here. You'll find all kinds of wild life , big pines, shrubs and more. We saw deer and birds on our hiking adventure. Be sure and bring bug spray the yellow flies are on steroids here.
Big Shoals
is also home to Florida's only class III white water rapids (depending on water levels. ) This area of the Suwannee is perfect for canoes, kayaks and fishermen. Get ready for some great times outdoors.
2.
Stephen Foster Folk Culture Center-
This center honors Stephen Foster who wrote the song "Old Folks Home" the song which made the Suwannee River famous. This park offers camping and even cabins along the river. My favorite part is the bell tower which chimes through out the day. The museum has many beautiful old pianos and art work , the grounds are lovely. Crafters village you can catch live demonstrations of quilting, black smithing, glass making and other things from the time period. My favorite time to visit the center is at Christmas to catch the
Festival of Lights
.
3.
Falling Creek Falls Park
is located on US 41. Falling creek park is part of the Florida Great Birding trail. We had a huge hawk squeak and swoop down in front of us while walking the trial. Falling Creek is home to other wildlife as well so be on the look out as you visit. During normal water levels the creek roars over a
10 foot water fall
. (You heard me right) The park has a nice picnic area, boardwalk, and playground for the kids . A very nice area to picnic, and explore with kids.
4.
Telford Hotel
- The Telford Hotel is closed. However, you can still drive by and see this little piece of history. Built around 1902 this was once the largest hotel in Florida. I think this building and some of the other older churches are what gives White Springs charm.
5.
Bat House
- The bat house is actually at the entrance of Big Shoals Public Lands. We vote them a neat experience. If you are in the area or hiking in the evening then stop by . Right around sunset hundreds of Mexican Free Tailed Bats come flying out.