Living at the Whitehead's Zoo received complimentary DVD'S from the New Once Upon a Sign Series a children's DVD series that shares classic stories in American Sign Language. All opinions shared here about this collection of videos are our own. Thanks

"Sign" on for a Modern Twist on Classic Stories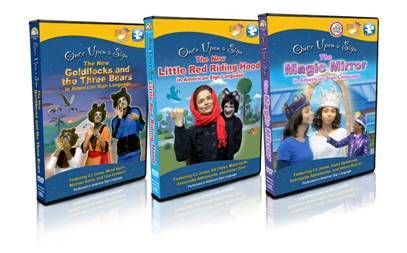 New
Once Upon a Sign
Award-Winning
Children's

DVD

Series Retells Favorite Children's Tales in
American Sign Language (

ASL

)
Coming to

DVD

May
26
, 2015
F
rom DawnSignPress-The Nation's
Leader in
ASL
San Diego, CA (April 29, 2015) – You know the stories well. You had them read to you dozens of times as a child, your parent's voice bringing the characters to life. But what are those timeless tales like when performed by a Deaf cast signing
ASL
? Amazing, fun and totally engaging for everyone, thanks to DawnSignPress, a company well-known for
quality children's

ASL

products, and the launch of
their new award-winning
Once Upon a Sign
DVDs
available
May 26, 2015
.
Initial three titles in launch are "
The Magic Mirror in American Sign Language"
- Winner of Parents' Choice Approval,
"The New Goldilocks and the Three Bears in American Sign Language"
and "
The New Little Red Riding Hood in American Sign Language
.
"
All are endorsed by KIDS FIRST! and have received the Dove Family Foundation Seal of Approval. Suggested retail price is $15.95 for each of the 25-minute
DVDs
.
Once Upon a Sign
re-creates classic children's stories with clever modern themes performed by an all-deaf cast entirely in
ASL
with voice-over and English subtitles. Each
DVD
also features "Fun Signs," a recap of key signs from the story.
"With the popularity of teaching babies sign language parents may be looking for that next step for their children to learn more signs as they grow older," says Joe Danis president of DawnSignPress. "Well, look no more! Children, deaf or hearing, will love watching these stories being brought to life in beautiful American Sign Language. and it's a great way to bring together the deaf and hearing community."
Once Upon a Sign Launch

DVD

Titles:
In "
Once Upon a Sign:
The Magic Mirror
" young Alice Cogswell wants to enter the talent show but she's unsure of herself. After an audition that doesn't go her way, she gets some magic help. But will this magic help get her to the talent show and help her
ASL
poetry sparkle?
"Once Upon a Sign: The New Little Red Riding Hood" is set in New York City and takes you on an exciting trip through Central Park. Little Wolf will be up to his old tricks, but will Little Red fall for it, or will the Park Ranger save the day? And how will Grandma react to all the excitement going on?
In "Once Upon a Sign: The New Goldilocks and the Three Bears," overlooking the scenic California coast a quaint home sits alone. This is the home of the Three Bears, but today, something will change. An unexpected golden-haired visitor awaits them when they return home after a nice, long walk on the beach.
Future Titles in the
Once Upon a Sign
DVD
series include
Jack and the Beanstalk
,
The Stone Soup
and
Three Little Pigs
. For more information on these and all titles in the series, visit
www.dawnsign.com
.
About DawnSignPress
DawnSignPress creates, develops, and publishes quality children's American Sign Language (

ASL

) videos and books. After 35 years of pioneering

ASL

products, DawnSignPress is still on the cutting edge of the educational and social media trends relating to

ASL

Now, with

ASL

's popularity n the mainstream on a steady rise DawnSignPress looks to offer quality

ASL

to a wider audience.
For more information visitwww.dawnsignpress.com.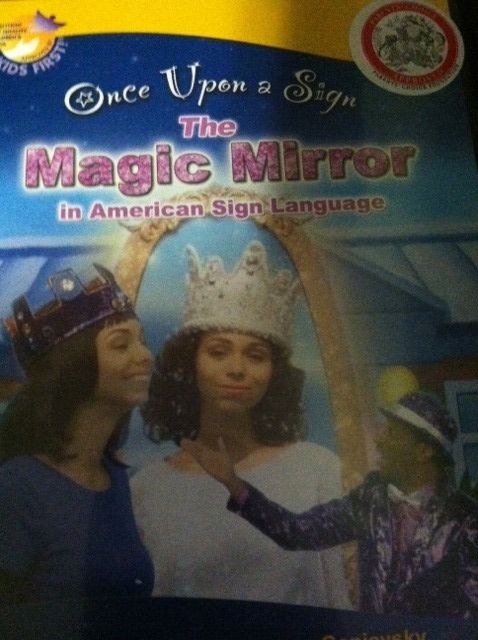 My Thoughts:
We've been teaching signs to our class all school year long. The Magic Mirror is recommended for ages 3 to 6 years old as a part of the Once Upon a Sign series. I think that the story line was a little bit old for my three year old class but they really enjoyed learning new signs. Sparkle a magical character who enters the room through a "magic mirror" was a hit. I'm happy to have this new addition to our classroom movie library. I look forward to trying some of the other titles in the Once Upon a Time series next school year.