" This post was sponsored by Lima Bear Press . Even so the review and opinions below on the story The Labyrinth by Thomas and Peter Weck are completely my own. Thank you."
It's L. Joe Bean vs the Mean ol' Bean… Who Will Come Out Ahead? Jealousy is something that everyone faces no matter how young or how old. Unfortunately, children become familiar with jealousy very early since almost everything can seem like a competition—from what toys you are playing with, to who gets picked for which team, to having the coolest backpack. However, children do not always know the best ways to deal with jealousy because most of the time it stems from something they did innocently. It isn't the child's fault if she gets picked for a certain team and others are jealous of her position. This is the situation in
The Labyrinth
by Thomas Weck and Peter Weck, with captivating illustrations by Len DiSalvo (©8/2012,
limabearpress.com
, $15.95 dust-jacketed hc).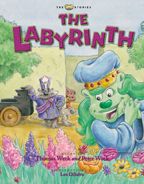 The Labryinth A Children's Book Review
Our thoughts:
The illustrations were fun and cheerful.Full of imagination. We liked the extended learning page and activities ideas at the back of the book. These are very helpful for extensions in a classroom setting.
The story was a little bit longer and wordy for my younger toddler class. They really loved the rhyming through out like this
" Oh, Mean ol' Bean How he did scheme. To be rid of the Queen, That was his dream"
. My son is six and he enjoyed the story and was cheering as L.Joe Bean came up with a plan to save the queen. As a mom and teacher I really appreciate the positive message that The Labyrinth shares . Jealousy is a tough emotion to deal with sometimes. I also love all of the problem solving and life lessons.
The
Labyrinth
. (ages 4 to 8) and I think that is an accurate age recommendation.
The Labyrinth is the fourth title in The Lima Bear Stories series from Lima Bear® Press, LLC. Also available are The Megasaurus, How Back-Back Got His Name and The Cave Monster. The publisher's mission is to publish children's stories that are engaging, imaginative, and humorous while carrying an important life message such as tolerance, honesty, courage, forgiveness, etc. The stories are entertaining and meaningful both to those who listen as well as to those who read them aloud.''
Meet the Authors and Illustrator :
Thomas Weck is a creative and captivating national award-winning author of children's books. He has traveled extensively in the U.S. and in foreign countries including teaching children through the Peace Corps. With four children of his own and a passion for observing children's behavior, he has distilled these observations into stories that excite the imagination of young minds amidst peals of laughter and learning. The Labyrinth is the fourth title in the award-winning The Lima Bear Stories series. Peter Weck grew up enjoying the wonderful stories his father told about Lima Bear and his friends. Now that he is the father of three young girls, Peter has teamed up with his father to capture these and other stories in print. His goal is to help children foster a love for creating, reading, and listening to stories. He currently serves on the board of the Menlo Park Library Foundation and is CEO of StoryJumper, a web-based company that enables anyone to create and illustrate children's stories. Len DiSalvo is an illustrator and animator for a wide range of print projects and award-winning computer games. He currently teaches art illustration and animation at the Art Center Design College in Tucson, Arizona.