N
ight At The Museum Secret of the Tomb
comes to Blu-ray and DVD on
March 10th!
I can't wait. This will be a movie night for MOM and the kids. I loved all of these movies. Ben Stiller just cracks me up friends.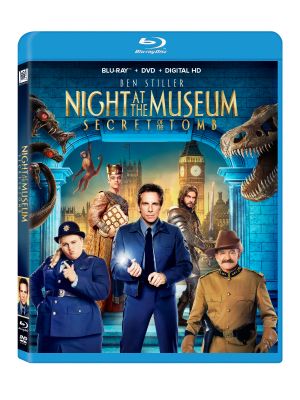 If it's laughter you're after, get ready for the most hilarious night ever! Ben Stiller leads an all-star comedy cast, including Robin Williams, Owen Wilson, Rebel Wilson and Ricky Gervais, for one final, fun-filled Night at the Museum. This time, Larry Daley (Stiller) and his heroic friends embark on their greatest adventure yet as they travel to London in order to save the magic that brings the museum exhibits to life!
BUY on Amazon: You can purchase a copy of Night of the Museum Secret of the Tomb
Print and Play: Get your Printable Night at the Museum Secret of the Tomb Activity Sheets
WIN: Enter to Win a copy of Night at the Museum Secret of the Tomb on Blu-Ray DVD. Fill out the entry form for your chance. (USA Only)
a Rafflecopter giveaway
"As a Fox Home Entertainment Insider I receive a complimentary copy of the ablove Bluray DVD for reviewing purposes. All opinions expressed here are my own. "