I seriously have a sweet tooth. I try to keep sweets a treat here and there. If not I'd be eating them all up and then whining about them landing on my hips . You girls know how that goes. Specially when it is as good as this
cake recipe
I'm fixing to share with you all. I mean think of two favorites like cinnamon rolls and cake and then combine them. Hello
SUCCESS
this
cinnamon roll cake
is pure YUMMINESS!
Cinnamon Rolls are just one of them foods that are good any time whether it be breakfast or dessert. I have to say I have a weakness for them. They always make me think of being pregnant with my oldest. When I was pregnant with her I would go to my Doctor appointments and then head right on over to the mall and visit Cinnabon. I know not the healthiest thing to have a craving for. Of course this could be part of the reason I also gained way to much weight with her. OOPS. Thank goodness all went well and I had one healthy baby girl. I'm so blessed. Now she is all grown up, going to college, engaged and living her life as a young woman. I'm so proud of that girl. Can't you tell!
Anyway enough of the sentiments and memories lets get to that recipe. Here you go friends. Enjoy!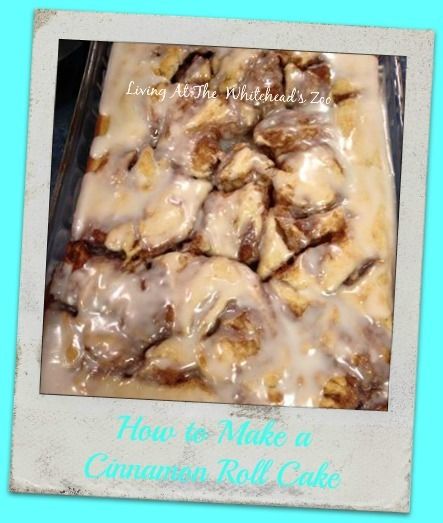 Lets make a cinnamon roll cake!
How to Make a Cinnamon Roll Cake
3 cups self rising flour
1/4 teaspoon salt
1 cup sugar
2 teaspoons baking powder
1 1/2 cups milk
2 eggs
2 teaspoons vanilla
1/2 cup butter, melted
Topping:
1 cup butter, softened
1 cup brown sugar
2 tablespoons flour
1 tablespoon cinnamon
Glaze:
2 cups icing sugar
5 tablespoons milk
1 teaspoon vanilla
Preheat oven to 350F. Prepare a 9 x 13 baking pan (buttered).
Mix all of the base ingredients together, with the exception of the butter. Add the melted butter last, and then pour into your prepared pan,
Mix all of the topping ingredients together in a separate bowl. Mix well. Drop by teaspoonful over the base, as evenly as you can over the entire base. Take a butter knife and swirl the topping into the base. Pop into the oven and bake for 28-30 minutes.
While the cake is baking, prepare the glaze and set aside.
Remove from oven and glaze the cake while still warm.