"
As a Purex Insider I received a complimentary sample of this product for review. All opinions are my own. "
Have you ever opened up your laundry detergent went to pour it in and wondered if you measured that right? Or spilled it down the side of the bottle and made a big mess? New Purex Powershot detergent simplifies the laundry routine by taking the guesswork out of measuring. This liquid laundry detergent comes in a bottle that automatically dispenses the right amount of super concentrated formula. It also has
50% more stain fighting power
in every drop.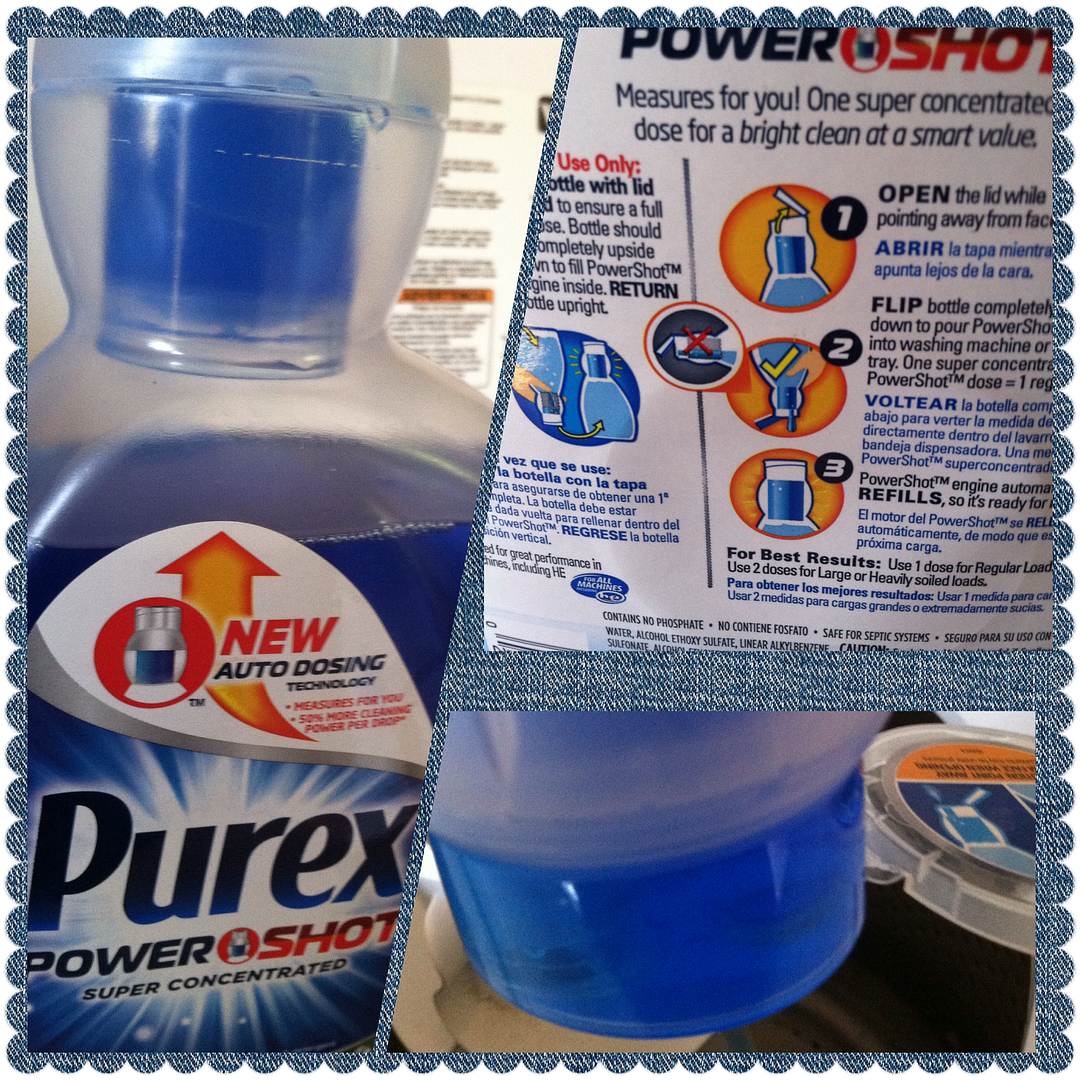 How does it work?
Open the cap of your bottle and flip it upside down. That's it super easy and your bottle will give you one super concentrated dose of detergent. Flip the bottle back over and you are all done.
Flip, Dose and Done
! The
Purex Powershot
is available in two great scents : mountain breeze and Natural Elements Linen and Lillie's. We sampled the mountain breeze and I do think that is a great fresh scent. A good smelling detergent is very important to me.
flip the cap
What did I think?
I'm going to be straight up honest with you and tell you the first time I tried it I did not like it. I like dumping my detergent in and making sure its all in there and missing that step kind of threw me off at first. I am one of them girls who usually leaves my laundry until the weekend. Then I have an all day laundry marathon. After, a couple of loads with the Purex Powershot I realized I do like it. I am using less detergent which would make since I've probably been measuring wrong. Also, no mess and it really is even faster there is no screwing a lid on and off . I'm all about cutting down on laundry time and messes for me ! So I give this new product from Purex a
thumbs up!
How many of you could use a new Whirlpool Washer and Dryer? Hands up in the air saying ME.... Well my hand is up I'd be ecstatic if I won a washer and dryer. Here is your chance enter the
Purex Powershot Sweepstakes!
Now that you've read what we think about this new laundry detergent how would you like to try it for yourself? We have a Giveaway Just for our Readers!
Win ~
2 manufacturer coupons for full size bottles of Purex PowerShot! Just enter the entry form for your chance to be the winner. US only
a Rafflecopter giveaway