Looking for a recipe that is a little bit different and a whole lot of delicious ? We have the one for you. I just got this new family favorite from one of my cousins. That girl can cook.
Chicken Lasagna
is really simple to throw together, freezable and totally
AWESOME
! It's creamy and cheesy and oh so good.
I love this recipe because you can make it up pretty quickly from start to finish. However, if you know that you are going to be in a rush or working late you can always make it up ahead of time and just bake it when you get home. This meal is also freezer friendly (which personally) I am a huge fan of. I'm all for stocking up your freezer with ready to cook homemade meals. It so makes life healthier and easier. Why healthier? If have meals ready to go in the freezer I'm less likely to eat out or grab something easy but not so good for you. All you have to do for freezing is mix it as directed and place in a disposable aluminum pan. Wrap it well with tin foil and label with a marker. Super easy so why not double your ingredients today and make two/
Another handy couple of tips. You can use shredded chicken that you boiled and shredded ahead of time. I do my chicken and freeze it ziplock bags and then just pop it out to defrost before hand. You can also use rotisserie chicken for this and it is delicious.
Homemade Chicken Lasagna
How to make our new family favorite: Chicken Lasagna
Ingredients:
9 lasagna noodles cooked 15 minutes
1 can of cream of mushroom soup
1 can of cream of chicken soup
1 Cup of Sour Cream
1/2 cup of shredded Parmesan Cheese
1 cup chopped onion (optional)
1 cup green bell peppers (optional)
1/2 teaspoon garlic powder
2-3 cups chicken (I used shredded)
2 cups shredded cheese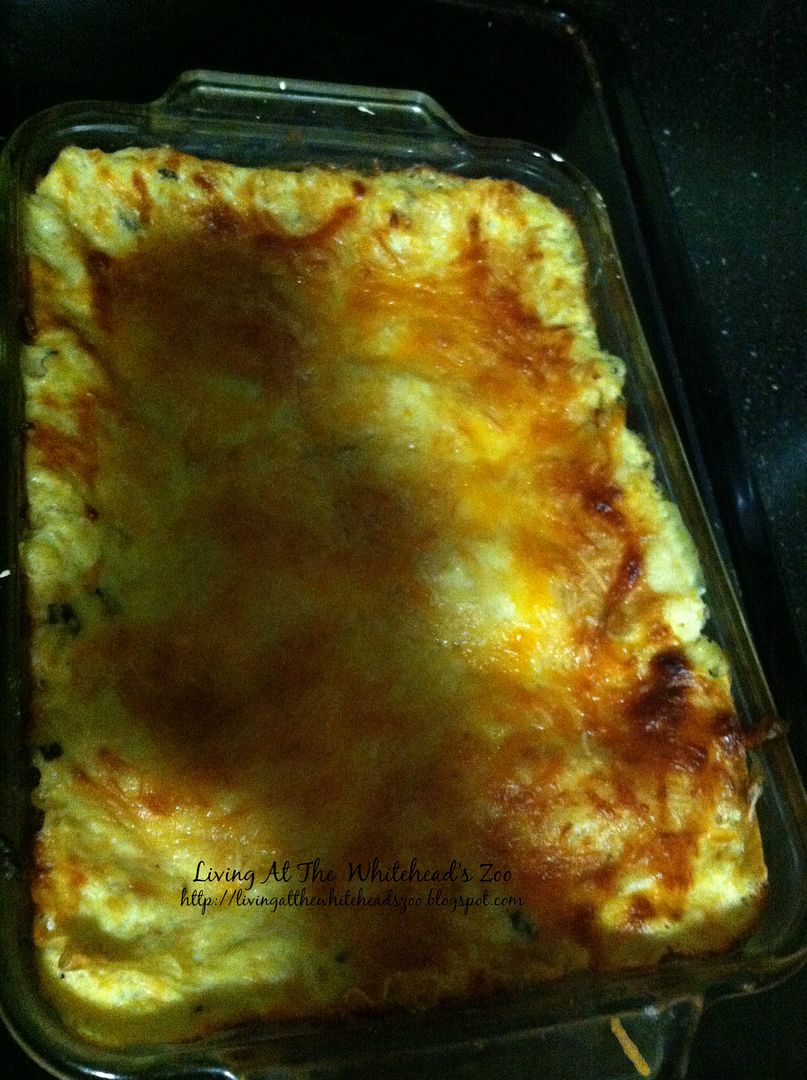 chicken lasagna baking in oven getting bubbly
Mix soups, Parmesan cheese, Sour Cream, onions , peppers and garlic powder in a mixing bowl. Stir in meat. Spread 1/4 of the mixture over the bottom of 13X9 casserole dish. Alternate noodles and soup mix. Sprinkle shredded cheese over the top. Bake at 350 degrees for 45 minutes or until cheese is nice and bubbly.
Chicken Lasagna this is so easy and so good!
Now don't you want to hurry up and add this to your menu. I couldn't wait to try it when I got the recipe .