Mark your calendars friends.
February 28th
sword swallowing is coming to Ripley's
St.Augustine
. Sword Swallowing if you are like me you may have just swallowed thinking about it. I have to confess I really do not know a single thing about sword swallowing . So, I really had no clue that February 28th is "
World Sword Swallower's Day
." No idea! This event looks like so much fun. I definitely think it will be a fun family day and am really looking forward to learning all about this performance.
St. Augustine, Fla. (Jan. 28, 2015)
- Ripley's Believe It or Not! will once again pay tribute to the ancient art of sword swallowing by holding free sword swallowing performances as part of
World Sword Swallower's Day
on
Saturday, February 28
.

Ripley's will showcase sword swallowers from all over the world at its Odditoriums in New York City, Hollywood, San Francisco, Baltimore, Gatlinburg, Myrtle Beach, Branson, Atlantic City, Orlando, St. Augustine, Panama City Beach, Key West and Grand Prairie.
Chris Steele swallowing nine swords at one time!
In St. Augustine, Chris Steele returns to wow crowds and will perform several death-defying feats. The show will start at

2:00 pm

with an official swallow at 2:28:15 to coincide with the

2/28/15

date. Ripley's St. Augustine Odditorium is located at 19 San Marco Drive. The sword swallowing performances will be FREE, but admission is required to tour the Odditorium.
"We established World Sword Swallower's Day to recognize the handful of people in the world who can do this and honor this art that is more than 4,000 years old," said Dan Meyer, president of the SSAI.
The event also raises awareness of the contributions sword swallowers have made to the fields of medicine and science and raises money for esophageal cancer research.

Ripley's Believe It or Not! has long chronicled the death-defying achievements of sword swallowers. Sword swallowers were a prominently featured at the very first Ripley's Believe It or Not! Odditorium at the Chicago World's Fair in 1933.
People who want to try their hand at sword swallowing - and not risk their lives - can use the
Ripley iSword
app to swallow a virtual sword and freak out their friends. All it takes is nerves of steel and lightning-fast reflexes. The app is available at the App Store for iPhone, iPad or iPod touch iOS 5 or later.
About Ripley Entertainment
Ripley's Believe It or Not! St. Augustine is part of the Ripley Entertainment Inc. (
www.ripleys.com
) family of worldwide attractions,
the global leader in location-based entertainment. More than 13 million people visit its 90-plus attractions in 10 countries each year. In addition to its 32 Believe It or Not!Odditoriums, the Orlando, Florida-based company has publishing, licensing and broadcast divisions that oversee projects including the syndicated Believe It or Not! television show, best-selling books and the popular syndicated cartoon strip, Ripley's Believe It or Not!, that still runs daily in 42 countries. Ripley Entertainment is a Jim Pattison Company, the third-largest privately held company in Canada.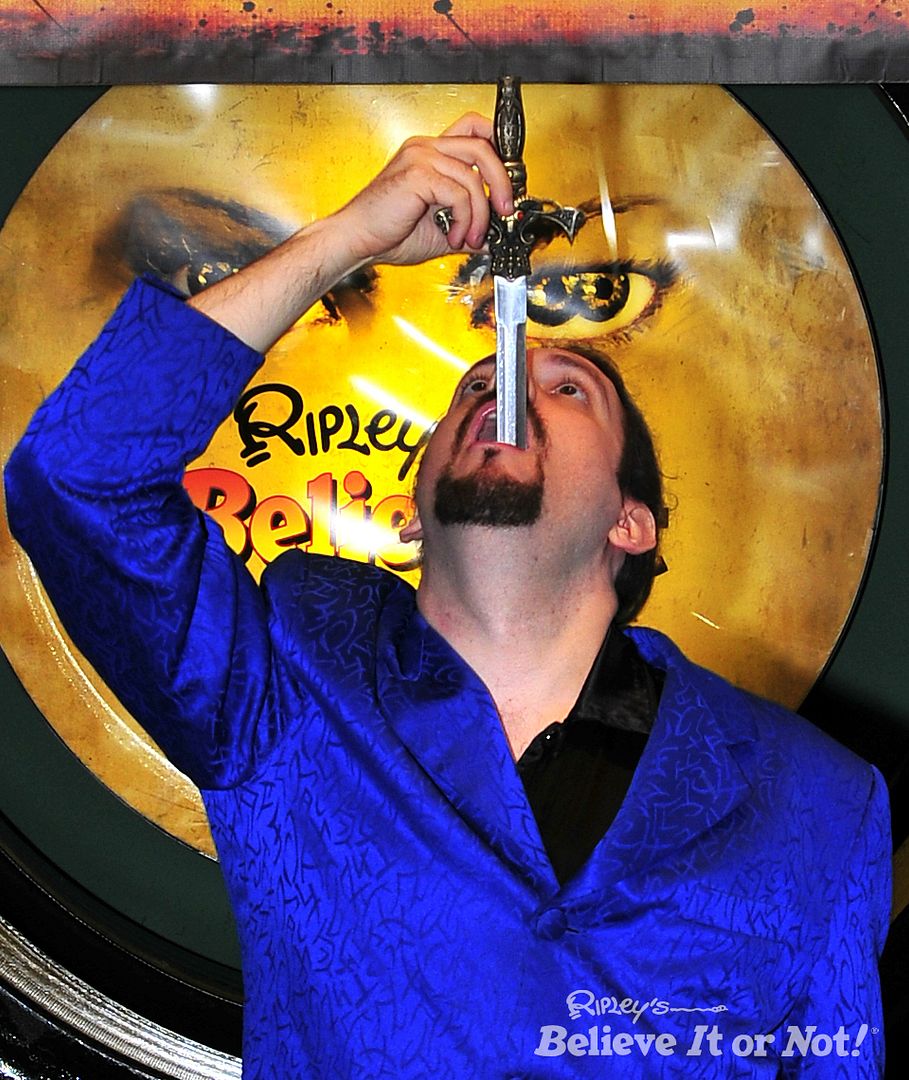 This photo was prvoided by Riplwy;s Believe it or not
About Sword Swallowing
The art of sword swallowing began more than 4,000 years ago in India, and requires the practitioner to use mind-over-matter techniques to control the body and repress natural reflexes to insert solid steel blades from 15 to 25 inches down the esophagus and into the stomach. With the demise of the traveling circus sideshow over the past several decades, there are currently less than a few dozen full-time professional sword swallowers actively performing the deadly art around the world today.
About the Sword Swallowers Association International
Founded in 2001 to preserve the art of sword swallowing, SSAI (

www.swordswallow.org

) is comprised of sword swallowers from around the world and maintains a website with general information on sword swallowing for the general public at www.swordswallow.com