Top 10 picks for Valentine's Dinner
We're kicking off our Valentine's series with
10 picks for Valentines Dinner
or an evening outing. Now let me say you know your Valentine so take their likes in likes into consideration don't just go by our list here. We hope this helps you find the perfect place to celebrate. Stay tuned because we will be sharing other great ideas and tips for Valentine's each week from now until February 14th.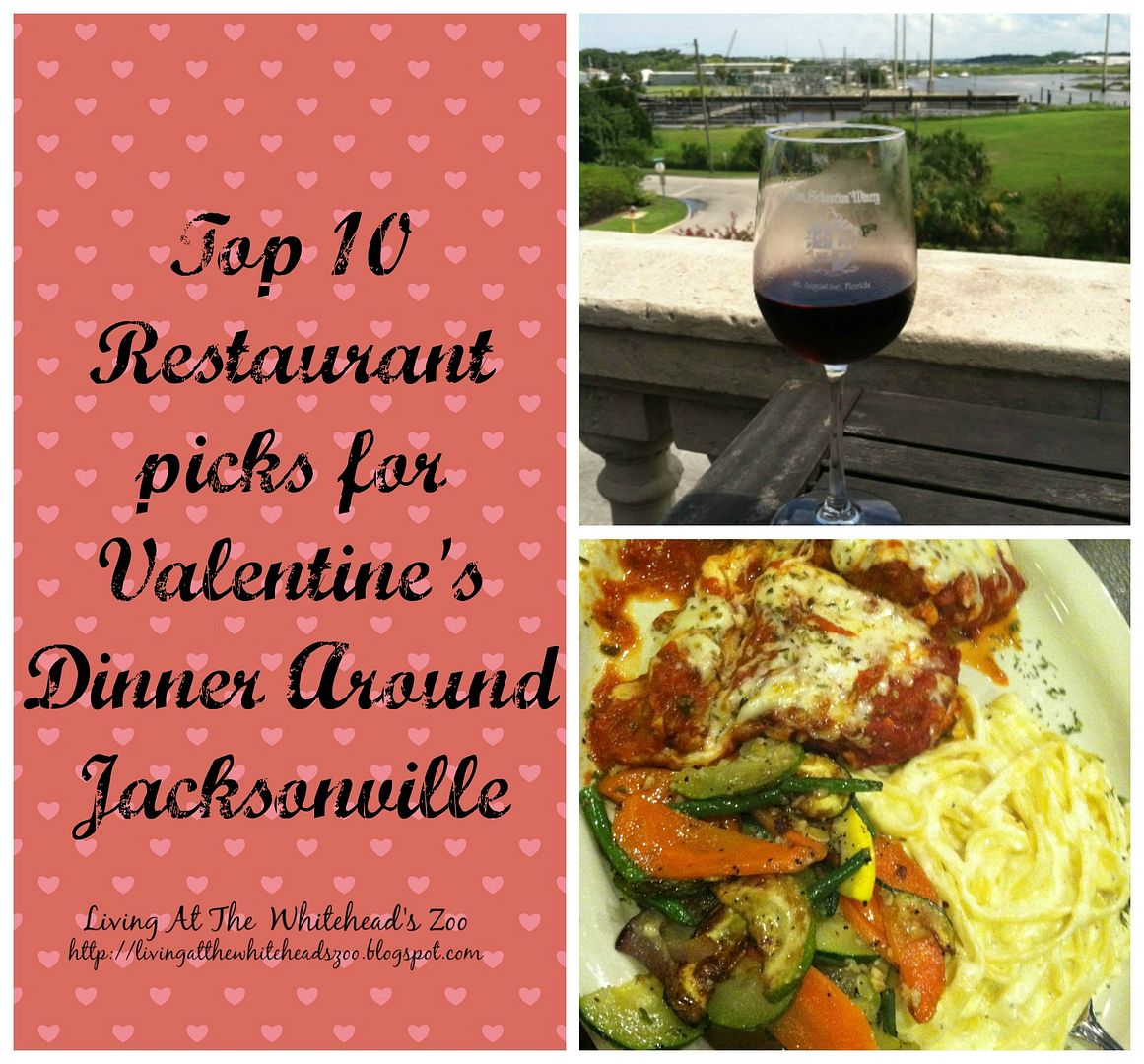 10 Picks for Valentine's Day Dinner
Chianti Room - Italian food and a great setting in St.Augustine Florida. The food and customer service are both great. And although I think of the Chianti Room as very family friendly I can also see a cozy dinner for two being very romantic enjoying a glass of wine, Italian food and a walk through the oldest City.
Alhambra Theater - Dinner and a play at the Alhambra. Personally, this would not be a pick by me but a friend of mine says YES please! Check out the Alhambra After Dark shows for more of an evening date night feel. Elvis King of Hearts is playing February 11-15.
San Sebastian Winery located on Kings Street in St.Augustine. Wine tasting and tours are open Monday - Saturday 10-6pm and Sundays 11-6. The Upstairs Cellar has appetizers, light food and jazz bar entertainment. This is a great little place to unwind specially for one of those first type dates. Not overly romantic but a lot of fun !
Melting Pot at St.John's Town center is a fondue restaurant. The Melting Pot has made Open Table's annual Diner's choice list of the 100 most romantic restaurants in the US. So score yourself a romantic seat on Lovers Lane and serve your love some chocolate covered strawberries.
Aqua Grill - in Ponte Vedra great atmosphere and amazing food Aqua Grill has a great deck so take a moment or two to enjoy it. They are known for their attention to every little detail as well and they do take reservations so plan ahead.
Ocean 60 - has amazing food and would compliment a walk on the beach after dinner. The cuisine is inspired by world travelers and is eclectic. It's a fun place to dine in the Atlantic Beach area. Enjoy!
Enza's - Is Authentic Italian food . Be sure and make reservations and plan to pay because it is not cheap . Enza's has great reviews from friends and is located at 296 and San Jose.
Hilltop - is a romantic setting, delicious food and fantastic piano player. A little pricey have a look at the Valentine's Menu ($54.95 per person). It's located off of Wells Road in Orange Park.
The Good Food Company - everything is fresh, organic and grass fed. The Good Food prides itself in using only the best ingredients out there and local whenever possible. Book your reservation online to make sure you get a seat. The menu changes so check it out before hand as well.
La Pentola Restaurant is a St.Augustine favorite. They have an intimate atmosphere with both indoor and outdoor dining. I have several friends who enjoy the courtyard. La Pentola's chef specializes in Mediterranean and Latin cuisine.
There you are 10 restaurant picks that have gotten great reviews from my own personal experience or one the poll with my friends. Which ever you choose we hope you have a fabulous dinner out!