"I received a box of products compliments of Influenster for testing . Here are my thoughts. "
The Frosty Vox Box came and had several products for me to sample . I thought it would be great to share my thoughts and each different product with you guys. First, here is a video of me opening the box and an over view of the contents.
Let us talk about
the good, the bad and the lovely.
One of the things I like about the Influenster boxes is that you get full sized products to test. This box included several products I will purchase again and am so glad that I did try. Take a Look!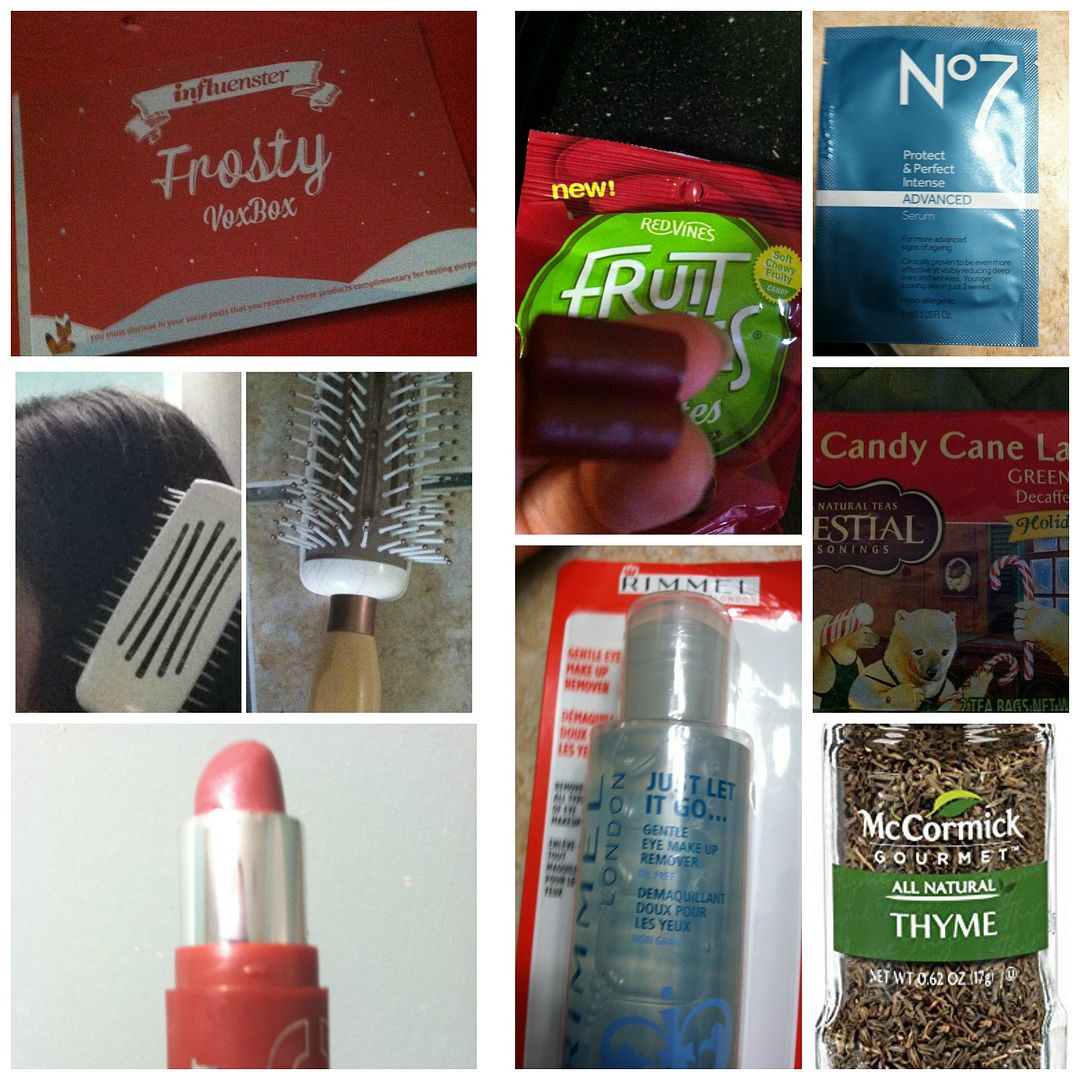 #FrostyVoxBox
My favorite products of the box are the
lovely
:
Eco Tools Hair Brush I use it daily now this brush is awesome on my fine thin hair and great for tangles. So thank you #LOVEMYECOHAIRBRUSH
NYC Expert Last Lip Color in Sugar Plum - this color really suits me and is now one of my favorites . I wear it all of the time . It glides on really smooth, the color and shine really last. I'm a new fan of the #SugarPlum.
Rimmel Gentle Eye Make Up Remover & Rimmel Scandal Eyes Waterproof kohi kojal eyeliner - When this bottle of Rimmel runs out I will purchase a second bottle. At around $7.49 a bottle it does the job and makes wearing eye make up so much more pleasurable. All you do is add a little bit to a cotton ball and wipe your eyes. The eye liner is great too! I LOVE love the Scandal Eyes line. This eye liner stands out, it is bold, it pops and glides on smoothly and doesn't go anywhere until you want it to. Thank you Rimmel! #Rimmel
The Good:
McCormick Gourmet Thyme - This spice adds great flavor to my dishes. I love the size of the bottle , the aroma when you open it and the McCormick Gourmet recipe ideas online. #McCormickGourmet
Fruit Vines Bites- I'm not a big gummy eater but if I was these cherry fruit bites would be my choice. They have great taste and I love the size the bite size are. My kids really Love them so they make a perfect little snack for them. And are less than $2 a bag! #SweetSide
Celestial Seasonings Candy Cane Lane Decaf Green Tea- This tea when you are making it smells just heavenly. I love the aroma it gives . #CelestialTea
The Bad:
No 7 Protect and Perfect Sachet - This item is clinically proven to reduce the signs of aging. This product is not bad I don't think but the sample size really was not adequate to form an opinion on . #GetAdvanced