"
I received an all expenses day at Kennedy Space Center as part of a media trip. All opinions shared here are my own."
Kennedy Space Center
is one of the places I recently got to visit when on Florida's Space Coast. I couldn't believe that I had lived in Florida my entire life and had never been. I was more than a little bit excited. 5, 4, 3, 2, 1 just about 45 minutes away from
Tuckaway Shores Resort
and you are there . Space exploration is one of them things that absolutely amazes me. I have to say that being at the Space Center tugged at my patriotic strings and even made me a bit emotional. It's unreal what we've done in the past and what hopefully we will one day in the future. Kennedy Space Center is a place that you can visit with or without your children. It is also very educational but fun too. I think the entire family would enjoy a day here and look forward to bringing my family back.
Space Shuttle Atlantis Entrance
One of the best part of our day at the Space Center was that we had
tour guide
. I definitely recommend going that route if you can do so. She was so fun and knowledgeable . I think I learned 10 times more having our private guide than I would on my own. Plus she was very very passionate about NASA and all things related. That kind of passion is contagious and caught on in our group very quickly.
The Space Shuttle Atlantis exhibit was truly my favorite part. It is breathtaking. I was overwhelmed by just how big the shuttle is. I don't think I had any concept before seeing it in person just what we have done in space . The size of it in real life is just not like anything you see on television friends. It is HUGE!
Atlantis on exhibit at Kennedy Space Center Visitor Complex
There is quite a lot to do at Kennedy Space Center so wear your walking shoes. You can:
tour launch and landing facilities
train on space flight simulators
watch IMAX space videos
meet an astronaut
check out the Atlantis
visit the astronaut hall of fame
Next, door to the Atlantis exhibit you can take the simulated launch. Strap in and see if you think you could make the cut. (I could not) There are physical requirements for the simulation. If for some reason you can't participate you will be able to watch from an observation room. I still can't believe I let them talk me into this . I do not ride anything . It wasn't bad I won't say I loved it but I didn't get sick or anything .


If all of this sounds like a neat day, but you are still wondering what kind of action there would be for the kids here is the answer. There is plenty of fun for kids here. Giant slides they can slide down. The Hands On Angry Birds Space Encounter which has a giant sling shot, maze, puzzles and more in it. I went inside here and thought the kids would indeed LOVE it .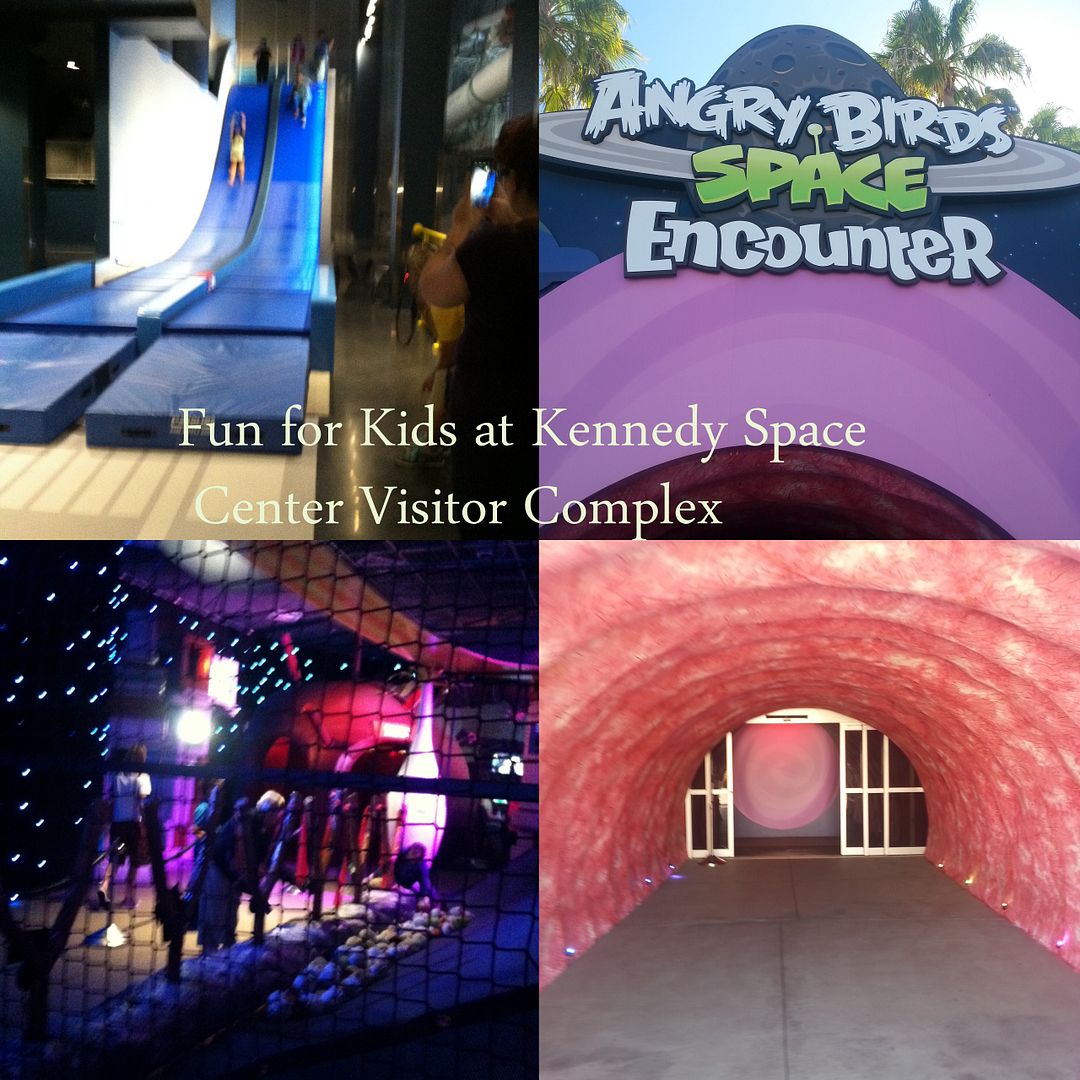 Giant Inflatable slide and the Angry Birds Space Encounter fun for kids
After all of this fun you are probably getting hungry.
I recommend lunch with an astronaut.
A great experience for both children and adults and the food was very yummy! Lunch is set up in the form of a buffet bar and dessert bar. During your lunch you will have a chance to play question and answer with a live astronaut. The kids all seemed to be really excited about this. They did repeat their questions quite a bit though.
"We Have Dreamed Big" Tom Milner "Space Shuttle Engineer". I am definitely looking forward to future trips to the Space Center. I can't wait to see what comes next for
NASA.
You can stay up to date on the latest news from NASA by following them on Facebook / Twitter.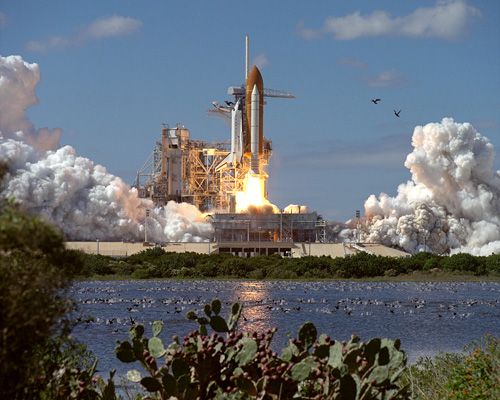 On MY Bucket List : Go to a Launch at Kennedy Space Center !
The
Falcon 9
is scheduled to
launch
on
December 19th at 1:22 PM.
The Falcon 9 is carrying cargo to the International Space Station. This will be the 5th resupply mission by SpaceX for NASA. There are several locations near Cape Canaveral you'll be able to see the launch. You can also purchase a $49 ticket and view it from the
LC-39 Observation Gantry Viewing Location.
"Some of the photos in this are my own from my day at Kennedy Space Center. Others are photos provided to me in a media kit by NASA."
Follow Amber Whitehead's board Visit Florida's Space Coast on Pinterest.