"Living at the Whiteheads Zoo was provided with a sample free of charge from Oriental Trading. We provided our honest opinion about our experience with the products below. Yours may be different. No other compensation was received for this review. "
One of my favorite activities each year is making homemade ornaments with the kids. They love it as much as I do. Even better is when we can include a photo , hand or footprint or something to make it unique to them. This year I had the chance to test out some fun ornament kits from Oriental Trading.
Oriental Trading
kits makes crafting with children so easy.
Today we're going to share a very simple craft with you. The hardest step is being patient enough to glue it all together.
How to Make a Reindeer Ornament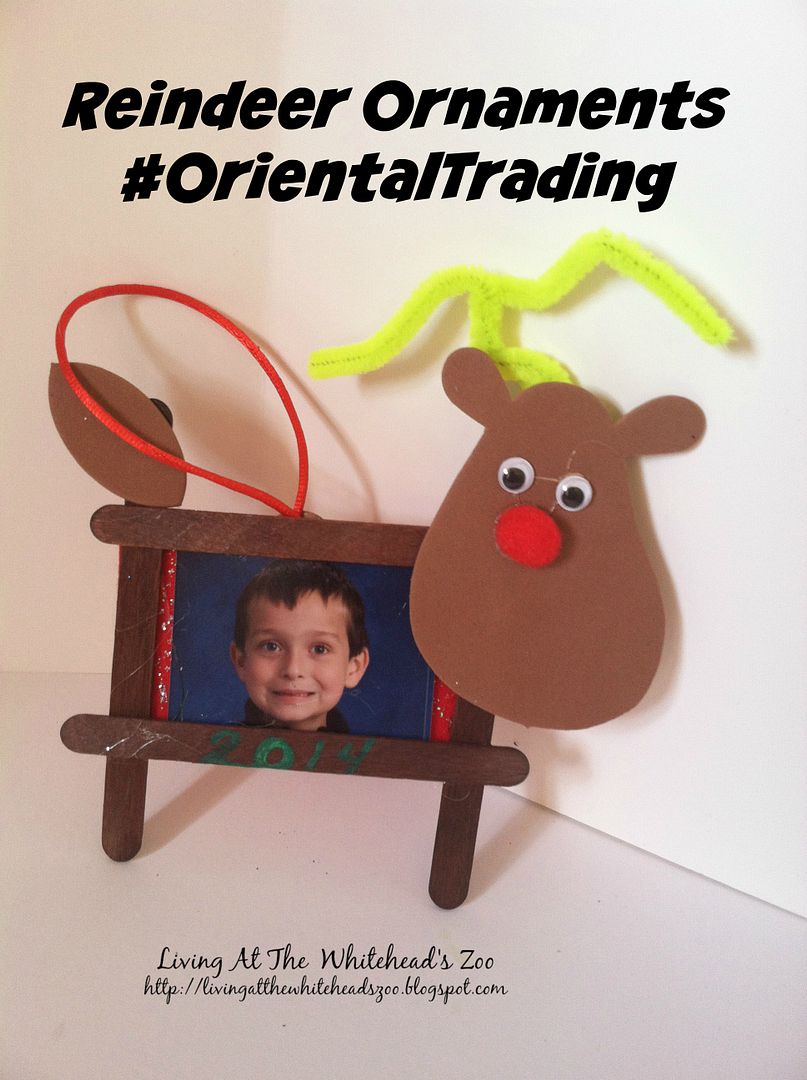 Made with Reindeer Ornament Kit from Oriental Trading
Each
craft kit
comes with everything you need to make 12 reindeer ornaments. Each ornament comes individually wrapped. This worked perfectly for me I had enough to do 23 with my class and 1 extra for my little here at home.
I first tested them out on C. (who is 5) and then decided to pre-assemble them for my class. I glued everything except for the eyes and nose on for my 3's class. C was able to assemble his on his own . Each kit has very easy to follow instructions. All you need is some good glue and you are ready. I found that hot glue worked best for me.
Simple Steps to make Oriental Trading Christmas Ornaments
Glue your craft sticks together. Glue on the tail, and head to separate sides. Add antlers by twisting and gluing pipe cleaners to the back of the head. Attach the ribbon to hang and glue on eyes and a red pom pom nose on the face. Then I took a paint marker and wrote the date across the bottom and added a photo from this year. Super easy it only took a few minutes.
You might like some of our other posts about Oriental Trading :
and some of our ornament post like these :