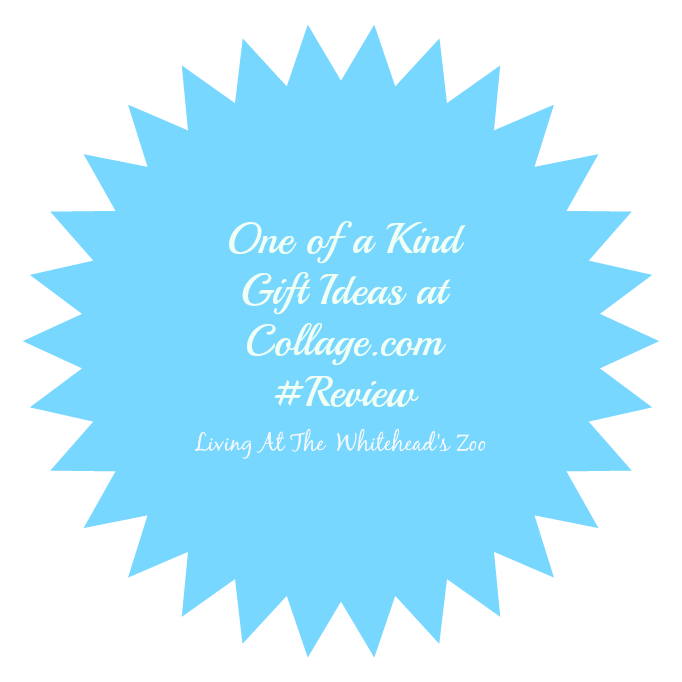 Are you still looking for gift ideas? Some of the hardest people on my list are my parents. They usually go out and buy whatever they want right after they say "I'd like to have that. " I like to get them things they enjoy. One of the things I know they love is photos of the grand kids. I recently had the chance to review three new items at
Collage.com
. I'm excited to share each item with you today and tell you these are all three great for holiday gift giving.
Custom Wrapping Paper -
Custom Wrapping Paper Will Really Make Your Gifts Stand Out !
personalize it with your memories (LOVE THIS )
measuring grid printed on the back (need this)
Printed on thick , high- quality wrapping paper
Can Purchase in 6 feet or 18 feet rolls (Go ahead and get the 18 feet your going to love it)
Photo collage is tiled horizontally across the roll
Custom wrapping paper makes a statement right off the bat. I created a roll using photos of the kids and me for my parents. We wrapped up my Dads gift and have it under the tree. My mom spied it and hasn't quit talking about it. She wants to frame the wrapping paper (silly girl) and wants everyone to see it before he can open his gift on Christmas. (poor dad he's going to have to wait). This paper was really fun and I definitely recommend it for special occasions when you want to stand out or say hey check out my snazzy wrapping job. Perfect for the grandparents.
Aluminum Photo Prints -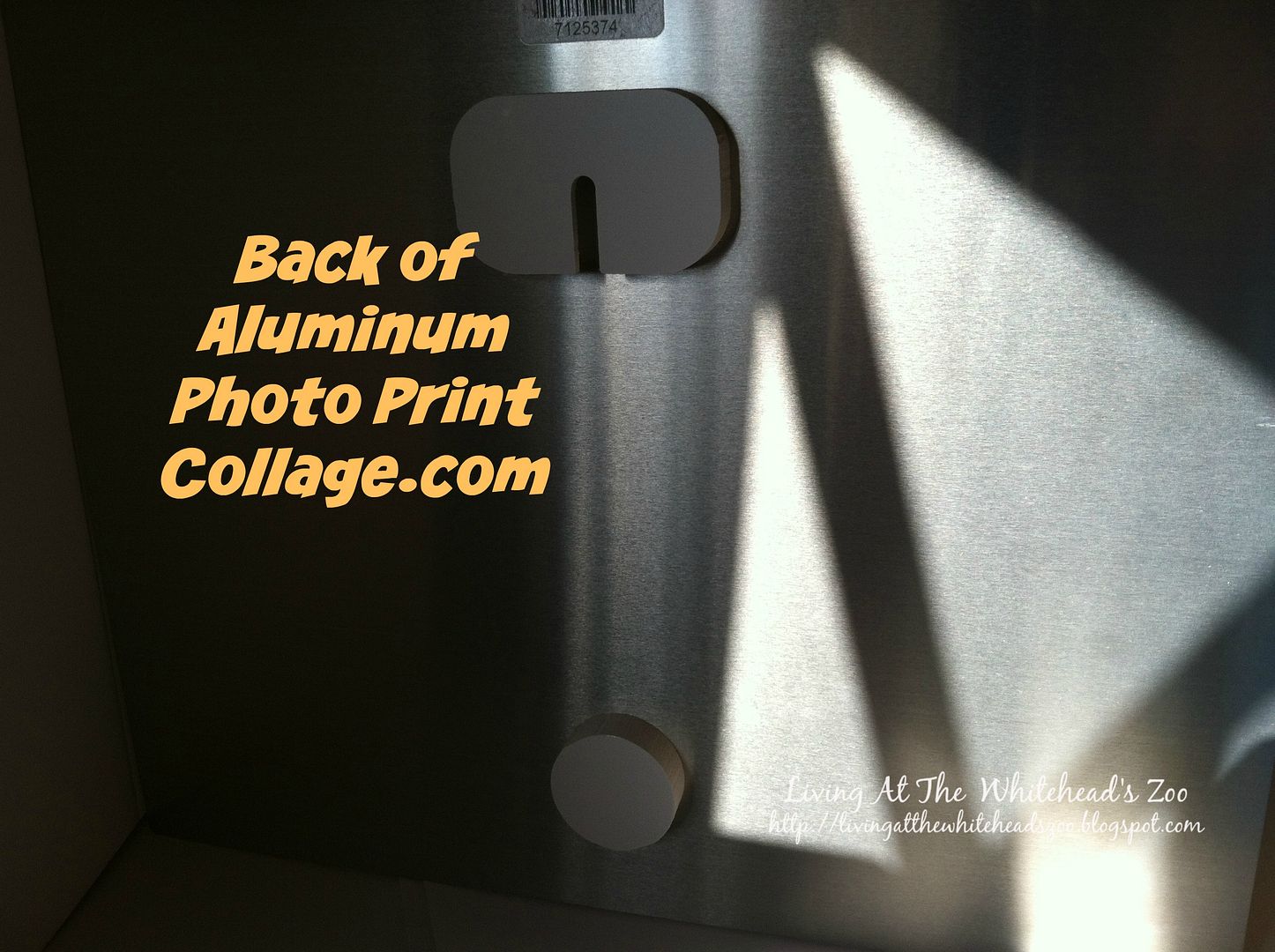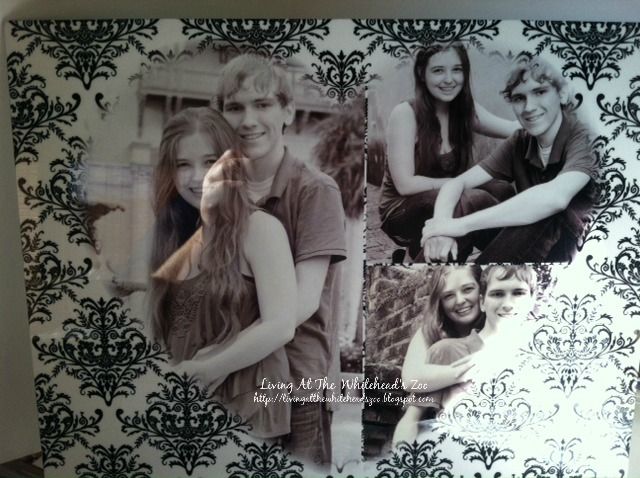 My aluminum print is an 11X14 . I don't know what I expected from this print but I have to tell you I LOVE it now that it is here. You can get an aluminum print in a variety of sizes 8X10 all the way to a 20X30. A 20X30 can hold up to 300 images .
modern alternative to canvas
vivid print
mounting hardware pre-installed
desk and wall sizes available
dyes directly infused into metal
I decided to create this for a gift for my recently engaged daughter. I used her engagement photos. I only used 3 photos but for an 11X14 you could use up to 80 photos. I also chose a background for my project. I really loved it because it matches her comforter set exactly. There are quite a few backgrounds to choose from this one is perfect for her . The final product is one I LOVE. Plus it is definitely a one of a kine gift .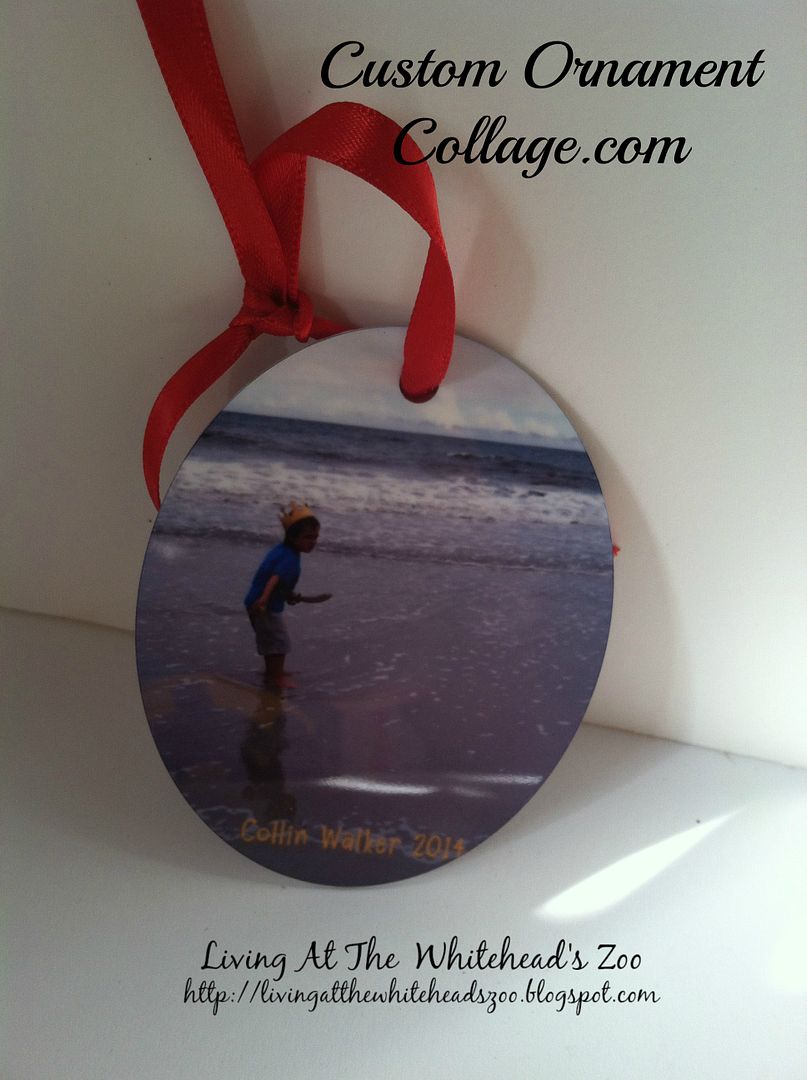 The custom ornament is one for this Mama Bear . I get each of my kids a ornament special to them each year . I chose this ornament for my youngest son customizing it with one of my favorite photos of him this year. He is wearing a Burger King Crown and has a pirate sword on the beach. That boy has a style all of his own right now and I want to remember it always.
oval or rectangle shapes
design is printed on both sides
instant heirloom
I selected an oval ornament and the size of that ornament is 2.375"X3" . It is a great size for the tree.
The ornaments are aluminum. I am really above the top happy with the quality of the ornament. I love the aluminum feel it is lightweight yet sturdy. The ornament also comes with a red loop of ribbon for hanging.
I give Collage.Com a big thumbs up for these three items.

I can't stop talking about any of them. They are all three creating a buzz here at the Whiteheads.
WIN:
1 of my readers will receive a gift pack of the products I reviewed here today (1 custom wrapping paper, 1 custom ornament , and 1 aluminum photo print ) How cool is that!
US only
just fill out the rafflecopter entry form for you chance to be our winner! Good Luck!
a Rafflecopter giveaway
"Living at the Whiteheads Zoo received complimentary samples of all of the items mentioned above for review. All opinions shared about these products are based on our experience with them and may be different from your own. "