Do you celebrate the New Year with your kids? or just the adults? I usually don't make a big fuss over New Years. We have our traditional black eyed peas and greens on New Year's Day. If we have a party or something to attend we do and if we do not that's okay too. I do set a goal for myself. Last year I did this in the form of one word for the year. Last year my word for the year was Freedom. You can read why I chose
freedom
here . I'm still thinking about what I want my word to be for 2015. 2014 was a difficult year I won't lie, full or heartache and difficult times. Through that though I've found a spirit I did not know I had , a peace that is embracing and new beginning full of so much joy. I am thankful for wear this new journey is taking me and the ones I love.
The kids wanted to make a New Year's Cake so we did that. You could make this cake from scratch, you could buy a cake and write on it or you could make it from a box mix and then decorate it up like we did.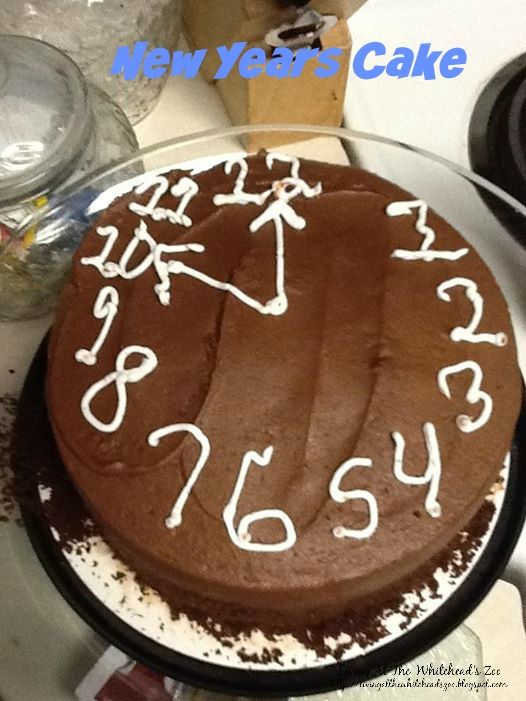 Here is what you'll need friends:
1 boxed cake mix (we did chocolate)
1 icing
1 white icing writer
ingredients to make the box mix
Mix and then Bake your cake according to directions. Use round pans and make a layer cake so that you get the clock effect. Once it is finished baking let it cool completely. Ice it - we used chocolate icing. I mean really can you ever have to much chocolate ? Well you can but this isn't one of those times. When you get your icing all smooth and pretty you can take a white cake writer pen and write the numbers like the face of the cake is a clock. The kids can do this if you 'll let them. Then have them write the hour hands on the clock . You can make it whatever time you fancy like you are counting down, or the time it is when you are ma king it or you could do midnight for when the clock strikes 12.
Enjoy this yummy New Year's Dessert with the family. The kids will be so happy you let them in the kitchen .
Stay tuned for our post about our #oneword365 for 2015! Do you have a word, or goals set yet?