Merry Christmas friends ! Wow where did 2014 and the holidays get to. I always ask this but boy it sure does seem like time really does fly when your a mom. Seems like just yesterday I was having a baby instead my baby is fixing to be 6 and his big sister is 18. Ouch! Life it sure does pass us by so we better make the most of it . We try around here we sure do. Right now I'm watching my little sleep. He is sick with the flu and I am thinking to myself what a sweet blessing he is to me. I am sure you other moms can relate. I'm sad because he will probably be to sick for Christmas Eve and Christmas but we will just celebrate next week when he is feeling more up to it.. We've been very busy the last month and a half doing all kinds of fun holiday events around North Florida. We've had a blast and I thought I'd share some of our favorites.
1. Gingerbread Extravaganza
In Jacksonville Florida we visited the Jacksonville Historical Society Gingerbread Extravaganza. This event ran from Dec 3 -23rd so it is now over. We actually just visited on the 22nd so we just did make it. This is the 13th year for the gingerbread extravaganza our fist visit but I definitely wouldn't mind visiting again. The event is free but they recommend a donation of $5 per adults as it is a fundraiser for the historical society. You will find all kinds of gingerbread and confection designs made from top notch to chefs and children. It's fun to look at every ones creativity. There are also many Christmas trees decorated and scattered through out. I really liked the trees. The Historical Society is located in the Old St.Andrews Church and I have to say the glass, the architecture and the building is just absolutely beautiful!
Here are a few of our favorites from the Gingerbread Extravaganza:
2.

Lights On Crystal Springs Road
One of our favorite family traditions is cruising around neighborhoods looking for Christmas lights. I remember when I was little going with my Dad. We go all over the place looking for the best lights. Our favorite light display is by far 100 times over the lights on Crystal Springs Road. They are AWESOME!
3. Atlantic Beach Christmas
The lights at Atlantic Beach are spectacular. Tune your ready station in to 94.5 and get ready for quite a show as the lights dance to the music. I loved them and I have to say all of the people who were out watching as we were seemed to also. Here is a video clip from our night at Atlantic Beach Christmas.
4. Kirby Farm Christmas Express
Kirby Family Farm is located in Williston , Florida. Make the visit to Williston and you will find you have landed right in the middle of a hayfield. There are all kinds of fun extra things to do like a big cinema movie screen, popcorn and hot cocoa , a carousel don't forget to check out the big monster bus for a ride around the field and then the main attraction the Christmas Express. I have a train lover so this was a super super activity for him. You'll ride the Christmas Express all around Kirby Family Farm and view the light display. It really is a lot of fun !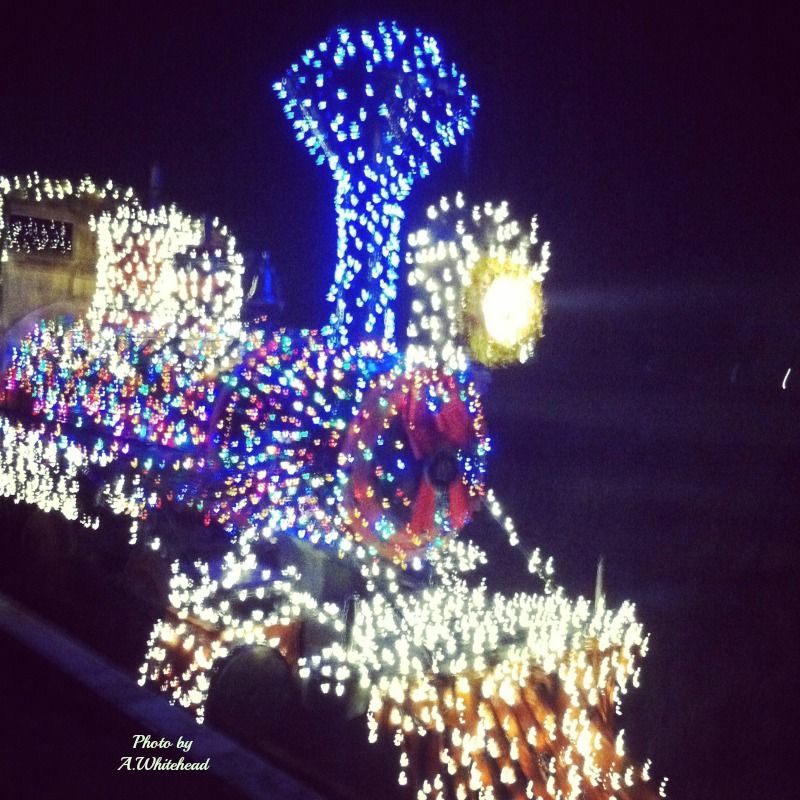 5. 40th Annual British Night watch and Grand Illumination St.Augustine Florida
Relive the British period in St.Augustine in a re-enactment with hundreds of British troops. Soldiers stroll around the Colonial Market. It's a weekend of festivities and activities held at Frances Field then on Saturday evening everyone meets in the town plaza where the illumination parade begins through the historic streets. Bystanders are encouraged to join in and candles can be purchased . The British Re-Enactment was very cool. Everyone who was dressed up did an exceptional job. The musket firing was very neat and it last several minutes. I thought they did a great job this year. Note to anyone who plans on attending the 41st annual British Night watch in 2015 parking is terrible and there are tons and I do mean tons of people there. It is packed packed !! but very fun.