"I received admission into the zoo as part of a blogger retreat. All opinions shared are my own."
Brevard Zoo offers an amazing zoo with a small town feel. Although the zoo has the small town atmosphere it is packed full with a lot to offer surrounding families and visitors. An amazing little tidbit this zoo was built by the community and 16,000 volunteers. (How Cool is that!) We say Very! The
Brevard Zoo
mission is "
Wildlife Conservation through Education and Participation."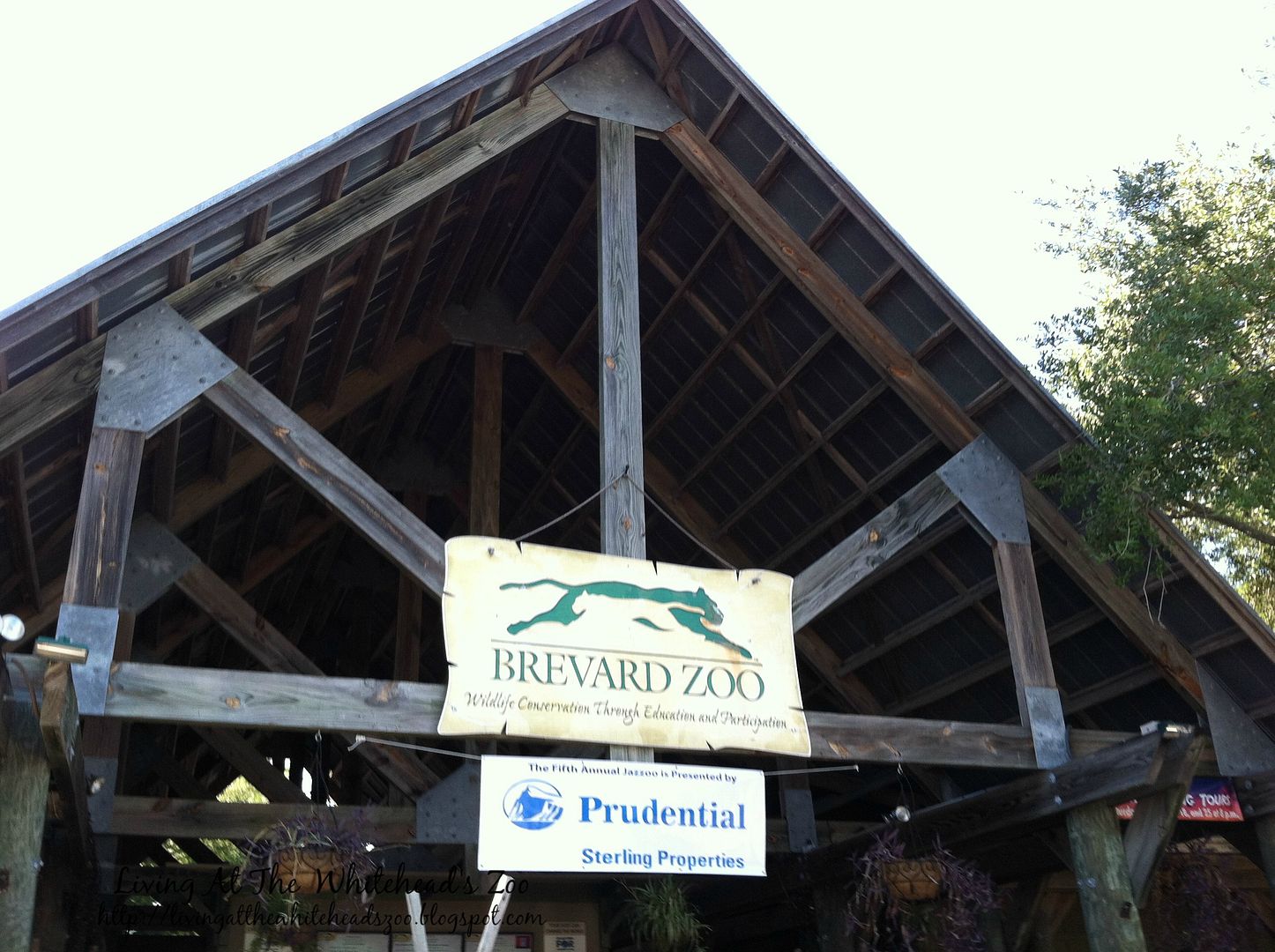 Brevard Zoo is a not-for-profit organization and a leader in wildlife conservation and education. The Zoo is home to more than 732 animals representing 180 species located in Florida, South America, Africa, Asia and Australia and accredited by the Association of Zoos and Aquariums. The Zoo features many extraordinary animal experiences including giraffe and lorikeet feedings, African kayak tours, paddle boats in the wetlands and a train ride.
Our Thoughts ~
The area for smaller children is fantastic "Paws on Play". My favorite part of the area is the newly designed aquarium. In this play area children can splash around in a water lagoon that backs right up next to the new 20,000 gallon aquarium. The aquarium is home to several animals that can be found in the Indian River Lagoon. Paws on play also features a cool playground type area in which children can climb on ropes and build their own animal homes. You will also find the petting zoo in this area and the indoor play area which features a huge sand box area plus all kinds of stuffed animals and things where the children can practice their vet skills. All the way around a very cool area for children.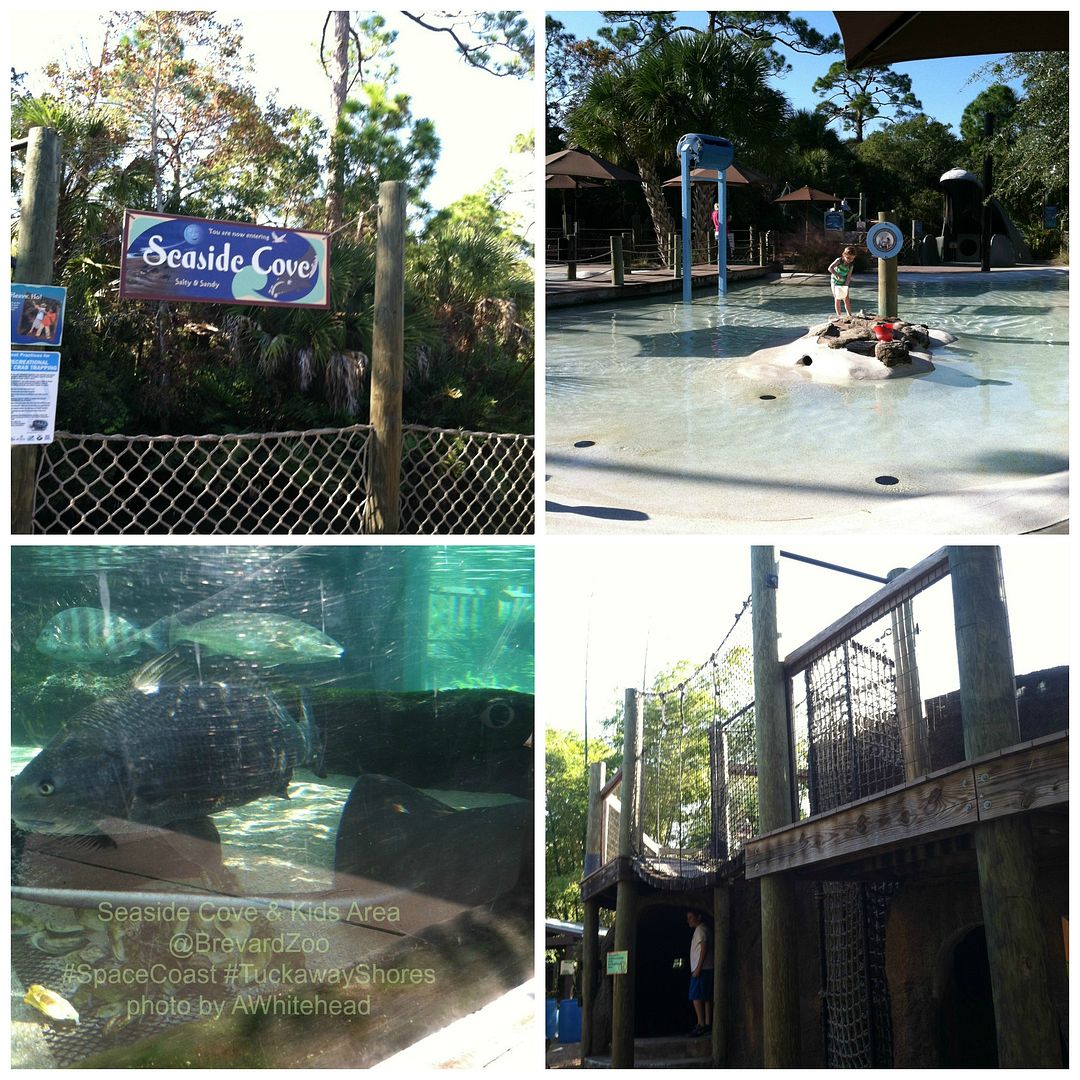 Next, on our list of cool things the zoo has to offer is the kayaking. The kayak tours go all around the giraffe exhibit and allow visitors to get more up close and personal with the animals. At just $8 a trip this is very much worth the extra money. Everyone in our group enjoyed this feature of the zoo immensely.
Not only does the Zoo have kayaking tours they also have where you can feed giraffes and rhinoceros encounters. I've been to several zoos and have not found another one that does the rhino encounter . We think this is pretty neat and can't wait to go back and brush a rhino.
The Zoo also has treetop zip lining which we think is awesome . Specially for my older children who have a sense of adventure and risk taking . They're teenagers! Treetop Trek is open daily at 9 a.m. The last admission is 3 p.m. for the Treetop Challenge Course and 3:30 p.m. for the Canopy Walk and Chutes and Ladders courses. During the holidays the Zoo is offering some
night time Zip lining
a unique experience as they zip through the trees under a starry night sky.
Available on December 20 and January 3 at 6:30 p.m.
, Night Zipping is a guided tour and includes nine thrilling rides around parts of the Zoo, with some zips at heights more than 50 feet high. Reservations are Required.
We give the Brevard Zoo
a thumbs up
.
We found it to be delightful, clean and packed full of memorable family fun activities.
Brevard Zoo is open daily from 9:30 a.m. to 5 p.m. The last admission is at 4:15 p.m.
Parking is always free
.
Twenty-five cents of every admission to Brevard Zoo
supports the Zoo's conservation projects through Quarters for Conservation. Group discounts and adventure packaging are available.
Brevard Zoo and Treetop Trek are a half-mile east of I-95 at exit 191 on Wickham Road
in Melbourne – 25 minutes from the Melbourne International Airport and 45 minutes from the Orlando International Airport. For more information, please call (321) 254-WILD