"I was provided with a Dragons party kit for hosting a Dragons Party. All opinions are my own."
One of my favorite activities with the kids is
movie night
. Just me and them time to relax and have fun and curl up with a good movie. There are all sorts of ways to add flavor to your movie night and we're going to share one of them today. Let's talk about How to host a
How to Train your Dragons 2
movie party. Boy that was a mouthful wasn't it. It's fairly simple. You can have a terrific movie night and something different than just curling up on the couch in 3 easy steps. Here have a look.
1. You need the
movie
. How to Train Your Dragons 2 is now available on Blu-Ray DVD and Digital DVD.
2. Games and Entertainment besides the movie. We colored a bit with
How To Train Your Dragons 2 Printable Coloring Sheets
and then we also played a fun game I call Where is Toothless. Basically I hid our Toothless figuring in various locations and the kids had to find him. A big hit with the party goers for sure. You might also like some of our fun
dragons movie crafts
.
3. Last you need
Food
of course.
For our party we began with dragon nuggets and goldfish.

Dragons Food

Dragons 2 Popcorn

As the night progressed we had fruit snacks, popcorn and cookies. (MOM TIP party cups make the perfect serving containers for kids popcorn. )
Then I sent everyone home with a cute Dragons 2 cupcake .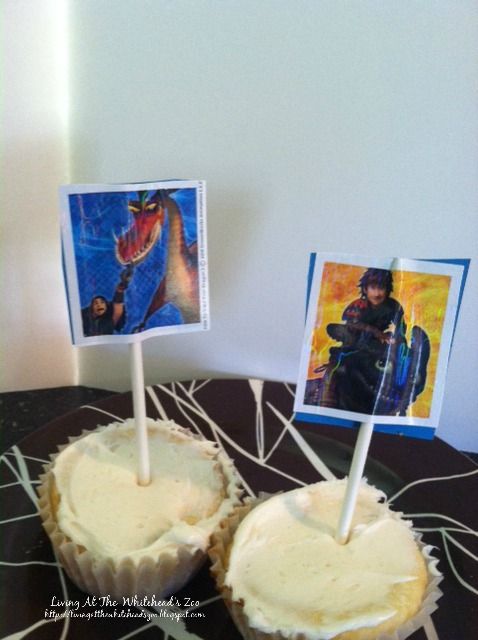 Dragons 2 Cupcakes
Mom Tip 2:
to make our movie night cupcakes I used stickers, lolipop sticks and construction paper. Cut construction paper to the size of your sticker , lay your lolipop stick on top of the paper then secure it to the paper with a sticker. They are ready to be inserted into your cupcakes. Super easy and the kids LOVED them! To send them home I put them in clear plastic cups and then stuck that into a baggie. Easy Easy!
About the movie:
Synopsis
LOS ANGELES, CA – Soaring past the $500 million mark at the global box office, DreamWorks Animation's HOW TO TRAIN YOUR DRAGON 2 is not only one of the best reviewed films of the year, but also 2014's highest grossing animated film to-date and one of the top ten grossing films of the year in any genre.
The thrilling second chapter of the epic HOW TO TRAIN YOUR DRAGON trilogy returns to the fantastical world of the heroic Viking Hiccup and his faithful dragon Toothless. The inseparable duo must protect the peace and save the future of men and dragons from the power-hungry Drago when Twentieth Century Fox Home Entertainment releases DreamWorks Animation's critically acclaimed HOW TO TRAIN YOUR DRAGON 2 on Digital HD October 21 and on Blu-ray™ and DVD November 11.
HOW TO TRAIN YOUR DRAGON 2, the next chapter to the Academy Award® nominated film released in 2010, is "sensational…an instant animated classic," proclaims Access Hollywood. A hit with audiences and critics alike, the film received an outstanding audience reaction with a coveted "A" CinemaScore® and certified 92% fresh on RottenTomatoes.com. Variety's Peter Debruge declares the film is "Braver than 'Brave,' more fun than 'Frozen'…Dragon delivers." It's a must-own title for the whole family!
Fans will get even more excitement, adventure and, of course, more dragons when DreamWorks Animation releases DRAGONS: DAWN OF THE DRAGON RACERS, an all-new animated adventure featuring the original voice cast. A hunt for lost sheep soon turns into a high-flying sprint in the all-new epic adventure as Hiccup and friends battle to become the first Dragon Racing Champion of Berk!DRAGONS: DAWN OF THE DRAGON RACERS will be available exclusively on the Blu-ray™ combo pack, DVD double pack and Digital HD.
The all-star film talent features Jay Baruchel (This Is The End), two-time Academy Award® winner Cate Blanchett (Blue Jasmine), Gerard Butler (Olympus Has Fallen), Craig Ferguson ("The Late Late Show with Craig Ferguson"), America Ferrera ("Ugly Betty"), Academy Award® nominee Jonah Hill (The Wolf of Wall Street), Christopher Mintz-Plasse (Neighbors), T.J. Miller ("Silicon Valley") and Kristen Wiig (Bridesmaids). The film also adds the voice talent of Academy Award® nominee Djimon Hounsou (Blood Diamond) and Kit Harington ("Game of Thrones").

The Blu-ray™, DVD and Digital HD feature hours of bonus materials that explore the world of dragons and more. Furthermore, the Blu-ray™ and Digital HD contain four exclusive featurettes, deleted scenes and a 60-minute behind-the-scenes documentary about the making of the film, shot and created by the film's writer and director Dean DeBlois.
Be sure and enter to win
How to Train Your Dragons 2 on bluray DVD
here.
Follow Amber Whitehead's board Zoo Giveaways on Pinterest.