"As a Fox Home Entertainment Insider I will receive a copy of Larry the Cable Guy Jingle All the Way 2 on Blu-ray for review. All opinions about the film are my own. "
The holiday season is here. Things get so crazy around the holidays. You have parties and shopping and so much to do. Don't forget to enjoy some family time and relaxation to. A great way to chill and relax is movie night. Super easy to grab some popcorn and have some laughs on the couch. And Guess what movie is going to be out just in time for this Holiday season...
Git-R-Done This Holiday Season as Jingle All The Way 2 Arrives on
Blu-ray™ Combo, DVD and Digital HD™ December 2
LOS ANGELES, CA (October 30, 2014) – Fill your stocking with a new holiday classic that will have the whole family laughing when Jingle All The Way 2 arrives on Blu-ray Combo, DVD and Digital HD December 2 from WWE Studios and Twentieth Century Fox Home Entertainment. Comedy superstar Larry the Cable Guy and WWE Superstar Santino Marella bring laughs and holiday spirit to this second installment of the successful film franchise.
Two desperate dads compete in a no-holds-barred battle to be the best father and make this the best Christmas ever! Fun-loving, laid-back dad Larry (Larry the Cable Guy; Cars, Tooth Fairy 2) is having a bear of a time finding the perfect Christmas gift for his eight-year-old daughter, Noel. The season's hottest toy, The Harrison Bear, is all sold out, and Noel's new stepfather wants to keep it that way — so he can be the one to make her holiday wish come true. When Larry learns all Noel wants for Christmas is the bear, he'll stop at nothing to make his little girl happy and get her the toy of her dreams…Co-starring WWE Superstar Santino Marella, Jingle All The Way 2 is heartwarming and hilarious fun for the whole family!
Jingle All The Way 2 is directed by Alex Zamm (Dr. Dolittle: Million Dollar Mutts,The Tooth Fairy 2) and produced by Michael Luisi (Scooby-Doo! WrestleManiaMystery, Christmas Bounty, The Flintstones & WWE: Stone Age Smackdown) and Vicki Sotheran (The Sandlot 2, The Sandlot: Heading Home).
The holiday cheer continues in the Blu-ray Combo and DVD bonus features including deleted scenes, making-of featurettes, a mock Public Service Announcement from Larry and Santino advising how you can stay safe while shopping this holiday plus a special Harrison the Bear TV commercial and an exclusive interview with the hottest toy of the season.
In the Jingle All the Way spirit we have some fun printable activity sheets for you also .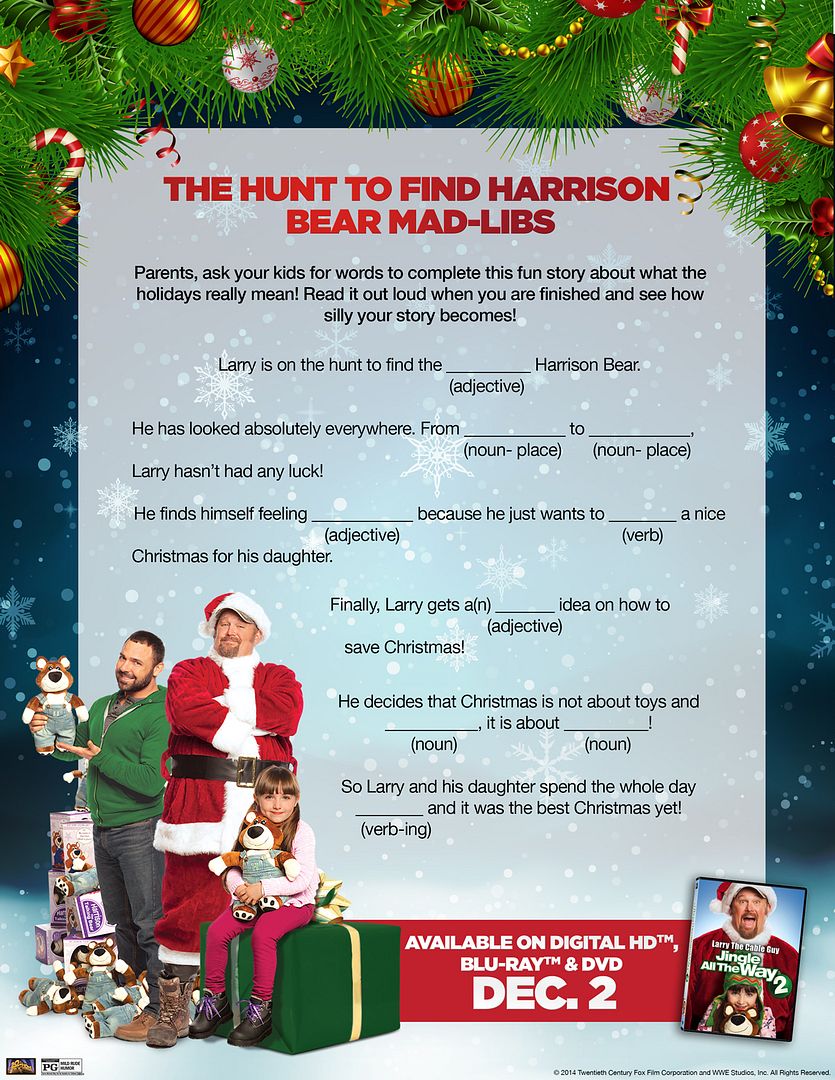 And if Mad-Libs aren't enough to keep you busy we also have this Larry The Cable Guy Printable Christmas List. Because lets face it we all need a Christmas List with Larry the Cable Guy at the top. Don't you think?
Print Yours Here
.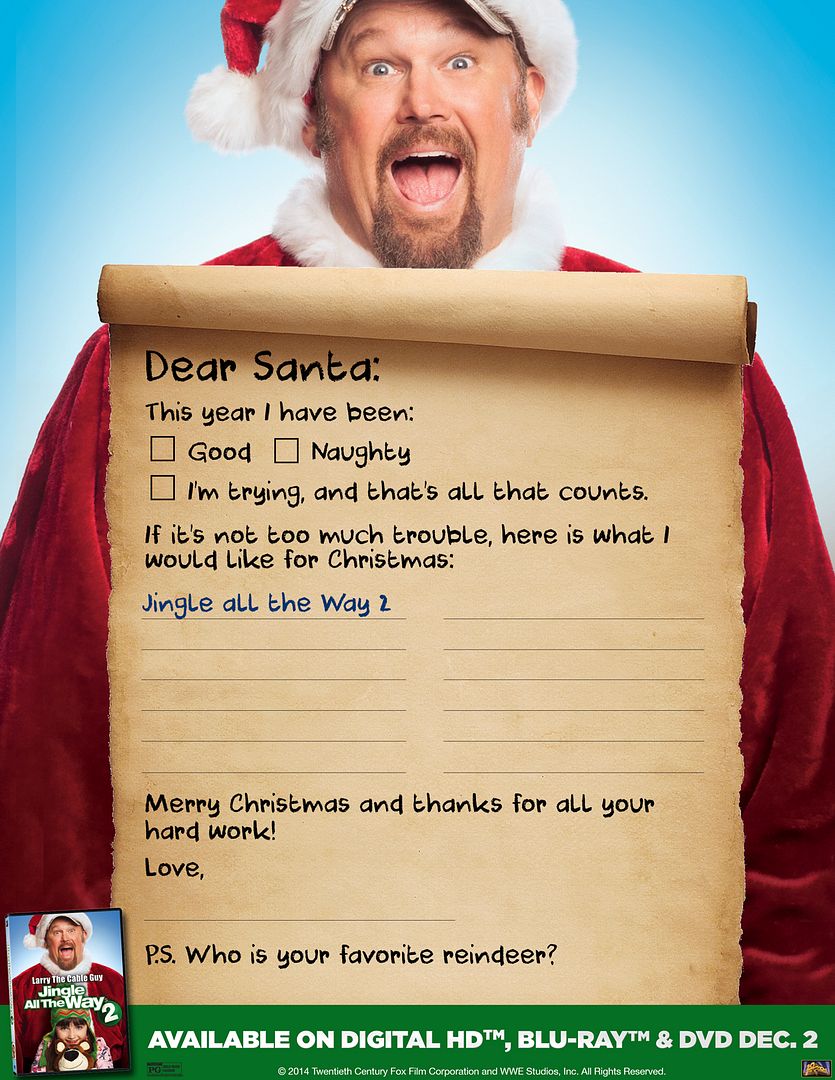 Now for one more fun thing. Who wants to
win
a copy of Larry the Cable Guy Jingle All the Way on Blu-Ray DVD? Just fill out the easy entry form below for your chance to be our winner. Good Luck! Remember (US entrants only please).
a Rafflecopter giveaway
"
Living at the Whiteheads Zoo is not responsible for the fulfillment of this prize. "