"
I received complimentary product samples from Oriental Trading for reviewing purposes. All opinions in my review are my own. "
Thanksgiving is here and we've been talking about being thankful and what that means to us. We asked our students this week what they were thankful for several times. WE had a variety of answers.
myself
Chuck E Cheese
siblings
mommy and daddy
my bed
These kids are something else . We took a photo of each child holding a dry erase board saying I am thankful for .... and their answer. (CUTE) they turned out super super cute. Then we printed the pictures for our
DIY Giant Pumpkin Photo Bulletin Board
.
The board comes on white poster board with 28 puzzle piece shapes and a stem. Each piece is numbered (which is handy). Each piece is 6" with a 2 3/4" photo space.
We decided that we wanted to keep the original as a pattern for future use so we traced it onto orange construction paper and cut each piece out . This of course made it a little bit more work but after seeing the end product I"m really happy to have it for later. It turned out Awesome! Parents loved it.
We gave each child a puzzle piece to color however they wanted. (these guys are 3 by the way)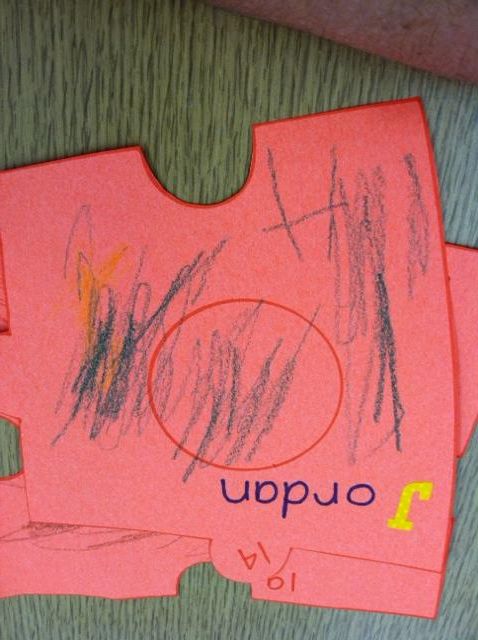 After they colored the piece we let them choose a sticker for one letter in their name . Some chose the first, middle, or last but they only got one sticker. We then wrote their name out around the sticker . Then we attached the photos and laminated each piece.
Here is my piece so you can see :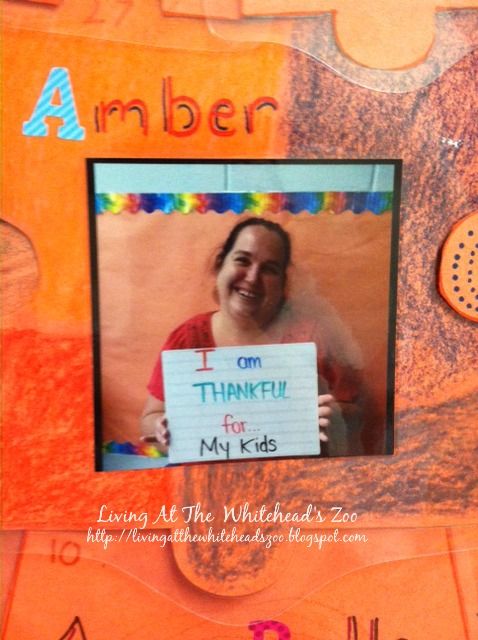 Here is a look at the pumpkin going up without pictures and not yet laminated.
Here is our
Happy Thanksgiving Puzzle Piece Bulletin Board: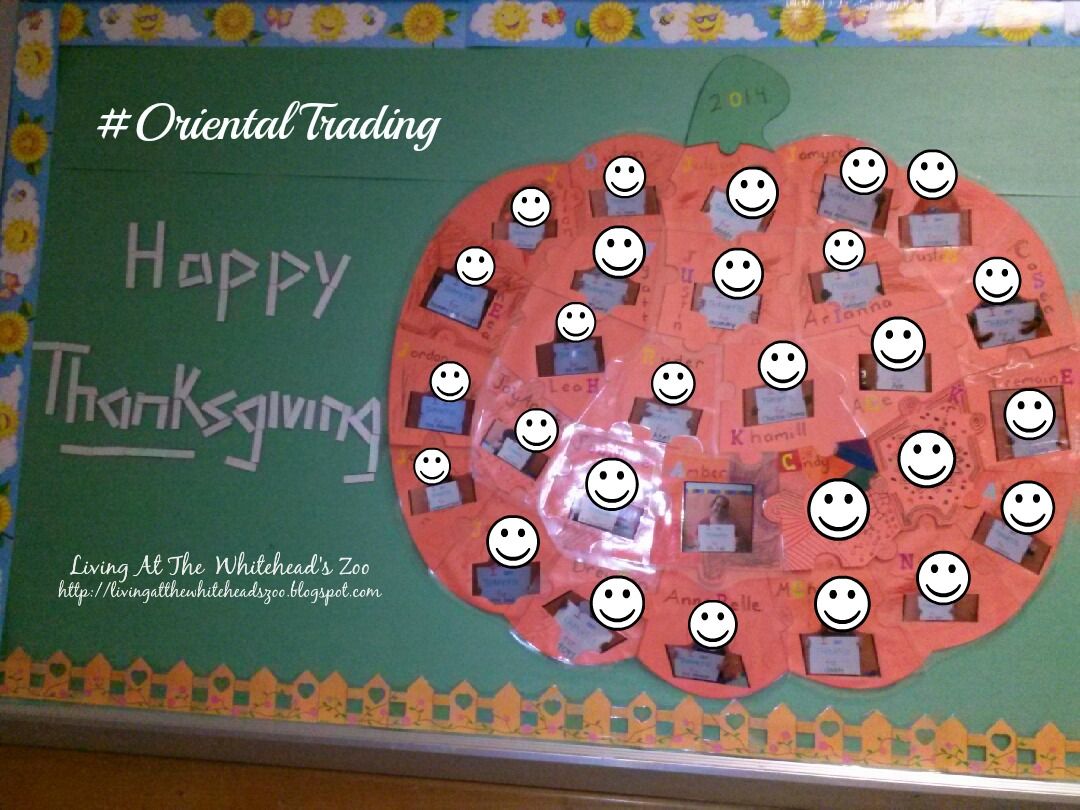 This product is actually recommended for ages 5 and up. I can see why but I do think that the way we did it worked fine and turned out super cute for 3 year old so it is adaptable.
Other ideas we've had. Cut it on red paper and make a big apple, make it a peach for James and the Giant Peach , take off the stem and make it an Earth for Earth day.
We're looking forward to sharing some Christmas Crafts from Oriental Trading coming up in the next week or two so be on the look out. If you missed them you might like our
Scarecrow Crafts
.