re-release...
Free Birds! Just in time for Thanksgiving !

This movie was one of my sons favorites this season. He laughed and laughed and watched and watched Free Birds. I was just telling my coworkers we needed to break it out for the kids today when I received a post about the re-release! Of course hearing the news of the re-release I had to share with all of you. We liked the movie so much I found that news just exciting as can be. AND one of our readers will receive their very own copy of Free Birds on Blu-Ray DVD with a Bonus Plush Toy too! Awesome Fox Home Entertainment!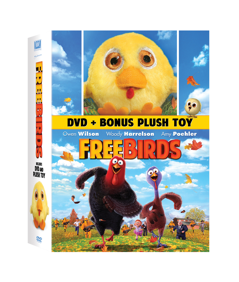 From the Academy Award®-Winning producer of Shrek* comes a hilarious animated adventure about two turkeys from opposite sides of the tracks who travel back in time in order to keep their species off the Thanksgiving menu. Featuring an all-star voice cast, including Owen Wilson, Woody Harrelson and Amy Poehler, Free Birds is loaded with laughs and stuffed with fun for the whole family!
WIN: Fill out the rafflecopter entry for for a chance to be our winner. (US only)
a Rafflecopter giveaway
"As a Fox Home Entertainment Insider I received Free Birds blu-ray and Plushie for sharing. No other compensation was received for doing so. All opinions I share about the dvd are my own. Thanks"