Are you looking for a bit of an adventure here in Florida? I have teenage boys and they are all about Gator Boys, fishing shows hunting , things that go to fast. Sometimes, finding planning a family fun day that suits both their taste and Mamas is pretty hard.
Everglades Holiday Park
offers both an airboat ride and entertainment. The ride is safe and pretty comfortable which
Mom likes
, and the boat can scoot across the everglades and find some gators which the
boys like
. The entertainment comes in the form of a 25 minute show after the ride. The show is filled with facts and corny jokes that make for a fun time. Someone from the show Gator Boys is there every day and will be there to perform stunts and tricks during the show. Many of the shows episodes are filmed right there "how cool is that!"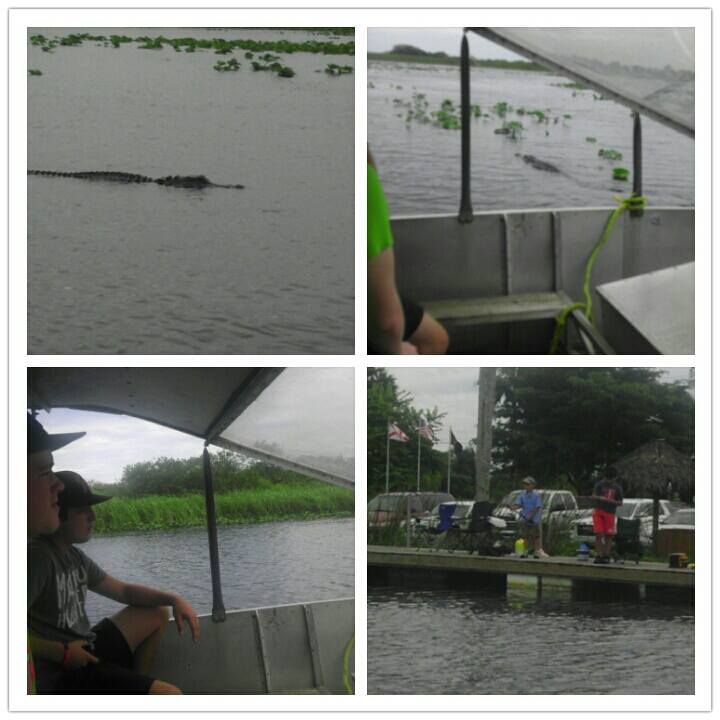 Family fun at Everglades Holiday Park home of the Gator Boys
You will find
Everglades Holiday Park
in sunny Ft. Lauderdale Florida. We were really happy to see that the boats were covered making it more friendly to the hot Florida temperatures and the chance of rain. The ride is about an hour or so long. You will see not only gators but other wildlife and plants along the way. Have your camera handy to snap a few great pictures.
TIP 1:
Tie back your hair because the wind whips it around.
Tip 2:
Have your Camera Handy
If anyone in your party enjoys fishing be sure and bring your fishing license. You can fish right from the dock, rent a boat or even take a fishing tour. Why not mark fishing in the glades off the bucket list. If you forget or don't have one don't worry you can purchase all of your fishing needs : bait, gear and even that Florida fishing license right here.
Tip 3: If you like fishing bring your gear/license

An adult ticket is $23.50 and a child's ticket is $11.50 you can save some money by ordering them online, or looking for coupon discounts. The Miami Tourisim booklet has a coupon. Everglades Holiday Park also does military and AAA discounts.

Tip 4: Plan ahead and Save some Money

In my opinion this is not the perfect trip for your smaller children . The boat is LOUD friends. If you have a child who is sensitive to loud noises (mine is) or a smaller infant whom will be bothered by it then plan for them to do something else while the rest of you enjoy the boar ride.
Tip 5
: Take it easy and enjoy the adventure!
"
This review is based on our own personal experiences at Everglades Holiday Park. Your experiences may be different. "