Lights! Camera! Anamazie!
New Children's Book Tells the Tale of a
Young Turkey's Rise to Cinematic Stardom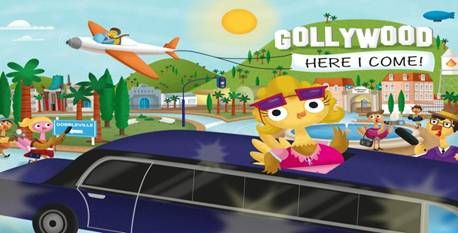 Gollywood by Terry John Barto
Just in Time for Turkey Day,

Gollywood

Here I Come!
Waddles Into Stores and Online

November 11, 2014
Los Angeles, CA (October 1, 2014) – Who doesn't fantasize about becoming a big movie star, living up all the glitz, glam and glory that comes with it? A talented little turkey named Anamazie Marie LaBelle sure does, only her dream becomes reality in the delightful new children's book

Gollywood

Here I Come!, written by director/choreographer-turned author Terry John Barto, which waddles into stores and online

November 11, 2014

, just in time for Thanksgiving.
Growing up in the small town of Gobbleville, Anamazie studied acting, singing and dancing while basking in the local spotlight as a star baton twirler. Opportunity comes knocking when the competition Gobbleville's Got Talent gives Anamazie her shot at being discovered. With her mom Henrietta at her back, she makes it all the way to the finals, but falls short of the top prize. That is where her path to stardom truly begins as she is discovered by a talent scout, is cast in her first movie and declares "

Gollywood

, Here I Come!"
With colorful whimsical illustrations by Mattia Cerato,

Gollywood

Here I Come! taps into current pop culture trends of TV shows like "America's Got Talent" and "American Idol; and the public's fascination with celebrities and movie stars. At its heart, the story leaves young readers with the positive message "You can do anything if you work hard and never give up."
Terry John Barto has crafted dances and musical staging for more than 200 productions throughout the United States and abroad. His versatility ranges from Annie and Crazy For You to The Who's Tommy and West Side Story. Terry staged long-running shows for Princess Cruises and a variety of his choreography has been seen on CBS' The Bold and the Beautiful. As the Creative Director for Wings of Dreams Productions, he turned diverse ideas into screenplays for animation and toys. He has also written another children's book Nickerbacher, The Funniest Dragon to be released in 2015. For more information about Terry John Barto, please visit TjbKids.com.
About the Illustrator:
Mattia Cerato was born in Cuneo, a small town surrounded by the beautiful Italian alps. At a young age his artist father encourage Mattia to draw and when he grew up he studied illustration at the European Institute of Design (IED). After graduation, he landed his first illustration job, a book titled My First Picture Dictionary for Rass Language House. He subsequently went on to illustrate many more children's books. For more information about Mattia Cerato please visitwww.mbartists.com.
WHAT DID WE THINK? I like the positive message shared in Gollywood. Work hard and make those dreams come true no matter how big they are. I love that Animazie's mom Henrietta is clearly her biggest fan /cheerleader.

The story is about a young turkey Animazie Marie who is discovered by a Hollywood Talent Scout after competing in a local "talent" type show. Although she did not win the show that she was competing in she did get noticed. Gollywood has creative and fun illustrations. We liked the determination of this talented turkey.
WIN
a copy of Gollywood Here I Come ! by Terry John Barto just fill out the rafflecopter entry form for you chance to win (US only) contest closes 11/11/14 at 11:59 pm EST.
a Rafflecopter giveaway
"
Living at the Whiteheads Zoo received a complimentary copy of Gollywood Here I Come for review. No other form of compensation was received. All opinions shared here are our own. Living at the Whiteheads Zoo is not responsible for the fulfillment of this prize. "