"I wrote this review while participating in an Influencer campaign by Mom Central Consulting on behalf of Johnson & Johnson Vision Care, Inc. and received a promotional item from Mom Central to thank me for participating.
Halloween is coming quick and with that dressing up. Have you or your teenager considered cosmetic contact lenses to complete the look? My oldest son wears contact lenses everyday to see. There are
do's and don'ts
he must follow to prevent eye damage. Please do consider this when looking at contact lenses for cosmetic reasons.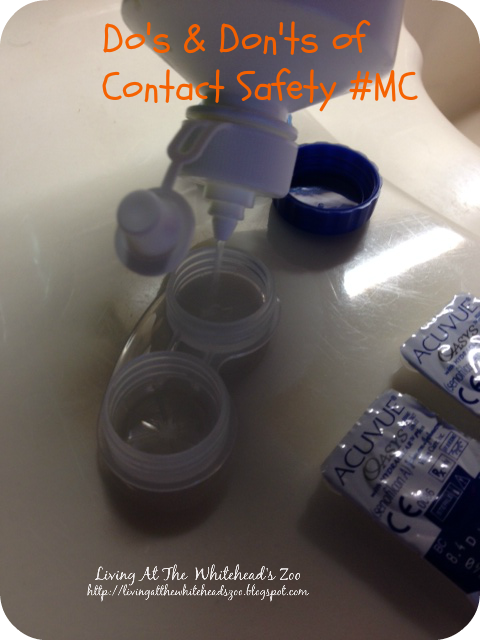 We get K's contacts from a
licensed eye professional
. K is sixteen and as many of you know sixteen year old boys do not always want to listen to Mom and Dad. At his visit they go over good hygiene habits when removing or inserting his contacts. They also go over the importance of keeping your replacement schedule and disinfecting routines. After our visit they give us a
prescription
for the contacts he needs. A contact lens is a medical device and in the United States all contact lenses even cosmetic ones require a prescription.
For more information and tips please visit
Healthy Vision & Contact Lenses
," a resource with additional tips and information from Johnson & Johnson Vision Care, Inc.
Lets chat more about the Do's and Don'ts of Eye Care Safety:
Dos: These are tips you should follow to make sure you are wearing and caring for your contact lenses safely.
Wash & rinse your hands with a mild soap then dry with a lint free towel before handling your contact lenses.

Put in your contacts before you put on your make up or costume paint.

Remove contacts immediately if you experience discomfort or excessive tearing, vision changes, redness of the eye or other problems and contact your eye care professional.

Always remove, clean and disinfect your lenses according the schedule recommended by your eye care professional .
DON"T : These are things you should NOT do
wear another persons lenses

wear lenses longer than the time recommended by your Doctor

rinse your lenses with water from the tap or expose to any water (such as swimming or showering ) when wearing

use anything other than the solution recommended by your eye Doctor to lubricate your lenses
I know that sometimes keeping track of when to change out your lenses can be a pain. Lets face it life is busy. You can
Keep track of your individual contact lens replacement schedule with the
ACUMINDER
® Tool, a free service that sends an automatic reminder via email and/or cell phone text message on when to replace contact lenses, when to order new lenses and when to schedule an eye exam. Registration is free and open to all contact lens wearers.
As a parent with a teen wearing contacts it is super important to me that he learns about safety and does whatever is needed for eye protection. He is just a young man and has a lifetime of eye care ahead. For those of you who are not wearing contacts daily and are using them as an accessory you still need to remember to take proper care and should consult your eye care specialist before using. After all you do not want to do anything that could be a serious risk or cause permanent eye damage.