This family loves a chance to get together with friends and party. One of our favorite movies right now is Mr.Peabody and Sherman there is so much adventure and lots to learn along the way. We decided to have an
Ancient Greece Peabody party
. To begin with we printed out some
invitations
and shared them with our guest. After the party was set it was time to head to
Michael's
for some craft supplies. I could spend hours picking out craft supplies in there they have everything my crafty heart desires and probably more. For our party I decided to try to make a Trojan horse craft and worry beads. Both of these crafts are fairly simple making it easy for the girls to do most of the work with a little instruction on their own.
First, we played a little game called
Trojan War Trivia
. There were a lot of fun facts to be learned. Did You Know...?
Then we did this thing that is always a favorite called eating . Um Yes we did. We had our favorite party fair which was pizzas (they are just to easy when you have a bunch of kids. ) If you wanted to be more creative than that you could try these
Peabody Party Snack Recipes
. They would definitely be yummy to.
After our bellies were nice and full we decided to get our crafty on.
After we finished making Trojan Horses and Worry Beads we move on to games. To make our
Trojan Horse Paper Craft
s I used the printable template found at DLTK Kids . After I printed the template I cut out the horses shapes out. The girls then uses tape and glue to assemble them. They were allowed to decorate their horses anyway they chose. We had paint, sequins, markers and no craft project is complete without glitter.
Next, we tried our hands at worry beads. We picked up some cording and beads at Michael's. We found a great
worry bead tutorial
at Marie's Pastiche Exploring World Cultures with Kids Blog. We learned that worry beads have several reasons for use in Greek Culture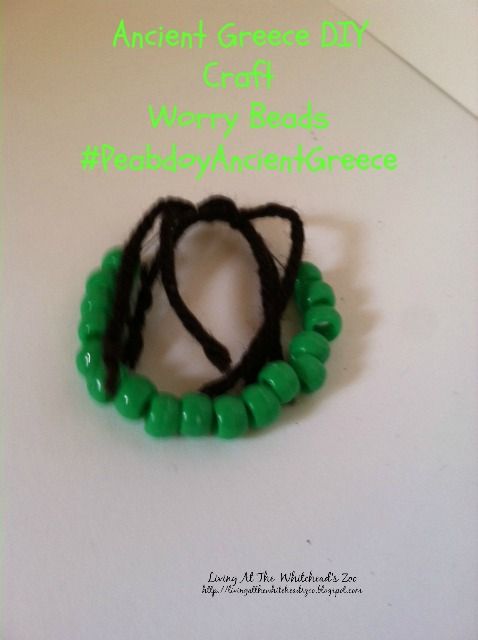 relaxation , general use and passing the time
an amulet to guard against bad luck
as a mark of power and social prestige
We learned that worry beads are usually in odd numbers. They usually have a tassel on the end . They can be made of any kind of bead but amber is the preferred .
Pin the Bowtie on Mr.Peabody
was the perfect game before winding things down . Then we grabbed our treat cups of popcorn and grabbed a spot to watch Mr.Peabody and Sherman on DVD.
Afterwards we sent guest home with treat bags filled with
bookmarks, coloring sheets
, candy of course, and lip gloss.
You might want to try your hand and make
Trojan Armor Masks
and
Trojan Togas
. We had a great time at our Mr.Peabody Ancient Greece Party. If you have not yet watched Mr.Peabody we give it a
. You can learn about
Ancient Greece
and many other fantastic places . We're giving a Mr.Peabody & Sherman Blu-Ray DVD away. Check out our
Mr.Peabody & Sherman Giveaway
and get your entries. Don't miss some of our other great giveaways like Earth to Echo and Rio2 Sing a long DVD's. You'll find them listed on our
giveaway page
.
"As a Fox Home Entertainment Insider we received a complimentary Mr.Peabody & Sherman party kit with all items needed to host a party and share the #MrPeabodyFun! No other compensation was received. All opinions here are completely my own shared from my experience."