"Living at the Whiteheads Zoo was provided with a sample free of charge from Oriental Trading. We provided our honest opinion about our experience with the products below. Yours may be different. No other compensation was received for this review. "
Fall is an exciting time of year. There are so many family activities and fun things to share this season. One of my personal favorites that is a symbol of fall is the scarecrow. I might just be secretly obsessed with scarecrows and snowmen (don't tell my friends). This fall I've decided to bring my love for scarecrows not only into my home but also the classroom. I've decided to make both
Paper Cup Scarecrows
and
Scarecrow Buckets
with my preschoolers for an art activity.
Before we begin making scarecrows we are going to spend some time reading about them.
(
The books below are affiliate links)
If you have any other scarecrow book suggestions we'd love to hear about them. I can always use a new book suggestion.
Scarecrow Bucket Craft
Oriental Trading sends you everything you need to make 12 of these in 1 kit
The first craft we gave a try was the Scarecrow Bucket Craft from Oriental Trading. I love that everything is
individually wrapped
and ready to go with these craft kits. It makes things so easy to do . Now the first time we tried this I did not read the tips and tried Elmer's Glue. This equaled a craft teacher fail on my part because the glue would not hold the pieces in place on the bucket . Luckily I tried them out on my own 5 year old before an entire class and realized my mistake. I definitely suggest that you use
glue dots
with the kiddos . The glue dots make attaching the cute foam nose , ribbon, and flower so easy it only takes a seconds for them to do. I also recommend
hot gluing the hat on ahead of time
. (this would be a great thing to have a parent helper do if you have one )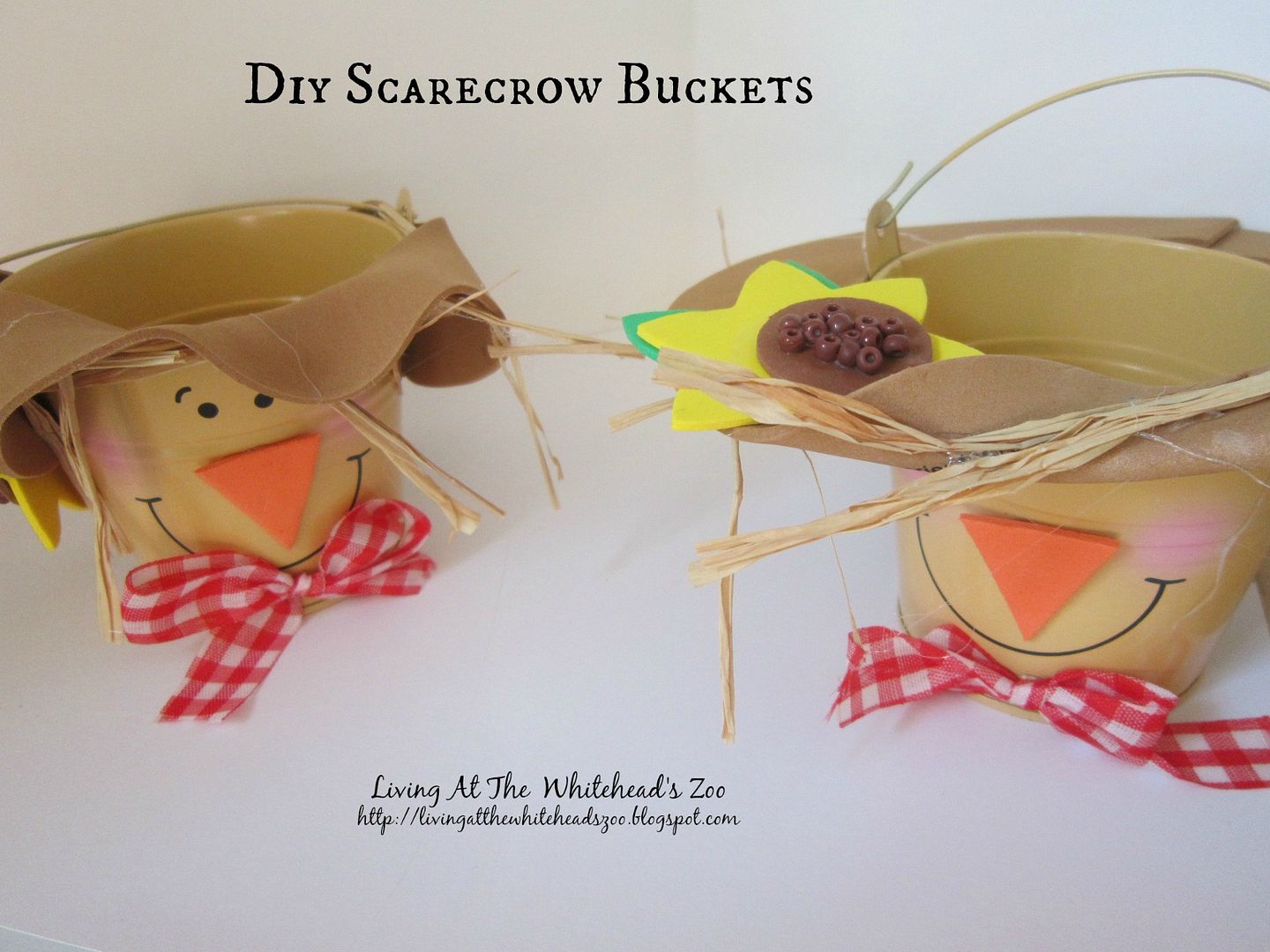 DIY Scarecrow Buckets for Fall
If yo do those
2 tips
then everything else will be smooth sailing and the kids will love their little scarecrow buckets. My little has shown everyone he sees his scarecrow he is so proud.
The scarecrow buckets are recommended
for ages 5 and up
and I think that is the correct age range. The kit comes with hat, straw, flower pieces, nose , ribbon and bucket the only thing you will need to have is your glue dots or hot glue. I think they turned out pretty outstanding!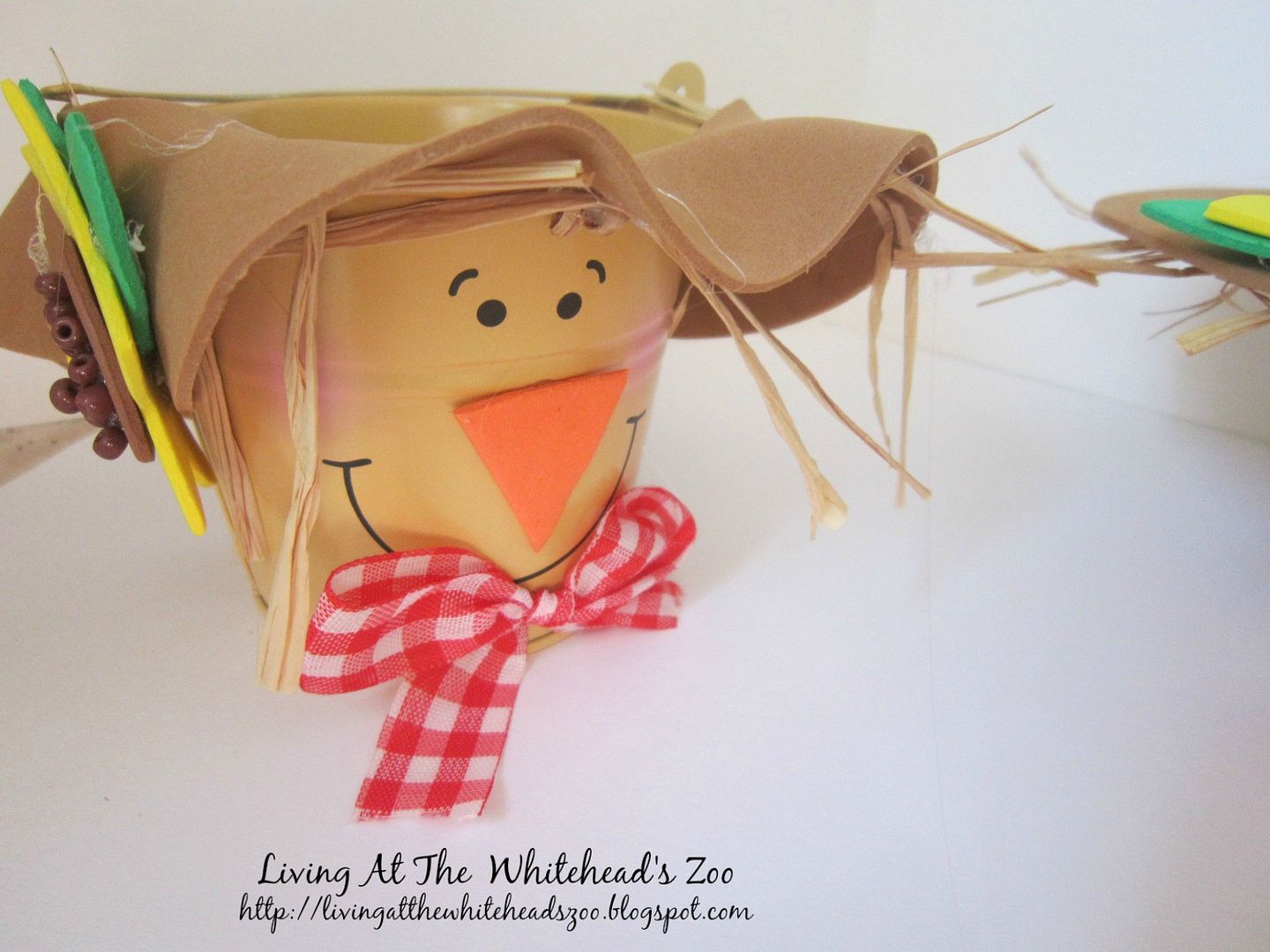 DIY Scarecrow Buckets from Oriental Trading
We also tried out the
DIY Fall Paper Cup Scarecrows
. These little scarecrows are quite simple to make. We pre cut the hats and they worked quite well in the toddler class. After cutting the hats it is a simple matter of gluing things on.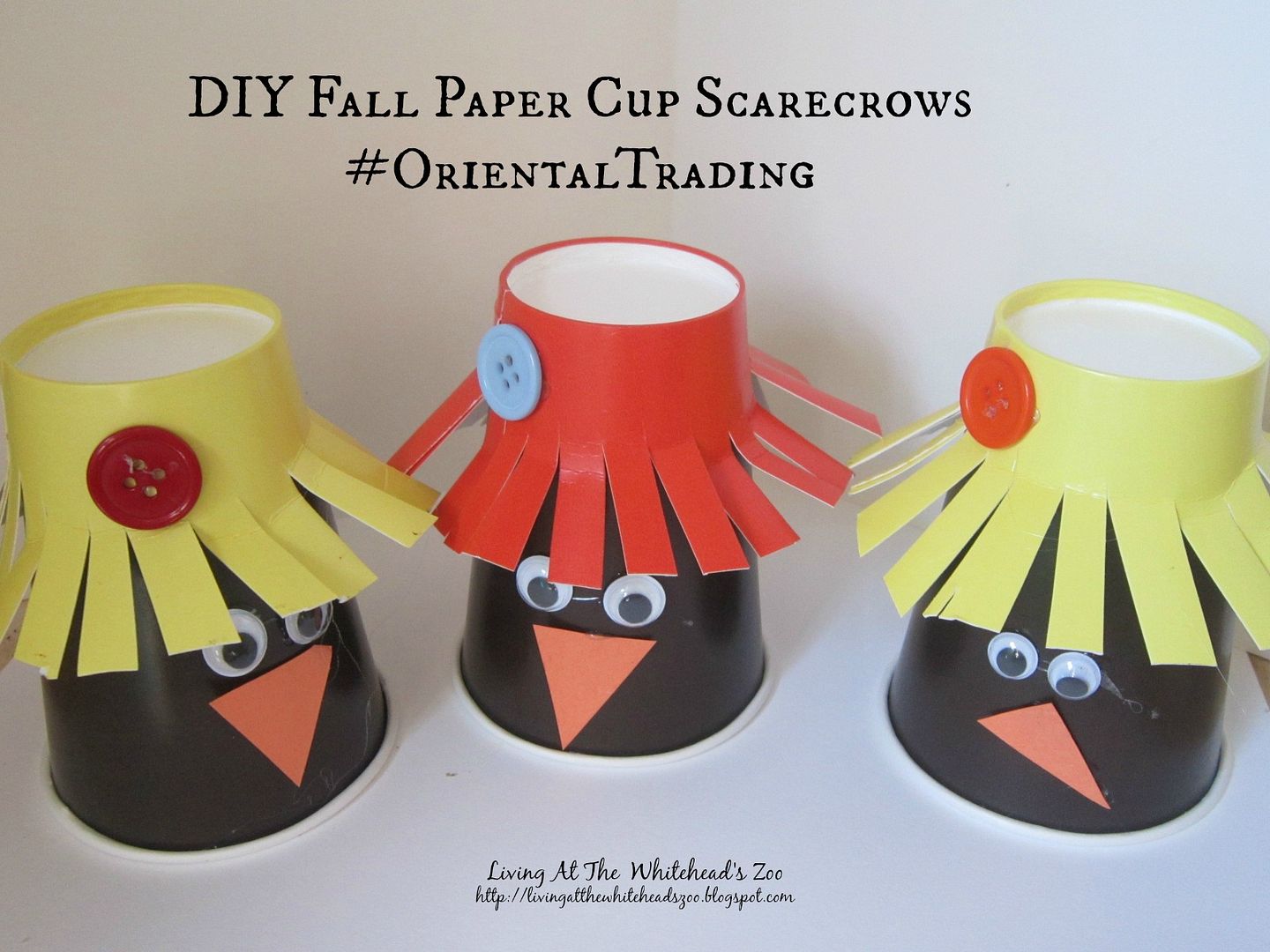 Everything for these paper cup scarecrows can be found at Oriental Trading.
DIY Fall Paper Cup Scarecrows
What you need:
2 different color paper cups *I used 3
buttons
google eyes
orange paper for nose
glue
scissors
How to make them:
Cut your nose from orange construction paper. Attach google eyes, and nose to brown cup with glue. Take your 2nd cup (a colored one) and cut it in half. Then cut strips up the side all the way around the cup (see hat). Place on top of your brown cup. You can glue it on if you would like it to stay in place. If you are letting small kids do this one just pre cut the hats for them. They can do the rest easily.

Here is a little video of us making the paper cup scarecrow.