"I participated in an Influencer Activation Program on behalf of
Mom Central Consulting
for Nutrish for Cats. I received a sample of Nutrish for Cats to facilitate this review and a promotional item to thank me for participating."
Today I am excited to chat with you about a new product from Rachael Ray. This is the first natural food for cats called "Nutrish". Skates the Cat has been a part of our family since Miss Madison was eight years old. She got her as a cute little fur ball for her 8th Birthday. Miss Madison is fixing to turn 18 so Skates has been with us for a long time . How could she not be family?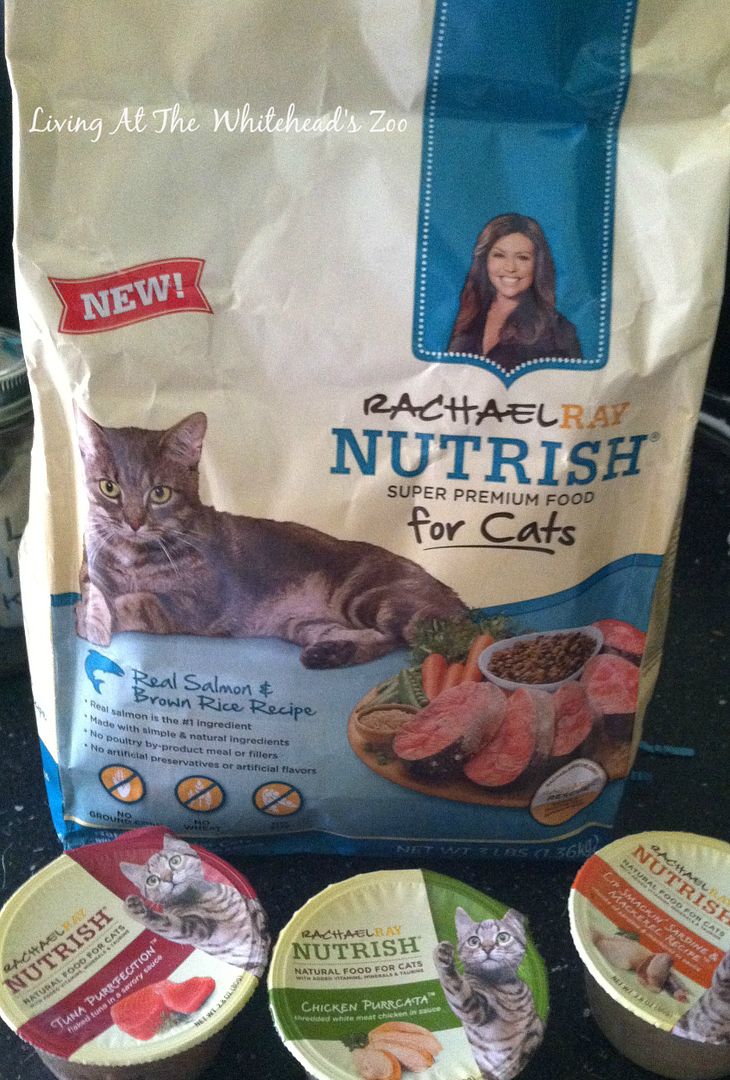 New Rachael Ray Nutrish for Cats
When I feed my family I like to feed them fresh healthy ingredients like chicken or fish. Chicken or fish is the #1 ingredient in delicious "Nutrish" recipes. There's never any junk like meal poultry by product meal, artificial flavors or preservatives. It is just plain simple wholesome recipes with a great taste your cat will instinctively love. And boy does she LOVE it.
This healthy food for cats really seems to please Skates. She comes running and circling when she thinks it is meal time.
One thing I noticed right away about the Nutrish wet cat food is that it does not have a horrible smell. Some canned foods we have tried smell really awful and I just can't stand to give them to her . The Nutrish food that we tried did not have that at all.
Her favorite is the chicken purrcata wet food
Skates is just like the rest of the Whitehead Clan and a picky pants. Many times when I feed her she will turn and walk away or take a bite or two and then leave it
.
When
Nutrish
is down Skates acts like it is the
best cat food
she has ever eaten. You can call and call her when the food is down and she will NOT turn away. She eats every bite and licks her chops meowing for more.
Skates favorite flavor is the chicken purrcata (don't you just love the name). It makes for one happy kitty.
Look for these wholesome recipes available in dry formulas and wet formulas with fun flavors like Chicken Purrcata, Ocean Fish-alicious and Lip Smackin' Sardine & Mackerel where you currently shop for your family's groceries.
Where to Buy Nutrish.
Can't wait to try Nutrish or have a cat who already Loves it? Go here to get your Nutrish Coupons.
Skates is not the only one in the family who loves a good chicken dish. We do too. I recently found a recipe for Slow Cooker Chicken and Gravy Recipe over at The Country Cook. I pinned it and it has been on my list to try for a while now. I changed it up just a little bit but you could definitely stick to the original recipe and it would still be amazing chicken.
Slow Cooker Chicken and Gravy was delicious and a big hit with the family. The chicken is so super moist it really just falls apart in your mouth. Plus I almost always have the ingredients in my pantry making it easy to throw in the slow cooker last minute. They are inexpensive ingredients making this slow cooker chicken and gravy a very budget friendly family meal. All you do is toss the ingredients into in your slow cooker and then wait. It can be served over mashed potatoes, white or brown rice or even egg noodles. Making it easy to change up. You can also add in a favorite veggie or two. I really like to add carrots into this one. I have to be sneaky with my veggies to get picky pants to try anything so hiding it in gravy works some days.
Slow Cooker Chicken and Gravy Recipe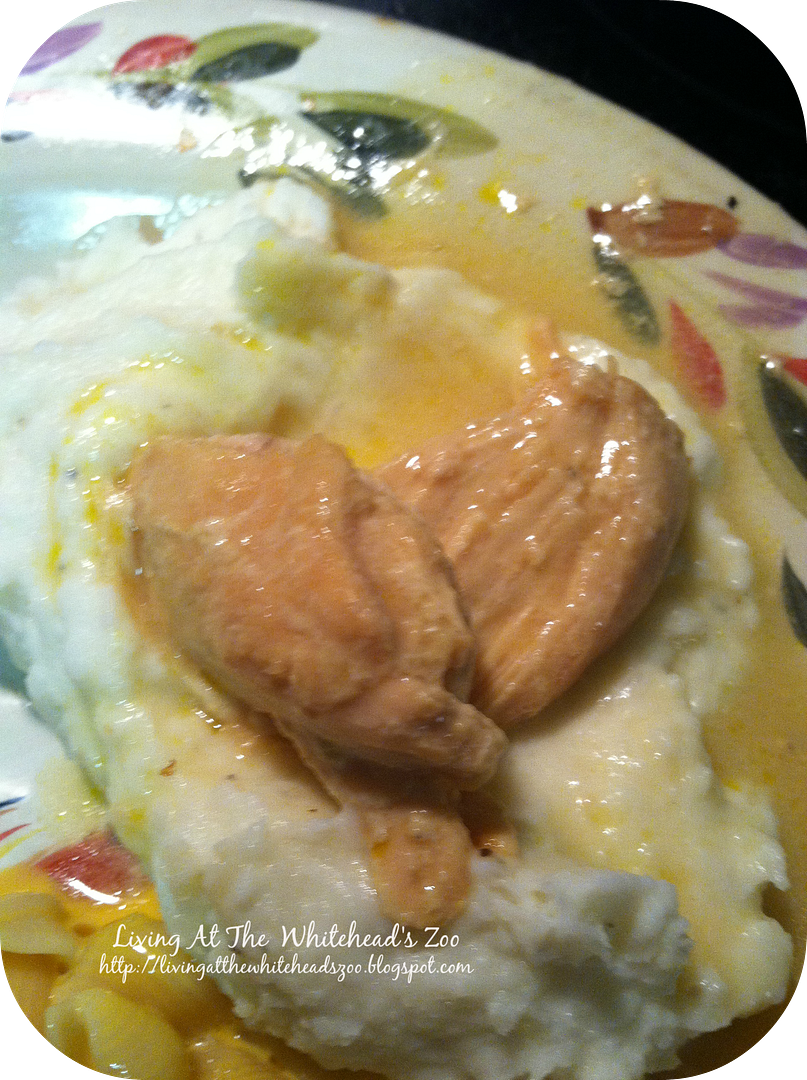 Slow Cooker Chicken and Gravy Recipe
What you Need:
2-3 chicken breast

1 cup of water

1 cup of chicken broth

1 teaspoon of poultry seasoning

2 packets of dry chicken gravy mix

1 can of cream of chicken soup

1/2 cup of sour cream

salt and pepper to taste

2 teaspoons of cornstarch

3-4 carrots chopped (optional)
What You do:
Add your chicken broth, water, gravy mix and soup into the slow cooker and whisk it all together. Salt, pepper and poultry seasoning on your chicken breast and then add them into the gravy mix. Cook in slow cooker on high for 4 -6 hours. About 30 minutes before you are ready to serve add in 1/2 cup of sour cream and your corn starch to thicken it up. Easy easy!
WIN
~ 1 of you will win samples of Nutrish for cats. Just fill out the easy rafflecopter entry form for you chance to be our winner. Good Luck! Contest Entrants are only eligible to Win once per sweepstakes per household as part of a campaign sponsored by Mom Central Consulting.
a Rafflecopter giveaway
Cool Stuff !
Rachael's Rescue was created and designed for forgotten pets.
Proceeds from the sales of Nutrish go to help animals in need.
As of today sales of Nutrish have raised over $6 million . This money has gone towards food, medical supplies and treatments for unfortunate animals. Find out more about this at
rachaelsrescue.org
.