"I participated in an Influencer Activation Program on behalf of
Mom Central Consulting
for Silk'n.. I received a Silk'n Flash & Go to facilitate this review and a promotional item to thank me for participating."
I'm here to chat about something that I would normally not mention "unwanted body hair." Whether it be arms, legs, facial or bikini area if you are a lady you probably would rather it not be there. I know my own experiences have not always been pleasant ones. I have disaster stories I could share of waxing gone bad, and can tell you of times when facial hair has been pointed at or remarked on making me very
self-conscious. Are you like me ? Feel like you've tried it all and nothing really works or makes what you go through for the removal worth while? What if I told you there is a system you could use at home for your entire body that gives permanent results? I've been testing out the
Silk'n Flash&Go Permanent Hair Removal system this summer. Lets talk about that!
In the past I have tried many products that say they work for hair removal. I burned my face one time with a cream and still had hair so the process was completely pointless. Wax .. wax is not my friend. I have stuck my fingers together , stuck my hand to the top of my head , gotten it all over the sink and everywhere else . It makes me cringe just thinking about the disaster that takes place when this goose starts waxing. Then there is shaving. You have to do that all of the time and I always I mean always end up with at least one or two ingrown hairs, or some kind of razor burn. Then there are people there are ones that are just not nice and say something snarky or point out your flaws. Then there are those innocent little sweeties children. Nothing like having a four year old say "hey mom you know you have a moustache." I'm telling you the things us girls go through. Now that I've shared some of my scary not so nice stories I want to shared the Silk 'n Flash & Go. No scary story with this hair removal system . The process from start to finish is very simple .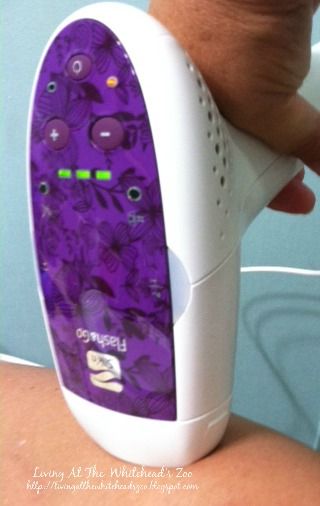 To begin you must remove the hair from the area that you want to use the Silk'n Flash and Go on.
Go ahead and proceed with whatever methods you usually use to remove the hair then you are ready for the next steps.
The Silk'n Flash and Go comes with a DVD that you can watch and make sure you know all of the ins and outs before getting started. It is super simple though so don't let that scare you.
Silk'n Flash & Go has been FDA approved for hair removal for the entire body. I was so happy about this because I really wanted a device that could help with both my face and body. The system is affordable and compared to professional clinics which are around $2000+ and other home lasers. It is completely easy and safe to use. I mean seriously I've already told you that I can really complicate things. There was none of that with the Silk'n Flash & Go. I was able to use it myself with no assistance and get results I was hoping for.
Here are some Before photos: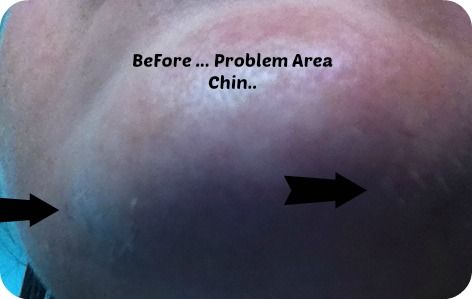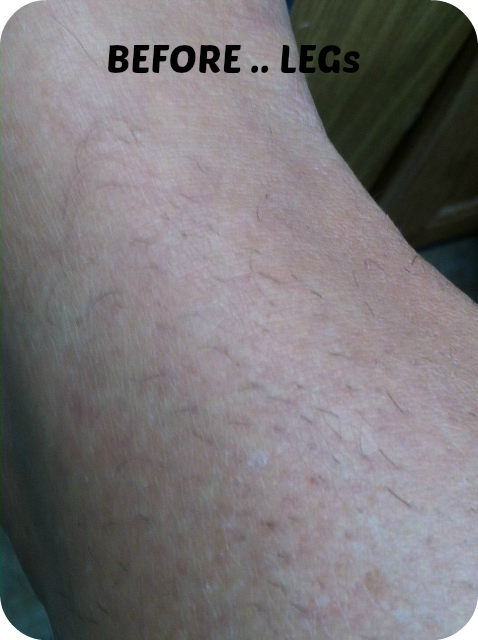 It was hard to get a great picture. But you can note that there is hair in several patches on the chin area. Then there is my leg. There is nothing abnormal there just that I do have dark hair and with in a day or two of shaving it comes in thick and dark. I have to shave at least every other day to keep them smooth and free of stubble since we are at the pool everyday there is not getting around that. Another area that drives me nuts is under my arms. I wear sleeveless shirts a lot during the summer months so I am always having to do a quick shave under there.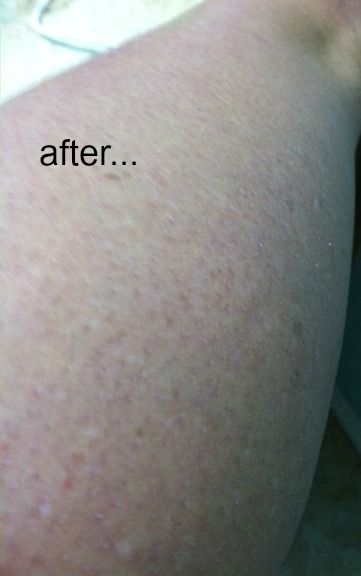 One of the things I like about the Silk'n Flash & Go is the large treatment spot size. This really saves time and allows you to do a large area fairly quickly. The Silk'n Flash and Go uses light pulses and allows you to properly target areas that require hair removal and zone in on them. Another thing (just an FYI for you at home) is that the device takes a cartridge. You can upgrade to the LUX Cartridge and have all of the flashes you will ever need to stay hair free. This will give you lifetime use and it Will allow you to remove ALL unwanted hair permanently! You might be a little worried the first time you pull the trigger. I was ! You could have probably said boo and I"d have jumped out of my skin. The system is completely painless though. The only thing you may feel from time to time is a slight tingle.
Results - I'm Amazed! With in two treatments I could tell a huge difference. The hair under my arms was almost completely gone. The hair on my chin and legs were coming in much more slowly. After four treatments the hair under my arms is pretty much gone. I have not had to shave them in weeks. The hair on my legs is coming in very thin and much less often. When I have regrowth on my face it is much slower rate and barely noticeable. Silk'n has definitely created a product I will continue to use and recommend.

Now until September 30, 2014 you can get 20% off ! Just use coupon code EXTRATWENTY .