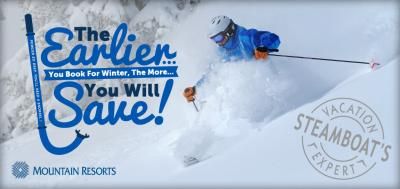 If you are thinking of booking a mountain vacation for the winter months consider doing it now and saving. Colorado is on my bucket list. I'd love to spend the holidays in Steamboat Springs. (just saying) Today we're sharing a Mountain Resort Deal with you.
Mountain Resorts offers a wide variety of attractive, well-maintained accommodations at prime locations in Steamboat Springs, Colorado surrounding the Steamboat Ski Area, with rates ranging from affordable to indulgent. If you're planning a winter vacation to Steamboat Springs there is no better time to book your trip. When you book early you have access to the best properties at the greatest discounts. Check out these early booking deals. Up to 35% off lodging and 25% off lift tickets!
Steamboat Springs
For more information and reservations call:
800-995-6049 or visit us online at
http://www.mtn-resorts.com/bookearly?camp=CRN
"
This post was brought to you by US Family Guide and Mountain Resorts. I am eligible to receive a Steamboat Springs vacation for sharing. "