A beach / ocean theme in preschool this week. Here are some kid friendly art activities the kiddos loved . We're all excited and ready this week to learn and create some more fun stuff as
Shark Week Begins.
We've been having fun learning all about the ocean and things happening there. So here you go.
Sand Castle Art - these sand castles were one of my favorites from this year!
Sand Castle Artwork
yellow construction paper
play sand
Elmer's Glue
beach themed stickers (optional)
All you do is draw out a sand castle in glue on the yellow construction paper. Then allow the kids to use their hands and sprinkle the sand over the glue. When they are finished you pick up the paper and pour off the excess sand back into your bowl . They can add a beachy sticker if they want to.

2. Starfish Sand Art Projects


Starfish Sand Art Project


The starfish are made pretty much the same as our sand castle art was. First, I cut out starfish from brown construction paper. Then the kids added glue and sand. Super easy and fun they looked great on the bulletin board!
3. Zippy Tissue Fish -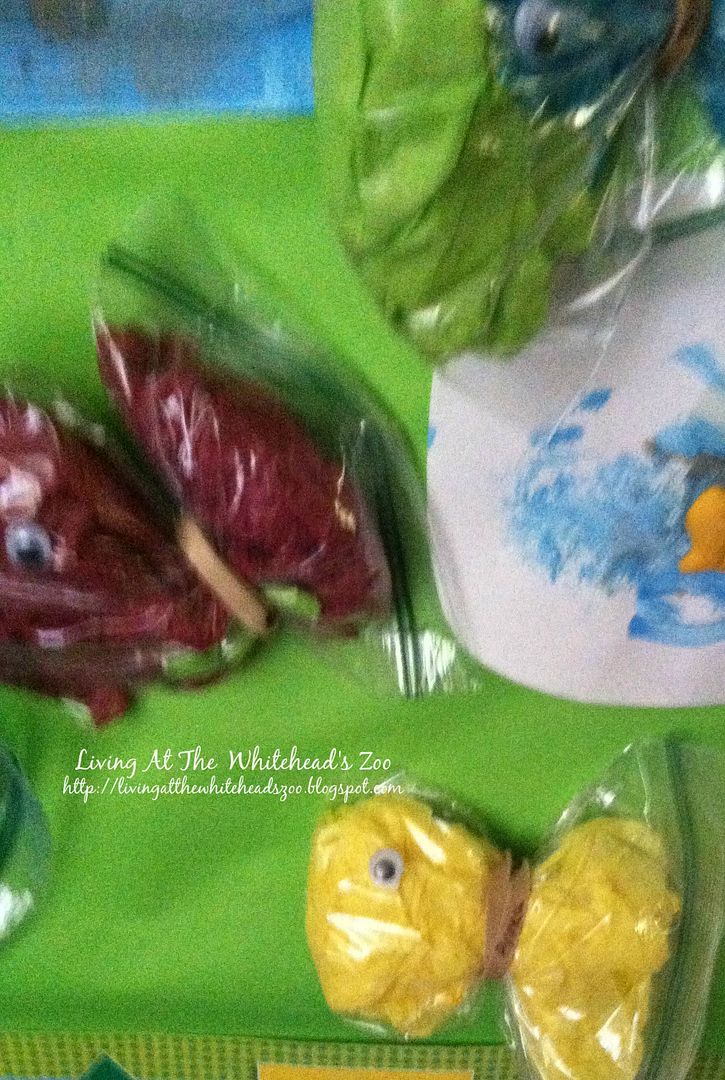 Tissue Paper Fish
These tissue paper fish are simple and fun. Our two and three year old were able to make them with no problems at all.
zip lock bags
rubber bands
assorted colors of tissue paper
glue
google eyes
Have the children stuff zip lock bags with tissue paper. Let them choose one or two colors. Then you will need to rubber band around the middle of the bag. (see photo. ) Last, let them glue on an eyeball. I found the easiest place to put their names was on the rubber band. These were a lot of fun hung up because of all of the cute colors.
4.
Fish in the Sea Painting Project
-
Fish in the Sea kids art
white paper
blue paint
black marker
paint brushes
goldfish snack crackers
glue
sand
Each child painted blue on white paper. When the paint dried we added some glue for them and they added sand and gold fish crackers wherever they chose. (see photo) Then with a black marker I drew a few birds onto them for them.
5. Sticker Collages-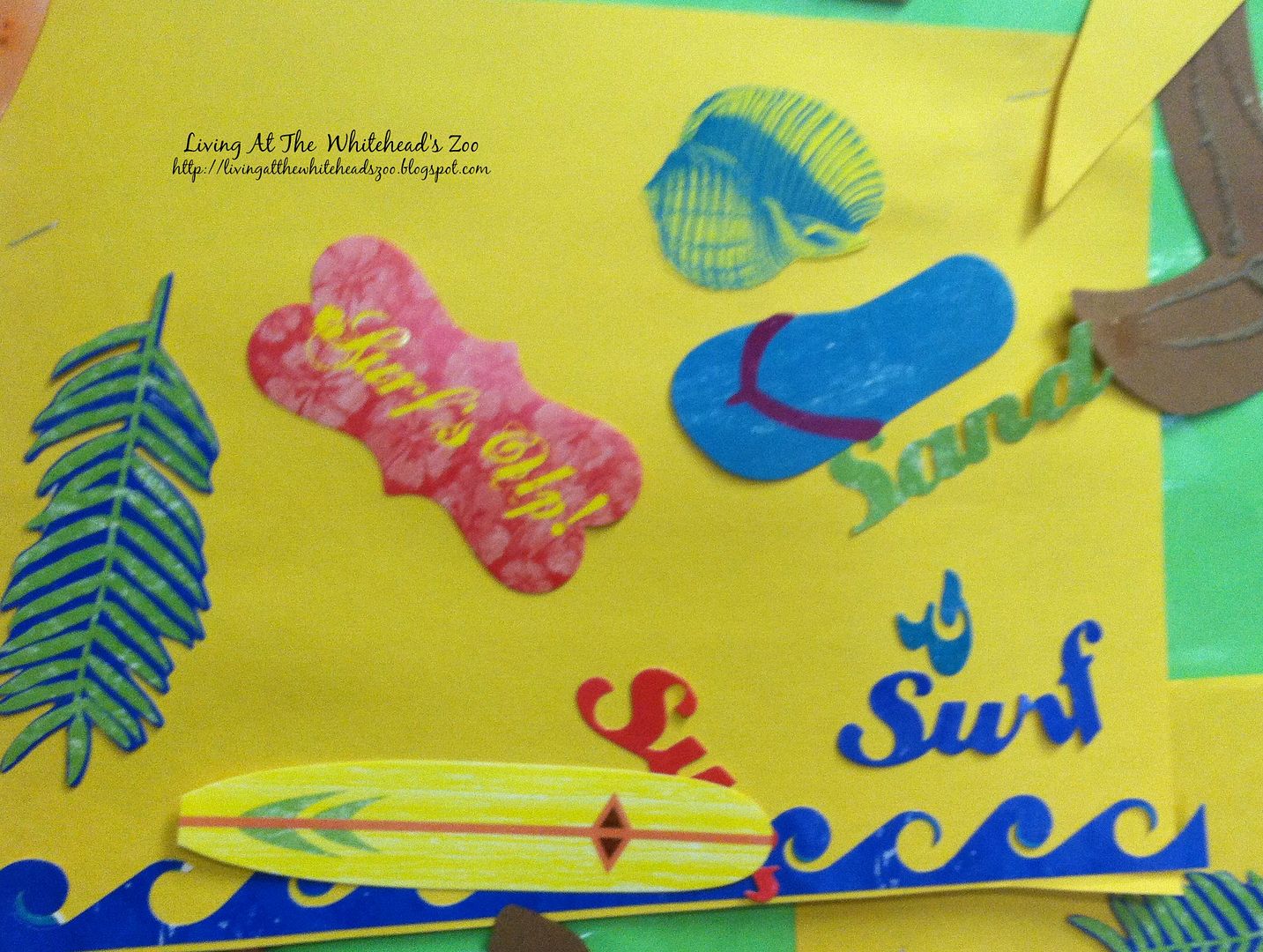 Sticker Collages
Sticker Collages couldn't be more easy. We had a lot of fun beach themed stickers and let the children choose their favorites. They then pulled them off and stuck them to yellow construction paper. We did monitor them to make sure they only used a few stickers and didn't just stick them all on top of one another. The kids really really liked this one too! They were so funny every child wanted a sticker of a flip flop. Interesting right. Peeling the stickers off is great for fine motor skills to. A 2-in-1 here!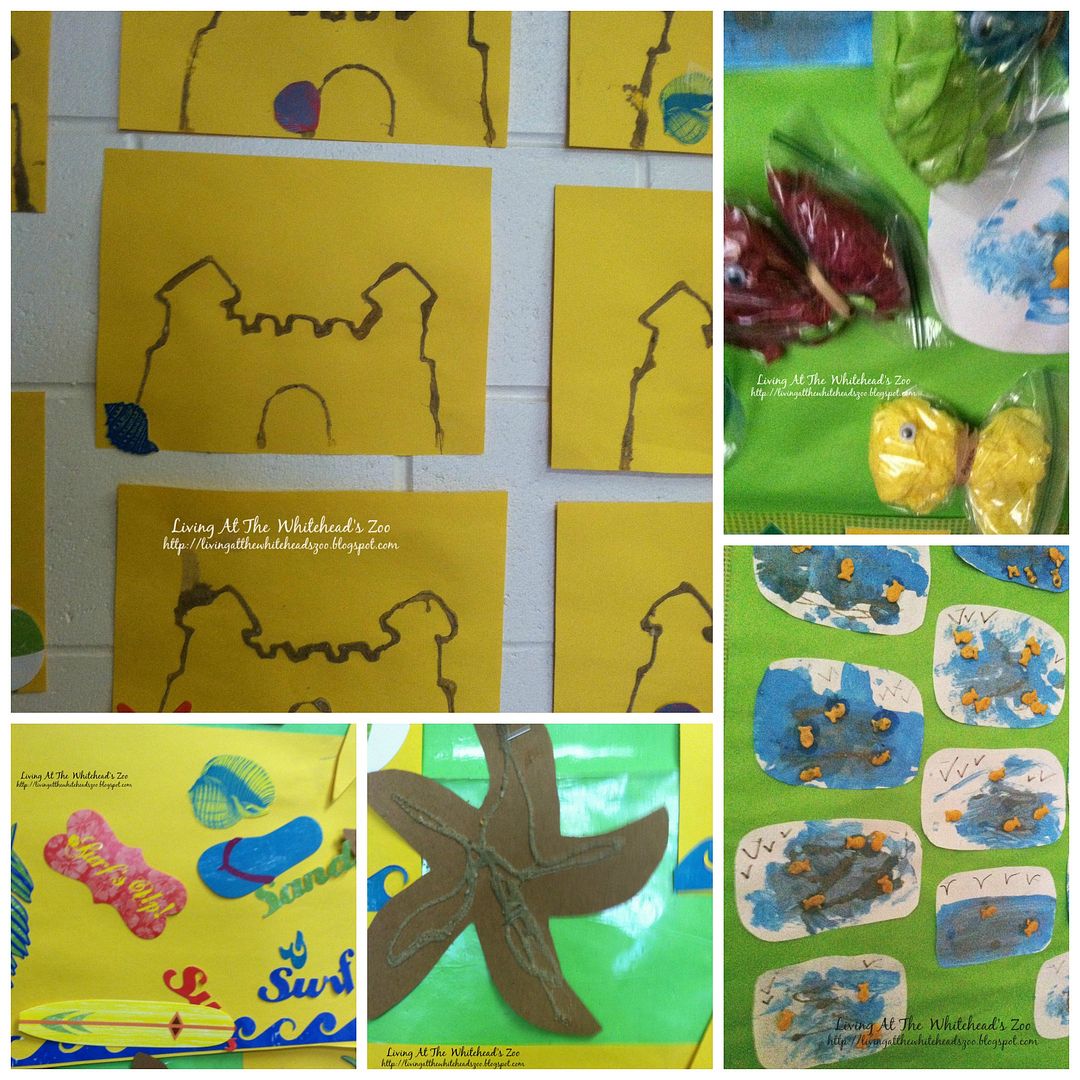 5 Beach Themed Art Projects for Preschoolers
There is our five for today. We also re purposed our fruit containers and made cute tissue paper jellyfish (I forgot to photograph them though oops) . And have been making sharks with play dough and cookie cutters along with other fun sea animals. Looking for some shark crafts? Visit our Shark Week Pinterest Board. We think you'll like what you find there!