Summer is here and it is HOT. The Whiteheads are looking for fun ways to cool off and have fun with the entire family this summer. When we are discussing vacations as a family one place that always gets a big "
yes"
from all of the kids is a water park. We've had Big Kahuna's Water and Adventure Park in Destin, Florida on our summer bucket list for quite a while now.
When I received an amazing blogging opportunity to visit Big Kahuna's in exchange for a review all hands shot up and a
BIG YES
was heard for miles around. We were ready right then to pack our bags and head out to explore the
water slides
that would surely great us upon arrival. We packed our bags and a little over 5 hours we arrived in Destin Florida. I arrived at the park with excited kids from 17 all the way down to 5 years old ready to play.
$5
to park and it was time go go in. (Don't forget the sunscreen you will need it.)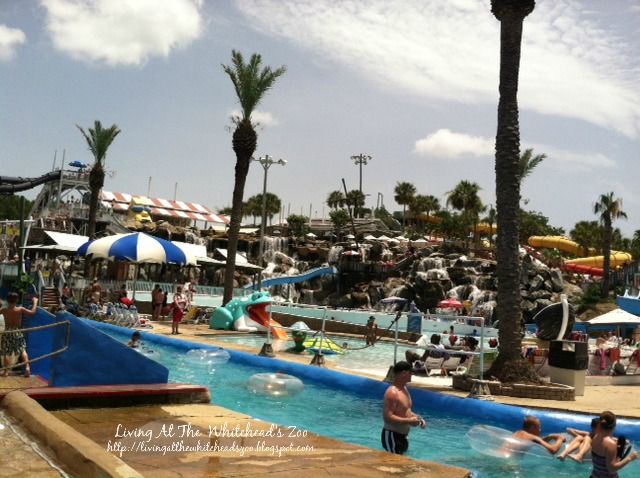 I have to tell you I was overwhelmed at first. There is a ton to do here. At first it seems almost like a maze all of the different ways that you can go to find fun. Once you find a spot to set your bags and call the meet up spot for the day your good to go. There are lockers available if you need to store your belongings.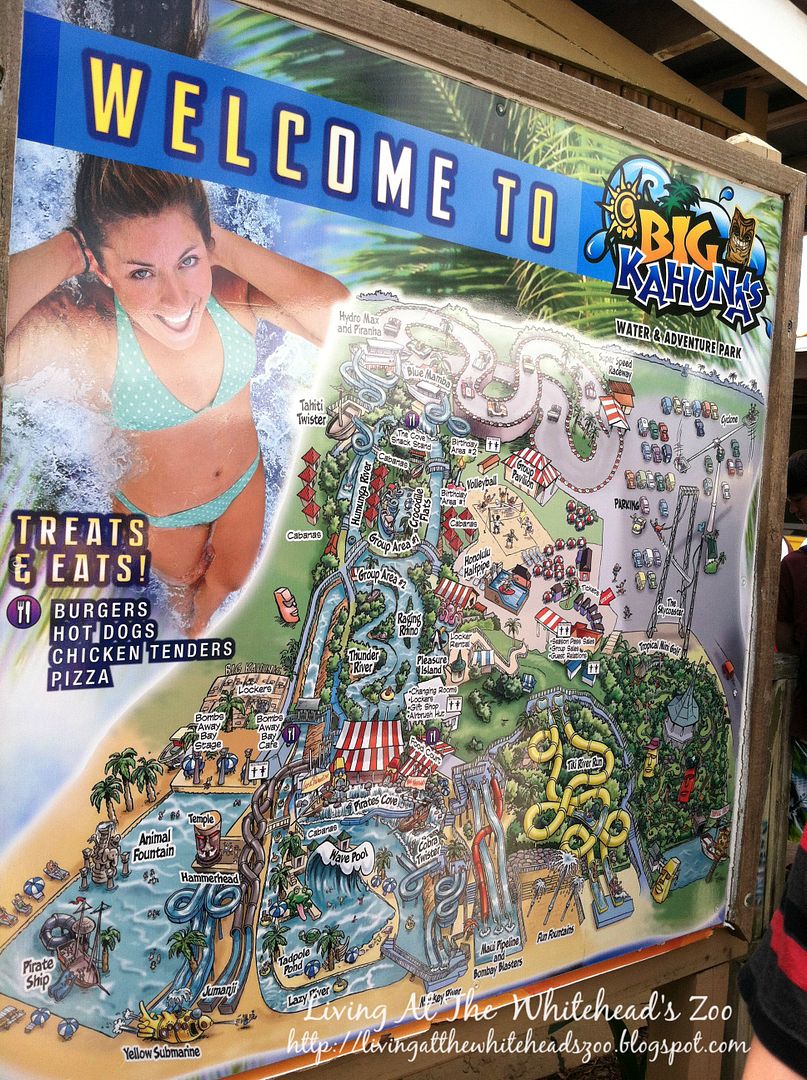 As you can see from the map there are a lot of slides to check out and different ways to go. First, we found a spot under one of the big umbrellas (I love these) that was shade by the animal fountain and pirate ship zone. I thought this would be the perfect area for my 5 year old to hang out with Mom.
If you want something more private Big Kahua's does have lovely cabanas available to rent for the day. The private cabanas are located near the Humunga River area and offer a nice little get away atmosphere with lounge chairs, a table and your own private server and can be reserved for $99.
One of the things I really appreciated as a traveling mom of a young child was the fact that Big Kahuna's had
free life jackets
available. This is really nice so you don't have to worry about arm wings or puddle jumpers in your luggage or buy them extra when you arrive. They did let you wear your own if you had brought them with you. My five year old can swim, but I was worried with him going hard all day he would tucker out or the slides might be a bit much for him. The life jacket eased my mind and enabled him to do pretty much whatever he chose through out our day.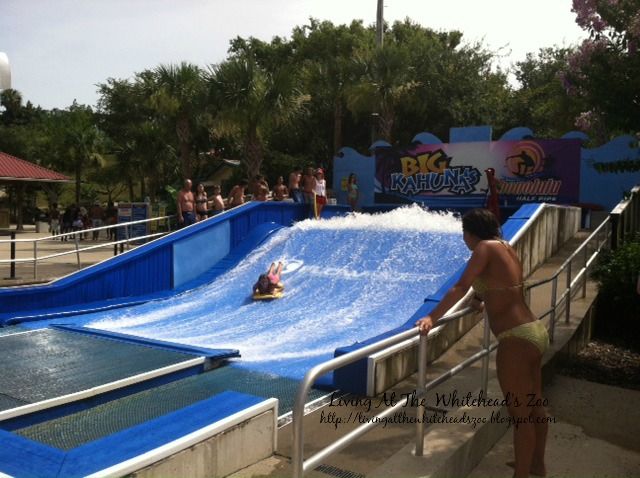 Lanie (age 10) , and Miss Madison (age 17) say the Honolulu Halfpipe is very
cool
. They also liked the River Run and the Tahiti Twister. They were not the only ones who enjoyed slides. My five year old was at a great age to play here. He was still young enough to benefit from the kid areas and also venture out onto the bigger slides also. He had so much fun he is still talking about sliding days later.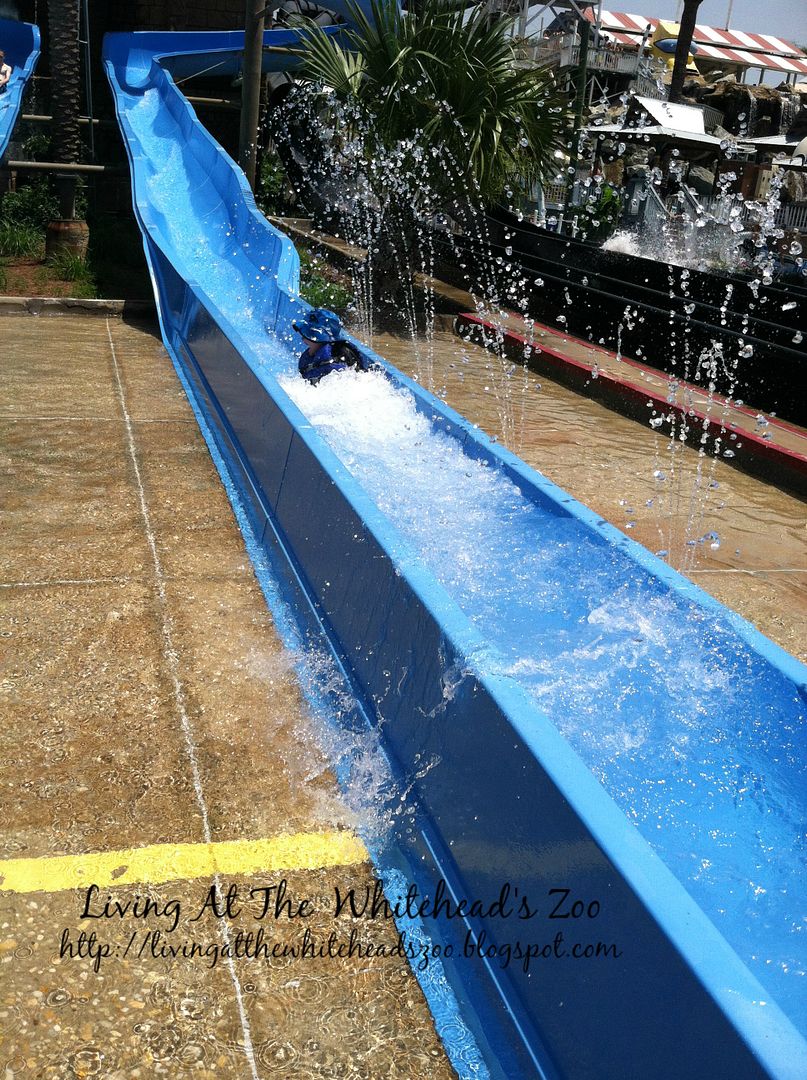 The lazy river gets a thumbs up from this Mom. If it was not for keeping up with a 5 year old I could just chill in the river all day long. So relaxing.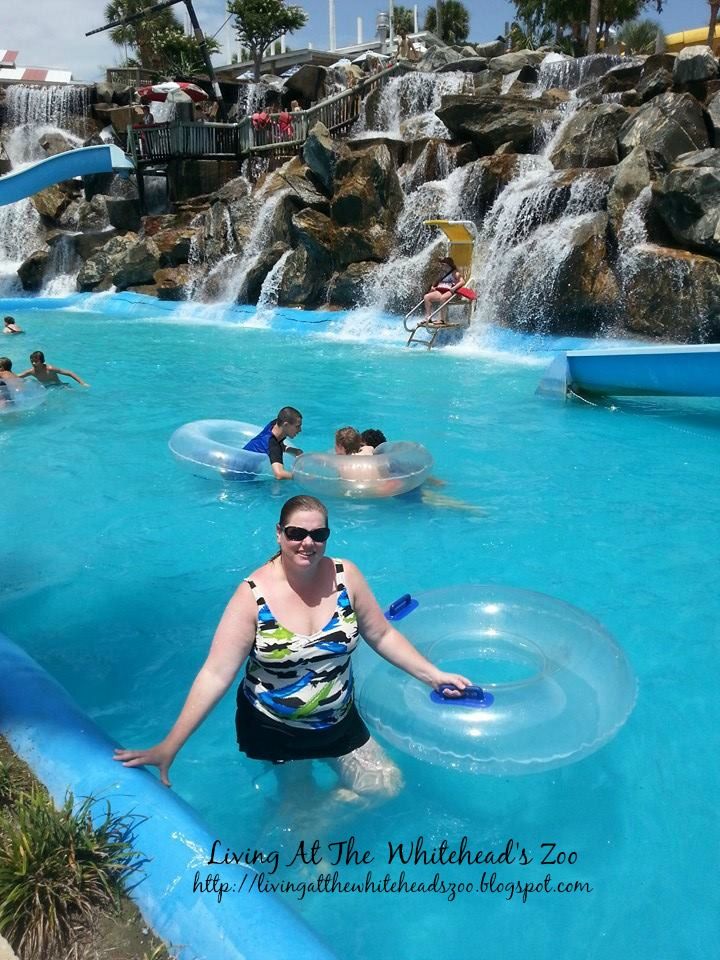 Mom Tips
:
Take advantage of those free life jackets for smaller children
You can NOT bring food into the park . Food prices vary but the family meal deal was 4 drinks and a large pizza at $29.99.
Buy a souvenir cup and you can get refills for soda for just .99
Definitely take the time to explore the inside of the caves behind the waterfalls . Very Cool!
Invest in water shoes (the pavement around the park gets hot)
This Mama can't thank Big Kahuna's enough for helping our family make some wonderful summer memories. Everyone left exhausted and with a lot of fun stories to share with our friends and family. Big Kahuna's Water Park was a great adventure for the
entire family
.
"
This post was sponsored by Big Kahuna's Water and Adventure Park. Even so all opinions shared about the park above and on any of our other social media are my own . Thanks! "