"
I am a Fox Home Entertainment Insider. As an Insider I receive special perks and incentives as part of my affiliation with Fox Home Entertainment. Even so all of the opinions I share on my blog today as I chat about tips for surviving a road trip with children and more are my own."
Summer trips and family road trips that is what we are chatting about today. One thing is certain things are not always very easy when traveling with children. We have taken really long trips in the past and some really short ones. Like many others we have had some really smooth trips and we'vehad trips where I have said
"NEVER AGAIN. "
Eventually my mind lets that go and we try it another time. One thing summer trips are the trips for making memories with the kids , sharing a lot of laughs and doing something new. Even a bad trip there will be something good that comes out of it. Last summer we want on a trip that was so aggravating. Things did anything but run smooth. However, it was a trip I wouldn't trade now for anything. I have never laughed so hard in my life at some of the things said in the car on that trip (teenage boys can crack you up). It may have been a rocky adventure but it made some memories for sure.
Here are a few tips today to help you
make a road trip with children successful.

A clip board is great to attach coloring sheets like these Rio 2 printable coloring sheets and travel games. You might even like to personalize your clip boards for the kids. Here is a tutorial on a clip board we made as a teacher gift.
Everyone gets their own snack box. You can make these anyway you like. I use a small insulated lunch box that way it can hold a couple of juice boxes or a bottled water also. The mini bottled waters work excellent if you'd like to refill them along the way.
Plan your stops .. you can map out your stops around rest areas along the way, eating times or even fun places you'd like to visit along the way. Be prepared though sometimes with kiddos you have to make 1 or even 10 unplanned stops. You have to be flexible and just go with it. We try to find fun places to visit along the way of our trips. So that we can get some extra sights in along the way while stretching our legs , taking a potty break or even getting a bite to eat.
Charge the Electronics - Be sure their electronics are all charged up for the ride. You also might like to invest in a car charger for them to use along the way. Download a few movies or shows to surprise them to. It is like their own personal DVD player give them a pair of headphones and you are good to go. We surprised our kiddos by using digital HD and downloading Rio 2 for the trip with an iTunes code. Rio 2 was full of music and adventure making it the perfect choice for a car ride.
Bring Hand sanitizer - unexpected stops does not always allow for the most sanitary conditions. Having a mini hand sanitizer in your pocket will make things so much easier for you as a Mama. The kids may not care a lick about what they touch on this adventure , but I know you Mamas do.
What Road Trip survival tips do you have for me? Tell me in a comment below or reply to this tweet ! I'd love to hear from you all =)
Getting ready for a summer #roadtrip. What survival tips do you have for me? #Rio2Insiders
— Whitehead's Zoo (@aawhitehead) July 7, 2014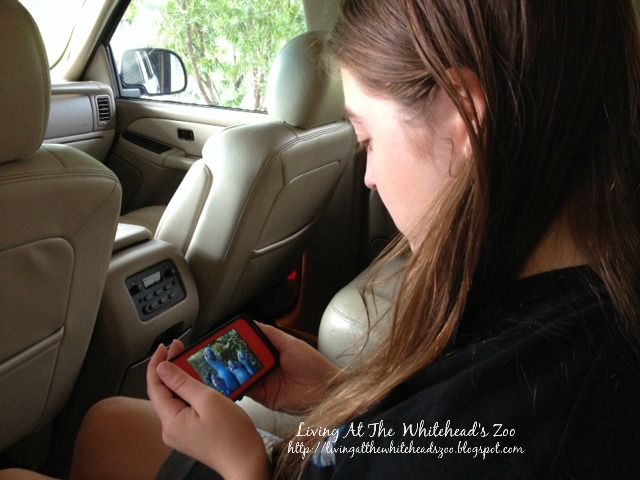 Now let me mention some of the awesome features of Digital HD. It makes it easy for you to travel and watch your families favorites. Like I said earlier we loaded up Rio 2 for the kids for this trip. It gives you instant watching and enjoyment. Allows you to have your favorites for the trip and you are not having to keep up with a stack of DVD's and DVD boxes. You also get HD quality for an affordable price. (yay) For more information on Digital HD visit
www.FoxDigitalHD.com
.
About Rio 2: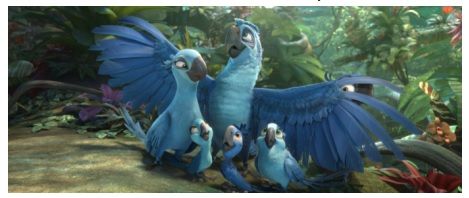 don't forget Rio 2 is now available for digital download.
Synopsis
LOS ANGELES, Calif. (June 2nd, 2014) – Get ready to shake your tail feathers! Twentieth Century Fox Home Entertainment takes you deep into the Brazilian Amazon Rainforest for the most fun you'll have all summer, as RIO 2 debuts on 3D Blu-ray, Blu-ray and DVD July 15. Just in time for summer vacation, this "hilarious family adventure" (Jeff Craig, Sixty Second Preview) will samba its way into your home with exciting bonus features and extras everyone will enjoy. Projected to eclipse more than $490 million worldwide at the box office, the animated hit is the must-own family title of the season.
The cast of the animated hit comedy Rio returns — along with a new flock of all-star voice talent, including Bruno Mars, Kristin Chenoweth, Andy Garcia and more — in this high-flying sequel for the whole family. The party continues when Blu (Oscar®nominee Jesse Eisenberg1), Jewel (Oscar® winner Anne Hathaway2) and their three kids take a walk on the wild side and embark on a colorful, comical, music-filled journey through the Amazon. As Blu tries to fit into his new surroundings, he goes beak-to-beak with the villainous Nigel, and meets the most fearsome adversary of all: his father-in-law!
The RIO 2 Blu-ray™ and DVD brings everything you loved from the first Rio, but with even more laughs, excitement and music! Not only will kids get nearly an hour and a half of bonus features on the RIO 2 Blu-ray™, but they'll also get their groove on with two downloadable bonus songs from the RIO 2 soundtrack: "I Will Survive" and "Poisonous Love," both performed by Gabi (Kristin Chenoweth) and Nigel (Jemaine Clement). For even more fun, every Blu-ray™ comes with 15 exclusive levels for Angry Birds Rio™ and Music Machine Sing-Along and Dance-Along songs for a whole family party! There's also Janelle Monáe's "What is Love" lyric video, a deleted scene, character auditions and much more!
Here are a few photos from our road trip. We love being on the go! This was a great trip. I mean check it out I found Elvis .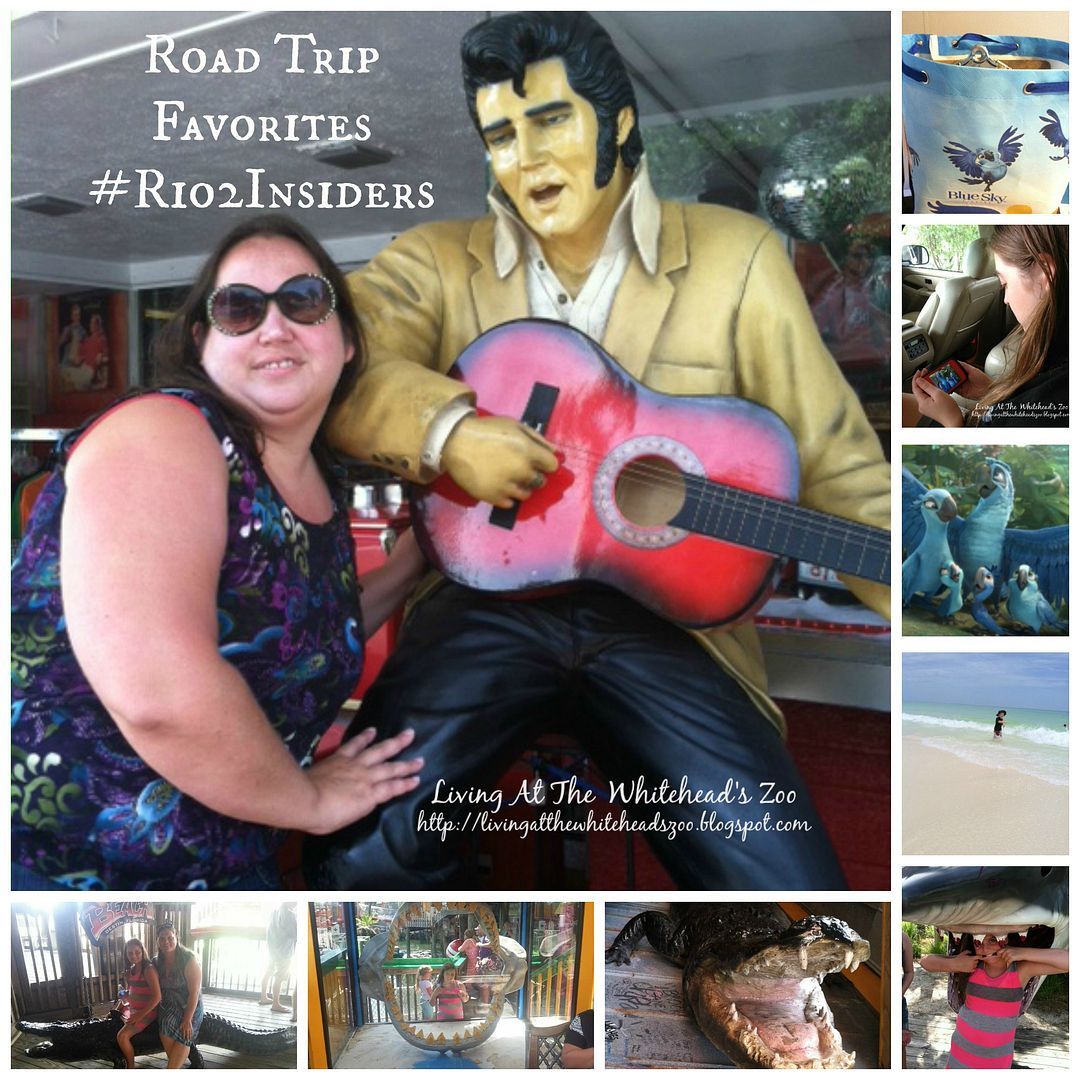 Our road trip was a success this time a round. We all had a blast and made some fun summer memories to talk about all year long ! We even have an adventure planned for next time already. When the going got tough having a new favorite like RIO 2 on the iPhone was an excellent distraction for everyone in the car. It only takes a few seconds to download and have handy on your digital devices.