"Living at the Whiteheads Zoo was provided with a family pack of tickets to Dinosaur World for reviewing purposes. All opinions shared here are based on our families experiences with Dinosaur World and 100% our own."
We recently made a day of it and headed to Plant City, Florida for a fun family day at
Dinosaur World.
I'm not quite sure what I expected to find at Dinosaur World, but what I did find pleasantly surprised me. There was plenty of fun things for the kids to do and explore and it was very educational too. I know I learned a few things about dinosaurs. There were a
few tips
we picked up along the way and thought I'd share .

5 Tips for a Great Day at Dinosaur World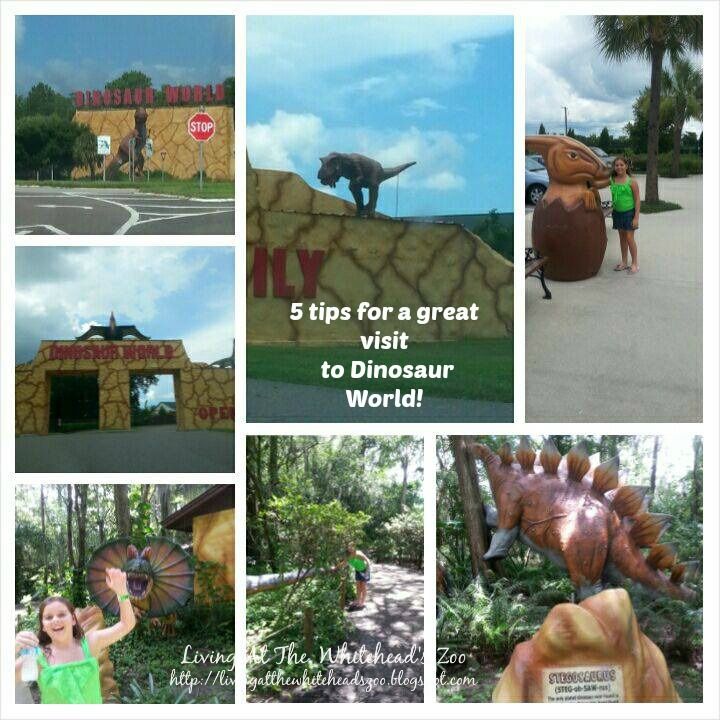 How to have a great day at Dinosaur World!
BUG SPRAY - If you don't do bug spray you'll survive however we did get nipped here and nibbled on there without . I do recommend you bring some and it will make your journey as you travel through the lovely gardens and walkways much more pleasurable. If you don't have any and want to they do have some you can purchase in the gift shop. Get ready to let your kids imaginations go crazy as they stomp around and see dinosaur after dinosaur. Each exhibit has a nice information plaque in front of it so you can learn along the way.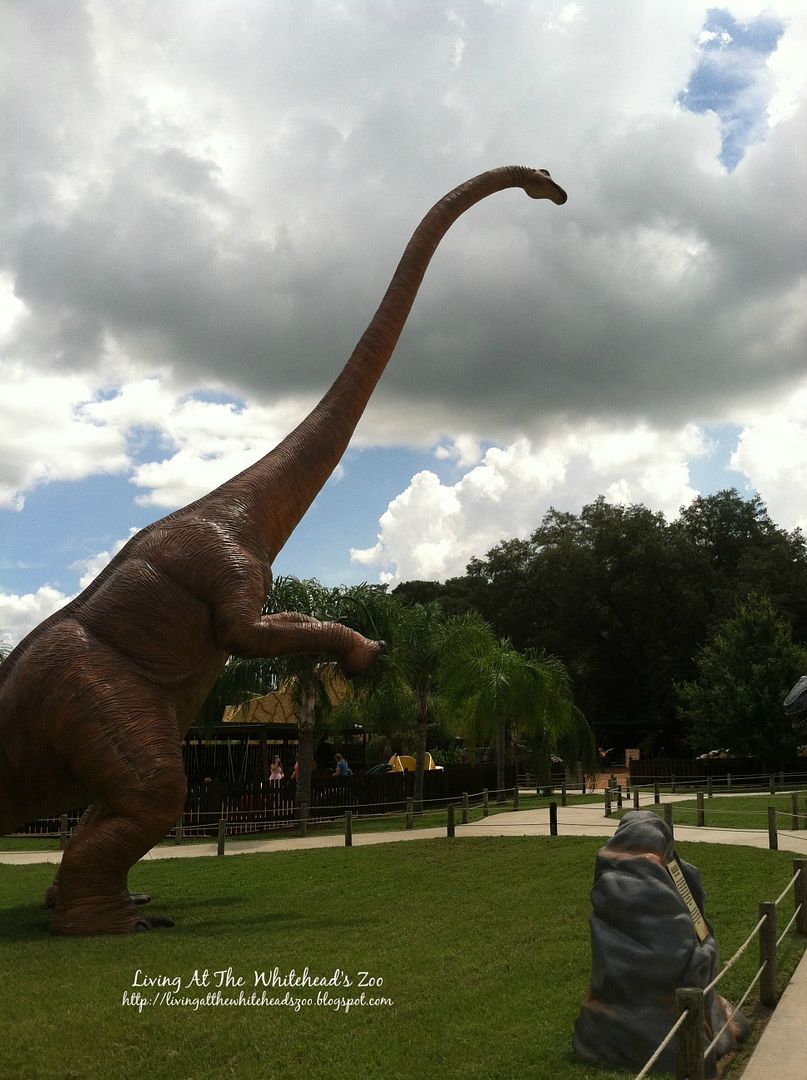 Don't forget the Bug Spray
2.
SUNBLOCK :
Don't forget the sunblock. You are in Florida and it is sunny even when you don't think it is you are getting rays. Your going to be spending quite some time walking around in the sun even though there are shady spots along the way save yourself a fussy night later and apply sunblock early. There are over
20 acres to explore
so you want them kiddos to be protected. Bring your shades if you have them I know I was glad to have mine and maybe a sun hat too.
Navigating 20 acres of Dinosaur World. Lots to explore.
3. Bring your own
Water and Snacks-
Take advantage of the fact the park allowing you bring in food. That is nice =) when you have a bigger family trust me. There are a lot of picnic tables all over the park with shade and nice areas to have a picnic style lunch. But also bring a cooler with bottled waters or drinks or a refillable water bottle. It is hot and you'll be glad that you have something to cool off and hydrate with. If you don't bring your own the gift shop has bottled waters and snacks available. There are also vending machines scattered about the park. Our kids really enjoyed the dinosaur animal cookies from the Gift Shop. You can also order pizza from
Nick's Pizzeria
and have it delivered right to the park. Do take note there are no other food services at Dinosaur World. Either bring your own, be prepared to order in or take advantage of those gift shops and vending machines or go without.
The Fossil Dig at Dinosaur World
4. Bring a Tote Bag - Alright this tip for those moms who travel light. Yes, we exist I am totally one of them. There was once a time when I carried everything including the kitchen sink but that time has passed. My youngest is 5 and well we just really do not need the kitchen sink most days. Thanks Goodness! I usually grab some cash, a debit card and phone and am good to go. Dinosaur World would have been a great place to have a tote bag on hand however. See the above that is the fossil dig. A lot of fun for the kiddos. They get to sift through the sand and look for fossils. When they have discovered three they get to keep them in a cute little specimen jar. Little Paleontologist in the Making. Okay so that is one thing you'll be toting Moms, Then there is mining (our kids favorite part of the park) where you'll get a bag of gems and rocks to tote around. If you have more than one child you may have multiple things to hold on to. You might also have one or four water bottles your hanging on to for a quick sip here and there. Get my drift Moms get to carry it all so a bag would be quite handy on this adventure your having!
5. Take your Time - Tip number 5 is just take your time to really have a good time. We did just that. The kids spent a ton of time at the mining station. My youngest really did not even care that he was mining. He loved having the water push his mining tray down the stream. He called it his boat. He would have stayed for hours doing just that and I was okay with that. He was having a great time , and so were the rest of us. When something wasn't striking there fancy we moved on but when it was we took the time to let them enjoy it instead of being rushed and it made all the difference in us having a GREAT FUN DAY!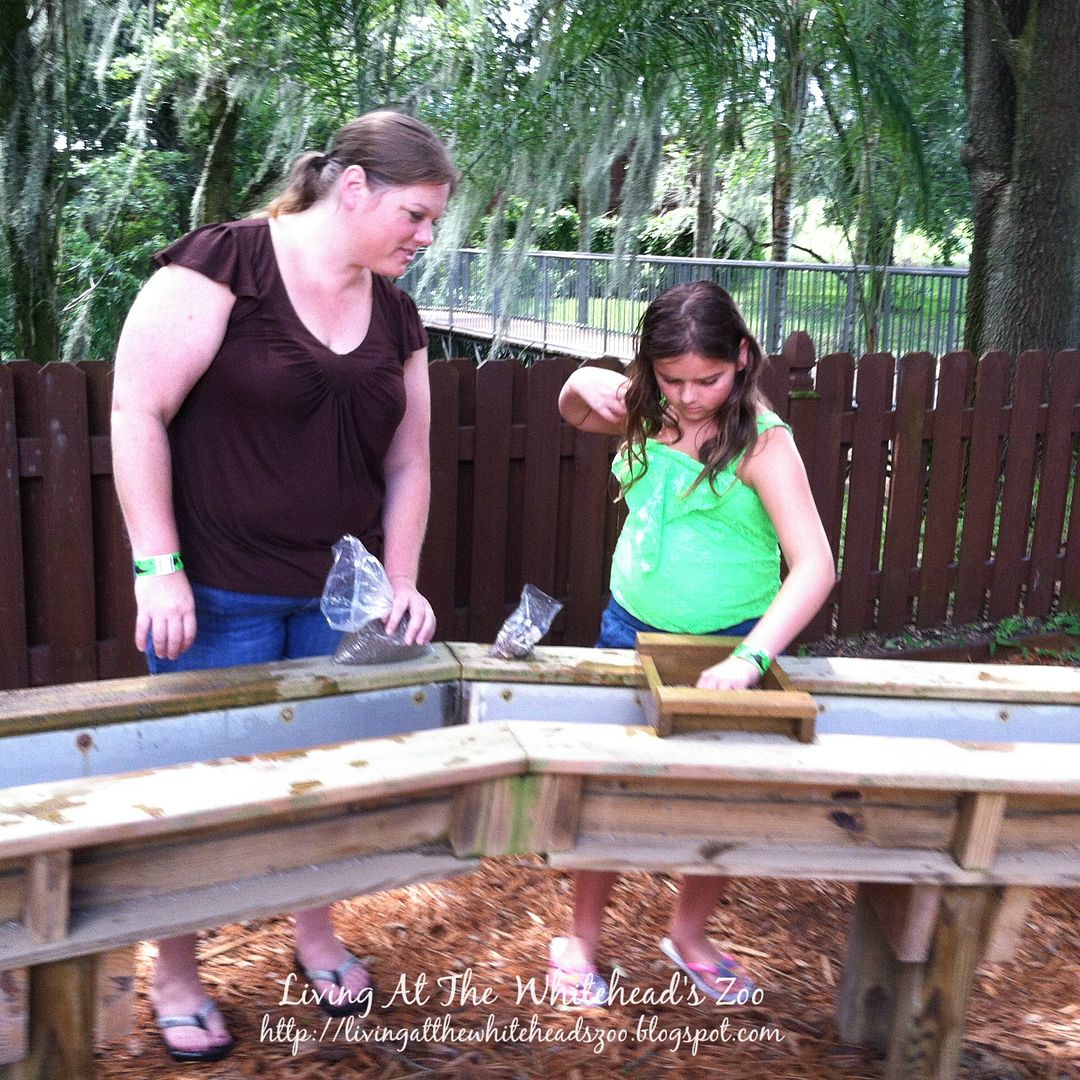 Mining was the kids favorite Dinosaur World activity!

A few notes for you about Dinosaur World.
The
mining
was our kids favorite activity so don't miss it. You can also sit and feed the fish for a bit. I used this a time to sit and rest for a few moments and sip on our water bottles.
The Bone yard
was another fun stop in the park. The kids loved uncovering the big huge bones. They kicked off their shoes and got busy digging while us Moms sat update our
Instagram
and
facebook
and sipped on our water. Dinosaur World has taken some time on their
playground
it is super nice. There are swings, slides , things to climb through , a separate area for smaller younger children. It is a super nice play area. Take part in the
interactive shows
if you have time they'll tell you about them in the Gift Shop when you pay to get in . Planning your day around them will also give you chances to cool off in the air conditioned areas (just saying). There is
FREE Parking
(
Way to go Dinosaur World
) it will irritates me when I visit a park I'm already paying a nice admission price to get into and have to pay another $10 to park my car. No worries with that here parking is completely
FREE
. If you are in the area you might want to check out the
Birthday party packages
. Some of them sound cool and if I was 190 miles closer I would totally take advantage of such a cool place to host a party . It is so roomy and so many kid friendly activities. Also, if you have a child who is autistic let them know. Dinosaur World is an
Autistic Friendly park
and has been trained by
CARD .
They will work with you to make the experience an even better one if possible. We think that is pretty cool.
You can Connect With Dinosaur World
On
Facebook
and on
Twitter
Our family had a great day of adventure at Dinosaur World. We give the park a Whitehead's

! Are you planning a trip? We have an
exclusive coupon for you to receive $2.00 off admission
per Adult. Just visit the link and print it to take with you. Have Fun!
http://usfamilycoupons.com/coupon.php?regionid=75&bid=8565&dealid=1213