I hate to ask you this but are you already thinking of back to school? I'm definitely not ready for that yet. I have been thinking about it though. Back to school shopping always hits me hard so I am trying to do a little bit more through out the summer so I'm not trying to do every thing in August. My youngest is in kindergarten this year. (you may hear me sniffling through the computer) as I wipe away my tears and wonder how has time flown by so quickly. It certainly has. Isn't that the way when you are a Mama though. I remember as a kid thinking time just drug by I couldn't wait until Christmas , or my Birthday , or turning 16 to drive always something. Now I wish I could throw down my heels and freeze it. One thing I try to do to make things easier for my guy and his teachers is to label label and label . Everything he owns I put a label on.
Now for some exciting stuff. I have some
COOL ... Yes I said Cool labels
to share. They are printable and they are Rio 2. Yeah!! We're digging Rio 2 around this house.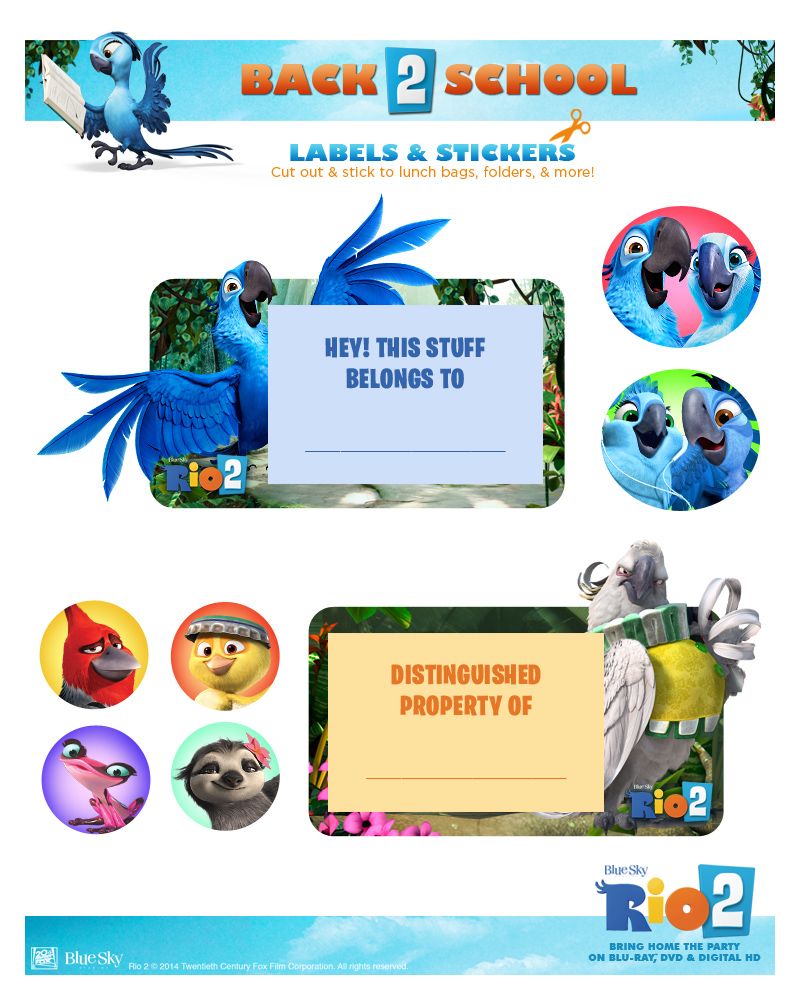 "Below I have included an affiliate link. If you click on it and make a purchase I will get paid. "
Aren't they cute. You can print them out on card stock and use tape or you can get sticker paper for your printer like this (
Avery Sticker Project Paper, White, 8.5 x 11 Inches, Pack of 15 (03383)
) .
If you liked our labels and are looking for some more fun Rio 2 printables check out our post
Everything You Need for a Rio 2 Summer Fun Day
. It has all kinds of fun printable coloring sheets and activities for the kids. We also have a Rio 2 Blu-Ray DVD giveaway posting next week so be on the look out for some fun information about that.
"As a Fox Home Entertainment Insider I am provided with promotional items to share with my readers and items for reviewing purposes. All opinions shared are my own. This post contains affiliate links. All that means is that if you click on the link and make a purchase from it I will get a small payment . Thanks"