We've been studying
pond life
this week in preschool . We've been reading books and learning all about the wildlife you might find around a pond. We made frogs and ducks for a bulletin board. We even have tadpoles to study and watch grow. The kids thought these were the coolest things ever.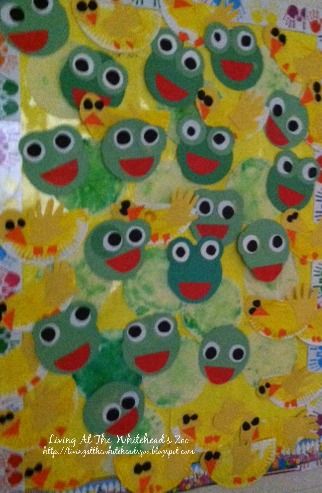 Frog Preschool Art Activity
large green circles
medium white circles for eyes
smaller black circles for eyes
red mouth
glue stick
Cut the parts out of construction paper you have on hand and have ready for art time. Make one up and have ready for them to see. Then give the children the pieces and the glue stick to make their own frogs. Super easy to do .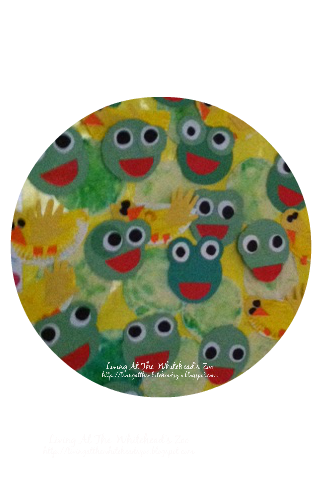 Coffee Filter Lily Pads Craft Activity
coffee filters
green markers (Crayola works well)
water bottle
Have the children color a coffee filter with the green markers you have out.
Allow them to spray the coffee filter with water lightly. *Beware they like those squirt bottles
The colors of the green will spread or run making it more of a faded look. (See above) Add them to your bulletin board scattered around with the frogs.
Paper Plate Duck Art Activity
Cut paper plates in half for the duck body
Trace and cut out childrens hand prints in yellow paper
yellow paint
black construction paper for eyes
orange construction paper for beak and feet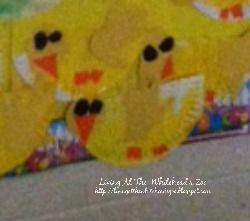 These ducks took our class two days to make. First we painted the plates and then they had to dry before we could complete them. We also traced and cut out each child's hand print. The next day the children used glue sticks to add on the beak, 2 eyes and feet. I had them choose to put their hand print on the side as feathers or as a tail. We had a good mixture of both.


Catching Tadpoles:
C and I used a small fish net and headed down to the lake. The first area we went to didn't have any and we were disappointed. You can usually find them in shallow standing water even ditches. I had a small fountain in my garden at the old house and it always had some in it. We found a second location at a little lake and he had scooped some up in seconds. He had such a good time with his water boots on and his net doing this. It really was a fun afternoon project. We brought 2 jars one for my class and one for his and filled them up.
He was so super excited to share the tadpoles. In my class we watched the tadpoles for a couple of days in the jar. Then I collected some rain water outside in a bucket (we had a rainy day) and added that to a bigger bowl for them. Then we poured them into that with some pond grass for them to nibble on.
As they get bigger we read that you can boil romaine lettuce. We will give that a try.
You might like some of our other pond activities .