C is fixing to graduate from preschool and Miss Madison is graduating from high school. My does time ever fly right on by when you are a Mama. I'm so proud of these two munchkins. We celebrated graduation last weekend with a great big graduation party. We all had lots of fun. I was quite busy making party decorations and snacks all last week. Pinterest is such an inspiration. This balloon graduate decoration was pretty easy to make and was a hit with both teenagers and my preschoolers.
How to Make a Graduate Balloon Decoration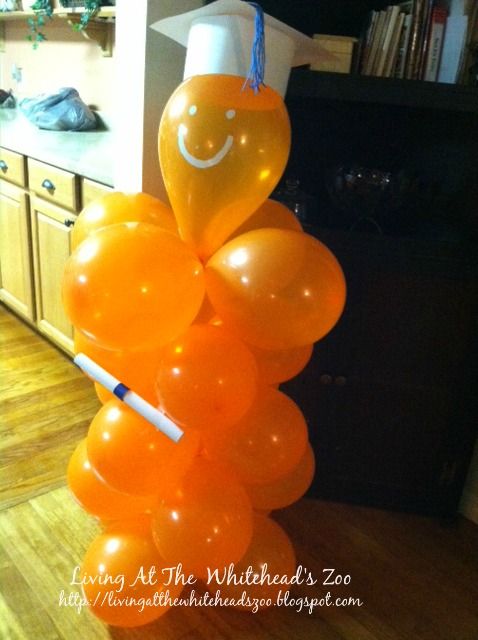 2 bags of 12 balloons whatever colors you choose
fish line
vinyl
silhouette portrait
card stock
yarn
scissors
Blow all of the balloons up to about the same size.
Tie them together using fish line
I cut a vinyl smiley face with my silhouette portrait. If you do not have a silhouette machine you can also just use glue and card stock.
Roll a piece of card stock to make your diploma and tie it with ribbon. Tape it to your balloons.
Make a graduation cap with card stock and also add yarn tassels. Attach it to the head of your graduate.
That is it set it where you want to for decoration and enjoy.