Happy Memorial Day! We had a "gator" themed party this week to celebrate Miss Madison's graduation and acceptance into University of Florida. Go Gators. One of our food items at the party was this
gator fruit kabob display and gator tails platter
. It was so easy to make . This was a Pinterest inspired project . For a tutorial on how to make this gator you can visit the blog
Higher Ground Today
. The tutorial is really easy to follow and gives a step by step of what you'll need to make the gator.
Here is our gator. Everyone thought it was really cute. I placed it on a piece of parchment paper on the counter for display so I could spread it out. If you had a cookie sheet or platter that size that work as well. It really did not take that much fruit to make either. Just an FYI because I did go a little over board in buying fruit and now have leftovers.
I also made
gator tails
. I found the idea for gator tails and other really cute swamp party ideas at
One
Blessing After Another
.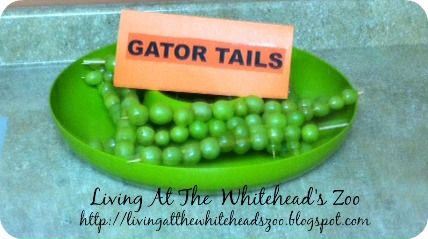 All of our fruit party food was a success. Everyone thought it was so cute and it was perfect for a gator party. Even though this was for a graduation party I have found so many cute ideas I'd love to have a swamp themed party for C's Birthday. We had a great time celebrating my gator girl and her success this year. Can't wait to see what the future holds for that girl.
Have a great week all.