When Miss E was about 4 years old she told me that her best vacation was at Dinosaur World. She was very detailed and enthusiastic as she shared her adventure with us. The funny thing about it was that Miss E. had not once been to Dinosaur World, she had seen one of the dinosaurs as we passed it to go somewhere else and had invented her own little vacation. It was so cute. Today I get to share a discount for you to you guessed it
Dinosaur World
. I was so excited to be reminded of this memory and to share the summer fun with you guys!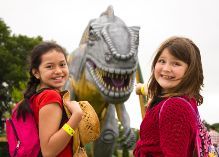 Dinosaur World is Central Florida's only attraction dedicated to the giants of years past. With over 20-acres to explore, we can help you tame the pitter-patter of little dinosaur feet. Check out the new Dino Gem Excavation, Geode Cracker, and 2 new interactive shows! Visit the Fossil Dig and Boneyard and try your hand at Paleontology, and then head over to the skeletal playground. Then set out along the covered walkways to explore the lush gardens and dino exhibits.
$2 off per adult - Exclusive Coupon for Dinosaur World
http://usfamilycoupons.com/coupon.php?regionid=75&bid=8565&dealid=1213
"We are sharing as part of the USFamily Blogger Program. All opinions are our own. We are being provided with complimentary passes to Dinosaur World for reviewing purposes. "