It turned chilly again today in Florida. I'm not sure where the cold snap came from but I can tell you I'm ready to send it back. We were already enjoying the pool and the sunshine. What's better on a chilly day than soup. This soup is really very
budget friendly
which makes it even better . It is also
freezable
which I am going to be taking full advantage of this week.I will put the leftovers into individual containers for lunches and dinners when it is just me or to help me out during the work week. Yes, every now and again it is just me. Plus with my schedule these days I can use all of the extra short cuts and help available. I received a pack of
Tuttorosso
tomatoes for review. We're going to use the 28 ounce diced tomatoes and puree in our soup today. I have used Tuttorosso Tomatoes in several other recipes. I am always pleased with the end results when I do so. They are not to sweet and not to tangy.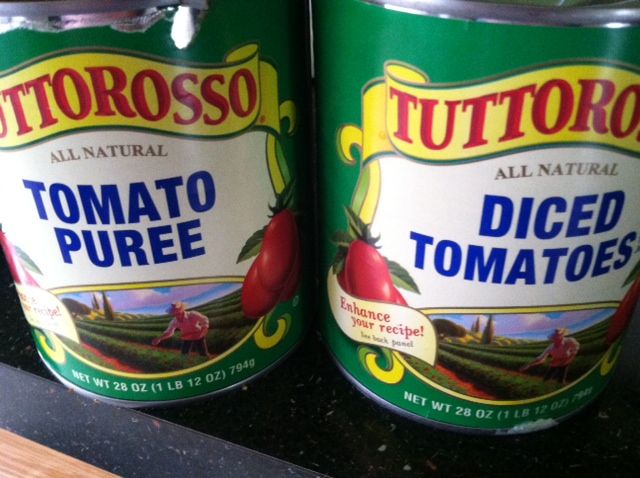 Slow Cooker Taco Soup
Here's what you need:
2 1/2 cups chicken broth
2 cups of boiled shredded chicken
1/4 cup of taco seasoning
1 -28 ounce can of Tuttorosso diced tomatoes
1- 28 ounce can of Tuttorosso tomato puree
1- 14 ounce can of black beans drained
1- 14 ounce can of pinto beans drained
1/8 teaspoon of red pepper (optional)
1/8 teaspoon of salt
1 can of whole kernel corn drained (optional) * I leave the corn out because I don't like corn but if you want something extra this goes with it well.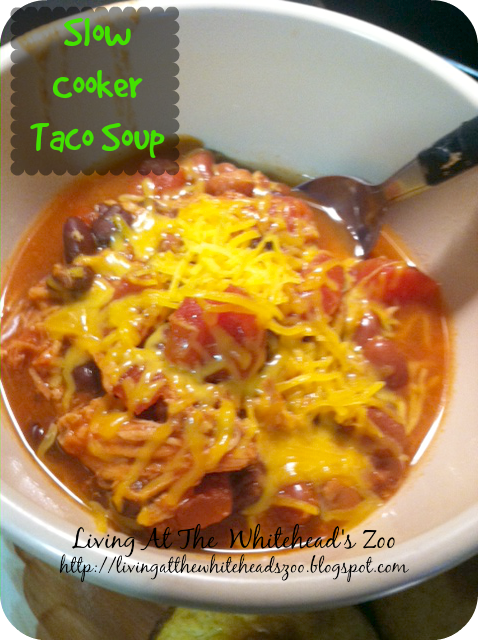 What you need to do:
Throw everything into your slow cooker giving it a good stir. Cover and cook on high 4 hours. Serve it with cheddar cheese sprinkled on top . I serve this with cornbread muffins. You can also serve it with a side of Frito's or Tortilla chips. If you want something else add a scoop of sour cream.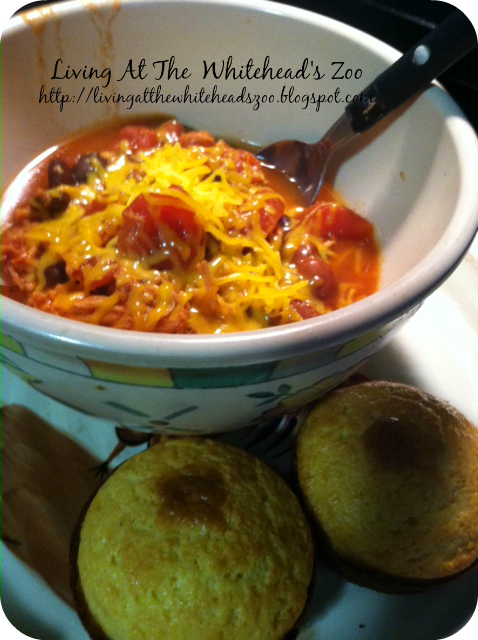 What did we think of the Tuttorosso tomatoes used in this recipe? We used a 28 ounce can of Tuttorosso Puree. Tomato puree is really good in pasta sauces. We used it to give our soup a thicker and creamier taste. It was an excellent add in for this. We also used the diced tomatoes in a 28 ounce can. These tomatoes are all natural and they work perfectly in soups making them just what I needed for today's Taco Soup recipe. These tomatoes are so red when you open the cans you know that your opening a can of goodness.
Tuttorosso also has a new line of no salt products. You can find no salt in the peeled plum tomatoes, tomato sauce and also crushed tomatoes. I am watching my salt intake more these days. With all of the stress of life lately I have had higher blood pressure. It is important for me to keep it under control without having to take medication so I try to do what I can to manage it. One of those things is watching my salt. The new line from Tuttorosso makes doing this even easier.
Tuttorosso
has recently changed their label also. They use to have recipes on the back of the cans. Personally I like to get a recipe on the back of the can. It can give me a new idea and I may have all of the other ingredients on hand. I was not sure what I thought of the new label design at first. Now, on the back panel of your label you will find tips and tricks to help you with your cooking. What do you think about that? I think it is neat that they are telling you which type of tomato works well with what type of dish. I know sometimes when I am trying something new finding the right can to go with what the recipe needs can be confusing. I also like that there are cooking tips. You can learn something new everyday if you want to. What I really like about the label is the health information. With some new health concerns recently diagnosed in our family what we are putting into our bodies is more important than ever to me. This label is so easy to read and so appreciated by this Mom!!
Not only does Tuttorosso have great canned tomatoes. They also have a fun new facebook contest all about family and celebrating your traditions. Catch my post
who inspired me in the kitchen
and learn more about it or just visit
Tuttorosso on Facebook
. Either way we're sure your going to want to take a minute and share your story to enter.
"
This post was sponsored by Tuttorosso. Even so all opinions and the above recipe shared here are my own . "
.