When I was little I had an aquarium that looked just like a bubble gum machine. I also had a real life gum ball machine. Actually, my mother still has that gum ball machine it might be an antique gum ball machine at this point I just had another Birthday. I saw on Pinterest where people were re purposing those old gum ball machines to make fish tanks. My mom said ,"
No Way
". That meant it was time for a plan B.. I love love clay pots and after doing some more browsing on Pinterest of course I was inspired by the post
Swimming with Gumballs
by Gauche Alchemy. I decided to try my hand at a terracotta pot gum ball fish bowl for C. This makes for an inexpensive and easy craft project your children will love.
What You Need for the Project.
1 fish bowl
1 terracotta pot large enough to hold the glass fish bowl
the base to 1 terracotta pot (large enough to fit on top of the bowl)
marbles, rocks, , gems, gravel whatever you want to go in the bottom of your bowl
red spray paint
beta fish
one red lit from a drink bottle (like coke)
hot glue gun

All you need to do...
paint your pot and pot lid red
let them dry and apply a 2nd coat if needed
once this is dry you can bring inside set your pot upside down and place your fish bowl on top
add your marbles or rocks and water if you have chlorinated water you will need the drops to remove chlorine or bottled water
Now it is time to get a fish we have a beta fish
hot glue 2 liter bottle lid (red) to the top of fish bowl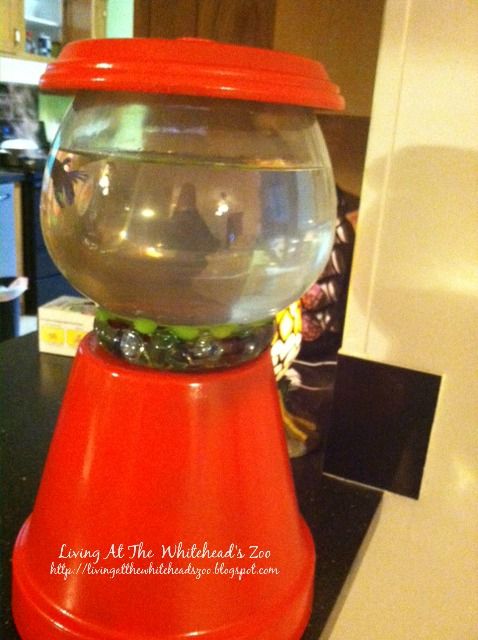 C. named our fish Blue fish . He loves his blue fish. I was worried about the fish having air but it does fine. I read that the air circulates when you remove the lid for feeding. I really don't know if this is a fact I just can honestly say our fish is doing just fine and has been for a while now. I think this makes for a very decorative fish bowl. The kids say its a very cool fish tank. I really wanted to use marbles in the bottom of our bowl to look like gum balls. However, there are no marbles to be found in the small town that I live in. I need to order some. For now we are using the colored glass marbles that you can find at Walmart on the fish aisle and also in the craft section. I also purchased a pack of the green glow in the dark balls from Walmart. They don't glow in the dark though so it was a total waste of $3. I have been debating on adding 5 cents on the front with my white craft vinyl and silhouette portrait. I like it just the way it is , but I think that might make it even cuter. What do you think?
Be sure and check out our Pinterest Board Clay Pot Crafts for other terracotta pot planter craft ideas.
Follow Amber Whitehead's board Clay Pot Crafts on Pinterest.