Wreaths I love them. I pin them , I look at them I even try to make my own. Wreaths they just inspire my crafty side. They say "hey girl you need one of these on the front door." I think they add so much cheer and festivity to a home. I was recently inspired by all of the Easter cuteness and decided to try an Easter Wreath of my own.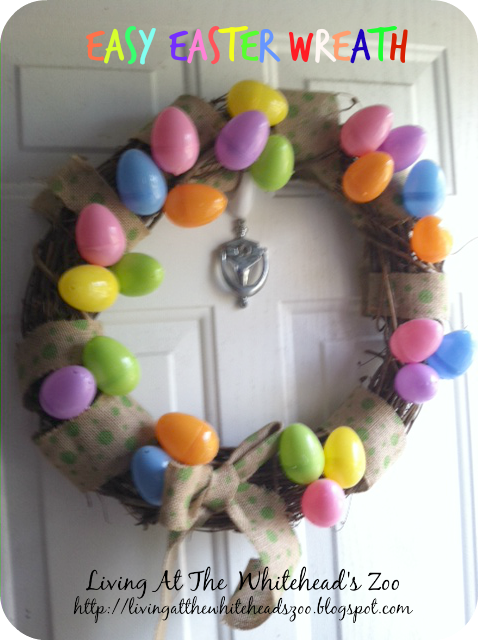 Materials you will need:
1 roll of Burlap ribbon (I can't remember how many yards it is but you can find it on a roll for $3.98 at Walmart)
1 grape vine wreath
48 plastic Easter eggs (you will not use the entire pack)
hot glue gun and glue
One thing I can not do is make a bow. You'll see in the picture but it is not so bad really. Here is what you do ...
heat up your hot glue gun
cut strips of the burlap ribbon and wind it around your grape vine wreath I use a little hot glue on the ends to make sure it stays in place.
After you have your ribbon like you want it add your bow .
Now glue on your plastic Easter eggs. Arrange them however you want them to go. I think next time I will add a few more. This wreath takes less than 20 minutes to make and is super cute on the front door. It is a very simple holiday craft project.
Follow Amber Whitehead's board wreaths on Pinterest.
You might also like our
turkey wreath and Santa hat wreath.
Have you made a wreath you love? Share a photo with me on
facebook or google +
I'd love to be inspired by you.