Now that I am working full time again I am determined to get my freezer meals going again. Once a month cooking was a huge help to me when I worked in the past. It was such a time saver and having the freezer well stocked really helped me keep healthy and hot meals on the table when life was very busy. Today we are sharing a very easy recipe for
chicken pot pie muffins
. They are so easy and kid friendly . Plus they are very fast to whip up on the spur of the moment whether ready made from the freezer or freshly preparing them.
Freezer Chicken Pot Pie Muffins Recipe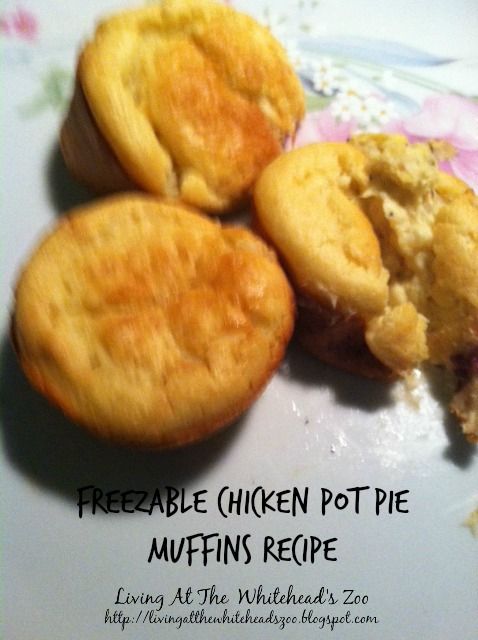 Ingredients:
1 cup of Bisquick
1 cup of milk
boiled and shredded chicken breast
1 can of cream of chicken soup
1 can of sliced potatoes
shredded cheese (optional)
diced peppers (optional)
veggies of choice(optional)
I usually have shredded chicken already frozen in the freezer. I boil it up in batches and shred it with my mixer then put it into individual containers or zip lock bags for recipes. If you do not have shredded chicken in the freezer you need to boil 2-3 chicken breast. You can also throw them in your crock pot with a little water and let them cook for 4 hours or so. Either way remove them and shred them.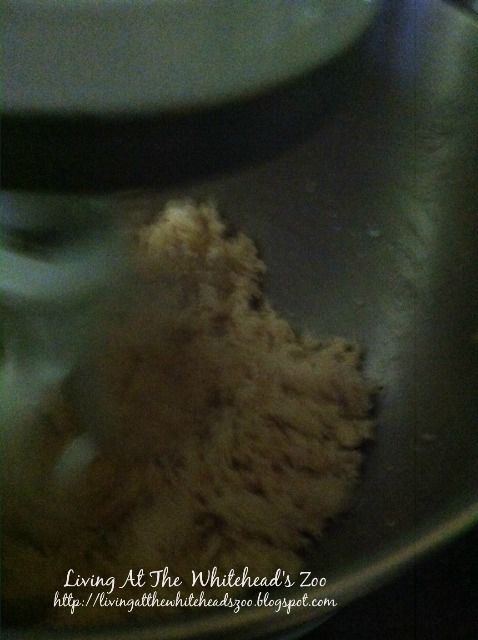 Leave your chicken in the mixer or add it if your using some from the freezer. Then add one can of cream of chicken soup. Now my kids are picky pants when it comes to veggies. The great thing about these is that you can totally individualize them with the different veggies. I like to add chopped broccoli to mine but I did not do that here. You could also use a can of mixed veggies, shredded cheese, diced peppers. The possibilities are really endless.
For ours today we used a can of sliced potatoes. I also added them right into the mixer and turned it on for just a second. If you leave it on to long you won't have any potato chunks so pay attention.
When everything is mixed well spoon it into your muffin pan. Then mix your cup of Bisquick and cup of milk batter. Pour this right over your chicken in the muffin pan. That's it your ready to bake them. Put them into a preheated oven of 350 for 15-20 minutes or until nice and golden brown.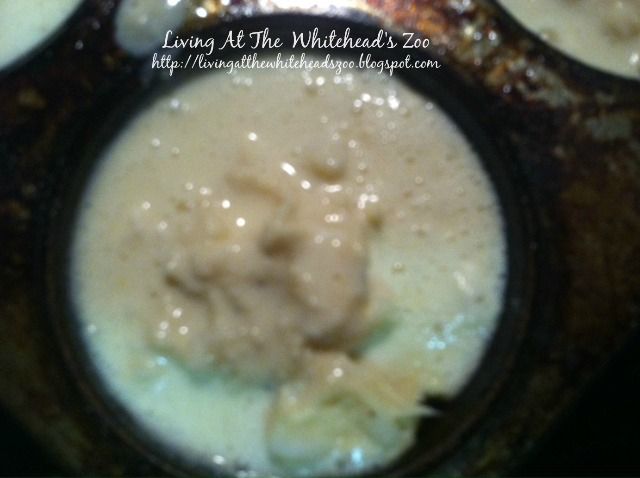 Aren't they pretty! I love the way they turn brown and when you cut into them they are all bubbly and yummy.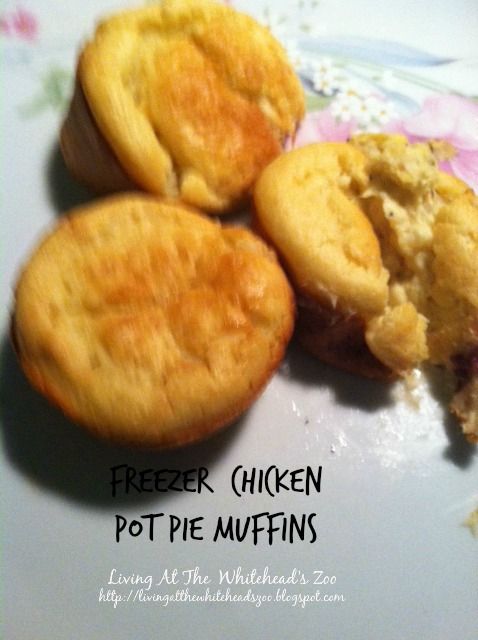 Now you can freeze your leftovers if you'd like to and they freeze great. What I do is freeze my leftover chicken mixture and then when I'm ready to make them I just spoon that into my muffin tin and mix up the Bisquick batter. Either way this recipe is great to make up and have an extra meal in the freezer for lunches or dinner. Enjoy!
Looking for more freezer meals we have a once a month cooking freezer meal board on Pinterest.
Follow Amber Whitehead's board once a month freezer meals on Pinterest.